Amber Heard Says She Wouldn't Be Alive if She Stayed Married to Johnny Depp
Amber Heard said on the witness stand on Monday that if she had stayed married to Johnny Depp, "I'd likely literally not survive."
As the high-profile defamation trial continues between Heard and her ex-husband Depp, both actors have accused one another of being abusive during their tumultuous relationship. On Monday, Heard said she believed she would not be alive if she had not filed for divorce in 2016.
Attorney Elaine Bredehoft asked Heard why she filed for divorce, to which Heard replied tearfully, "Because I knew if I didn't, I'd likely not literally survive. I was scared it was going to end really badly for me."
"I really didn't want to leave him," she continued. "I loved him so much. I would have done anything, but I couldn't do that one thing. I couldn't stay."
Heard said that "the monster" and "the violence was now normal and not the exception."
"It was so hard, but I knew I had to do it," she said, adding, "I believe he would have taken it too far and I wouldn't be here."
Heard filed for a temporary restraining order on the grounds of domestic violence as well, saying she was fearful of Depp.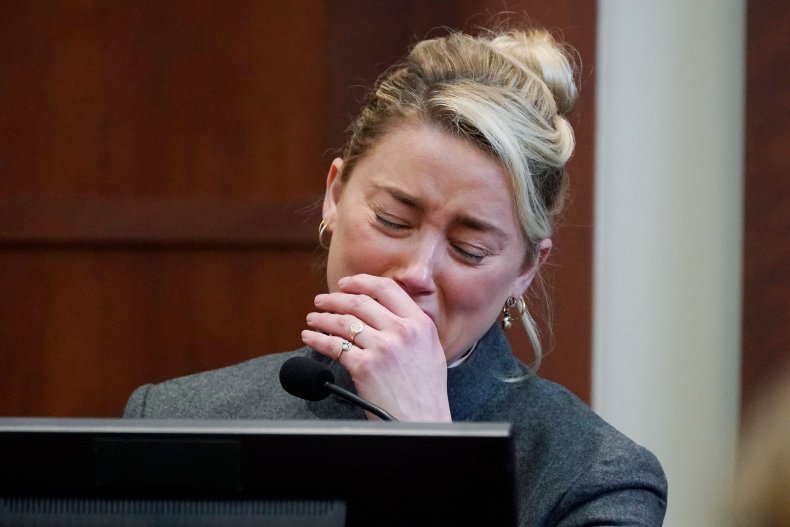 Heard said that she had wanted to change the locks on her door so that she could sleep, but security would let Depp into her building even after she reportedly begged them not to. She also said that she was having panic attacks and getting sick often, losing her hair and weight.
The trial resumed on Monday after taking a week-long hiatus and Heard concluded her testimony in her defense before facing questioning. Depp sued Heard for $50 million because of an opinion piece Heard wrote in 2018 with The Washington Post in which she stated that she is a survivor of domestic abuse.
Heard's testimony on Monday detailed that after filing the restraining order against Depp, Heard said she had to "fight really hard" to keep her career.
"Johnny told me that he would ruin me, that no one would ever touch me meaning professionally, no one would ever work with me again. That I'd never work again," Heard testified.
She said that she lost several opportunities in her career, including a campaign with L'Oréal and publicity events for the television series The Stand. She added that she had to fight "really hard" to stay in Aquaman 2, the sequel film in the DC Entertainment franchise.
Heard said on Monday, "I just wanted [Depp] to leave me alone, move on with my life. I have a baby, I want to move on. I want Johnny to move on too."