Amber Heard's 2016 Deposition 'Slip Up' Highlighted by Depp's Lawyer
Amber Heard was accused of having "slipped up" during her 2016 deposition against Johnny Depp during questioning by her ex-husband's attorney, Camille Vasquez, during the ongoing defamation trial on Tuesday.
Heard, 36, is currently in the middle of a court battle with Depp, 58, who has filed a $50 million lawsuit against her over a 2018 op-ed for The Washington Post in which the actor said she was a domestic abuse survivor.
While Depp was not named in the article, his lawyers have argued it was clear Heard was referring to him. Heard has countersued for $100 million.
In their testimonies, Depp and Heard have accused one another of domestic violence. Both have denied the allegations.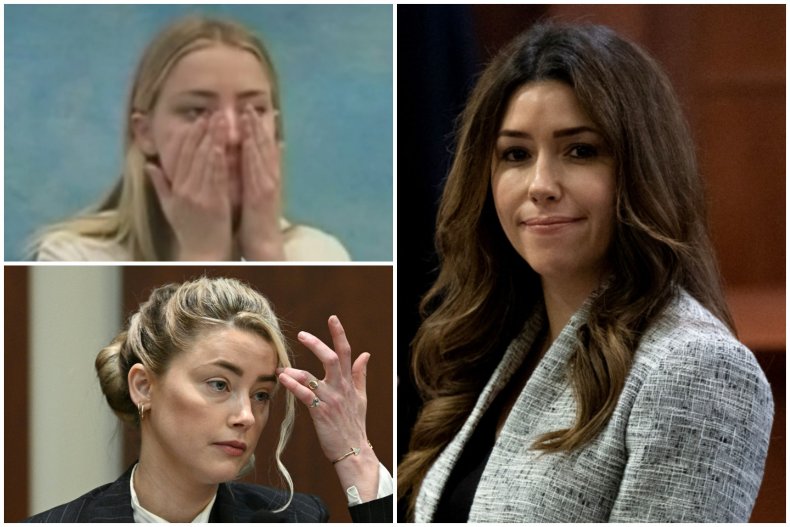 As Heard's cross-examination continued in Virginia's Fairfax County Circuit Court in Fairfax on Tuesday, the Aquaman star was played footage from her 2016 deposition, in which she discussed her then-ongoing divorce from Depp.
In the video, Heard was seen saying that TMZ had been alerted about their divorce and her filing for a domestic violence restraining order against Depp—before covering her face and mouth with her hands.
Speaking about her divorce filing at the time, Heard said: "I wanted to tell Johnny, or have him told by Jerry [Judge, Depp's former bodyguard], or someone who knew him or was close to him—basically, I didn't want him to find out online.
"I had, or was about to file, or I had already filed, for divorce. I wanted him to know verbally, so I was trying to reach him through a third party to tell him.
"When I say reach, I mean specifically saying I would like him to know information coming from me, or coming from Jerry from me, so that he finds out about the divorce filing, or my intention to do so, from some other source other than TMZ, which was alerted."
At the moment, Heard briefly covered her face and mouth, before running her hands across her face and smoothing out her hair.
"Pausing the video on that moment, Vasquez said to Heard in court on Tuesday: "You slipped up there, didn't you, Ms. Heard? You let it slip out that TMZ had been alerted to your filing of a domestic violence restraining order, didn't you?"
"I disagree. That's not what I'm talking about," Heard responded, though she didn't clarify exactly what she was talking about.
"TMZ is the same outlet that you released the video of Mr. Depp attacking the kitchen cabinets the day before this deposition was taken, wasn't it?" Vasquez asked.
"I didn't do that," Heard responded. "I don't know how to do that."
When Vasquez asked Heard about TMZ owning the copyright to the video, which Heard had shot, the actress said: "I have no idea what TMZ owns."
Vasquez then asked if the news outlet had paid Heard for the video, prompting her to respond: "I never got paid for it because I had nothing to do with that."
"So TMZ was just lucky in getting the inside scoop to your divorce from Mr. Depp, huh?" Vasquez shot back.
"I have no idea. That's not my area of expertise," said Heard. "I wouldn't even know how to do that. And also, what does that get me? If I wanted to leak things about Johnny, I could have done that in a much more successful way, in a bigger way for years and years."
"Not when you were extorting him for $7 million?" Vasquez said, referring to the divorce settlement that Heard received from Depp at the end of their 15-month marriage.
"I got a fraction of what I was entitled to in the state of California, by the way," Heard replied. "What extortion?"
Footage of the exchange has gone viral on social media, with a number of TikTok users sharing their takes on why they believe it was a bad day in court for Heard.
Depp lost a 2020 libel case against British tabloid The Sun, which had labeled the actor a "wife-beater" in reference to Heard's allegations of domestic abuse.
Heard accused Depp of domestic abuse during their divorce proceedings in 2016. The stars, who wed in 2015, had their union officially dissolved in January 2017, months after Heard filed for divorce from Depp.
While Depp had repeatedly denied ever having been violent to Heard during the three-week trial in London, the overseeing judge found that the U.K. publication's claims that the actor was abusive to Heard were "substantially true."
The trial continues.