Teenager Gored by Huge Bison in South Dakota State Park
A 19-year-old tourist has been attacked by a bison while hiking in Custer State Park in South Dakota.
The animal charged at Amelia Dean, from the U.K., on June 6, stopping before it hit her at full speed but still goring her with its horn.
The force of the collision tossed Dean 15ft into the air, tearing the femoral artery in her left thigh and damaging the surrounding nerves as it dug its horn in, leaving her bleeding heavily. The bison was subsequently led away by a fellow hiker, who then called the emergency services. Dean was treated for her injuries, but has been left paralyzed from the knee down in her damaged leg.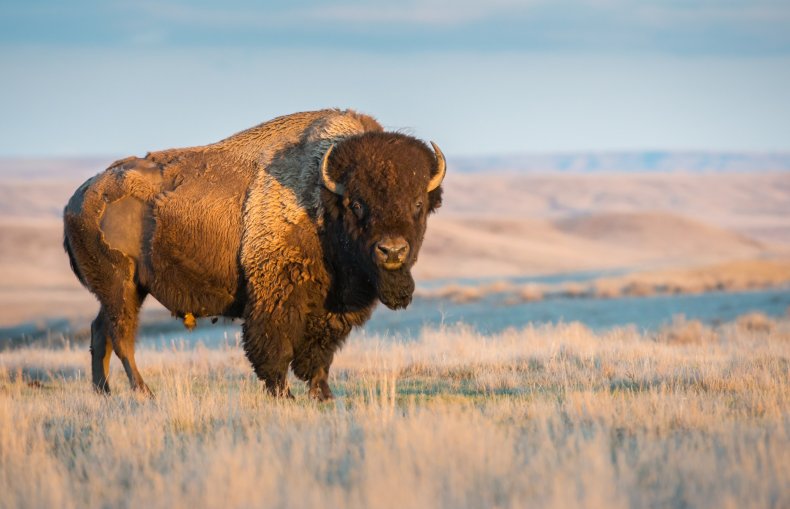 "I remember feeling the pressure on my hip. My hip being pushed back and I remember the sensation of flying in the air and going head over heels," Dean told local news station KOTA-TV in the hospital.
"The bison stuck around and his hooves were right over my head. I remember them being like right by my head," she said.
The largest land mammals in North America, American bison can grow up to 8.2 feet tall, with their horns reaching up to 2 feet long. Despite their size, they can run three times faster than a human. Bison, while herbivorous, can be very dangerous to humans, and will attack if provoked or threatened.
Between 1980 and 1999, bison attacked and injured over three times as many people as bears in Yellowstone National Park.
It is thought that these large numbers of bison attacks have been exacerbated by increased tourism to national parks like Yellowstone, as well as a lack of awareness by tourists of how to interact with wild animals, coming much too close to the bison.
"Bison are wild animals and unpredictable at best," Morgan Warthin, public affairs specialist at Yellowstone, previously told Newsweek. "Sometimes they will react if visitors get too close, and sometimes they will not."
In June this year, a 34-year-old man was injured after being gored by a bison at Yellowstone National Park, and an unrelated 71-year-old woman from Pennsylvania was attacked near Storm Point at Yellowstone Lake.
According to Dean, she and her friend were walking a dog on a lead and must have startled the bison as they approached it.
"It's just a freak accident," Dean told Good Morning America. "It happens sometimes. They are wild animals."
"Always stay at least 25 yards away from bison," warns the National Park Service on its website.
Dean's family have launched a GoFundMe in a bid to raise the nearly $170,000 required for surgery to restore full feeling to her leg.
"This could be Mia's best chance to regain control of her foot, and time is running out," wrote her family on the GoFundMe page.
"Mia is English and whilst her travel insurance has paid so far for the femoral artery bypass they are refusing to pay for even the initial examination by the specialist of her nerve injury."