'American Gods': Did Shadow Moon Die in the Season 3 Finale?
American Gods on Starz and Amazon Prime Video has taken some major detours from the Neil Gaiman book it is based on, but the Season 3 finale featured a crucial scene from the novel. The episode, titled "Tears of the Wrath-Bearing Tree," sees Shadow Moon (Ricky Whittle) die as he holds a vigil at the World Tree for his father Mr. Wednesday (Ian McShane).
As Shadow hung from the tree, the vines cut deeper and deeper into his skin until he was completely covered.
We also saw him on another plane with Wednesday, with Shadow saying to his father, "oh, please tell me death isn't being on a plane with you."
This, of course, has left fans wondering whether Shadow is really dead, and whether he will return for American Gods Season 4, which has not yet been confirmed but is in the planning stages according to Whittle in a Collider interview. Spoilers ahead.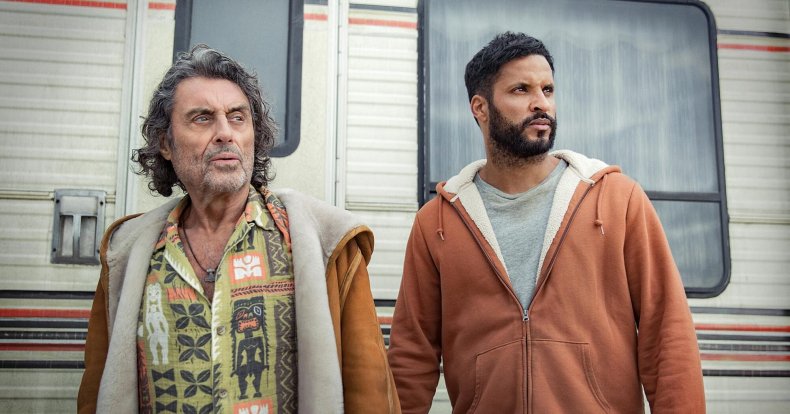 If the next season follows the book in this major plot point, then the answers to both questions are yes: Shadow is dead, but Whittle will be back.
In the book, Shadow dies at the tree and visits the land of the dead. However, he is later resurrected by Easter (played in the show by Kristin Chenoweth).
However, there remains some divergence between book and series. While Shadow is performing his vigil in the book, he is visited by Horus, who later persuaded Easter to bring Shadow back. Horus has not featured in the Starz series yet, so if Shadow does come back, it may be thanks to someone else.
Though there are still differences between the novel and series, it is still very likely Shadow will be back in any Season 4 the show gets. Previously, the biggest changes have been to prevent the series killing off characters, so if the book has given them a way to keep the main character alive, then they may take it.
Whittle has also hinted he will be appearing in American Gods Season 4. "I've seen how the whole story plays out through Seasons 3 and 4," the actor told Collider. "Chic [Charles Eglee, American Gods executive producer] and Neil [Gaiman] put their heads together about how to end this story, so I know how the story potentially does end now, which allowed me to play the character throughout Season 3 with the mindset of moving towards Season 4."
Shadow may not be the only dead character making an epic return next season. During Shadow and Wednesday's conversation in the afterlife, the latter said the pair are "somewhere in between" life and death, and that he too will be able to return to Earth. Wednesday then said, "A blood sacrifice by a son? Wow. That's powerful enough to restore me to all my former glory. Odin the all-father, all powerful once again." Wednesday's corpse also disappeared from the base of the tree.
Speaking about what Season 4 could mean for his character in a TVLine interview Whittle said, "This is an actual demigod. This is someone with power, motive, strength. It will be a great challenge to play this morally good demigod who's being burned by his father, and what that looks like in Season 4."
He also said, "he's realizing that he's special and that he might have a part to play... and that maybe he's meant to rule alongside his father."
American Gods Season 3 is streaming now on Starz and the Starz Prime Video channel in the U.S. and on Amazon Prime Video internationally.