Ian McShane on 'American Gods' and the 'Deadwood' Movie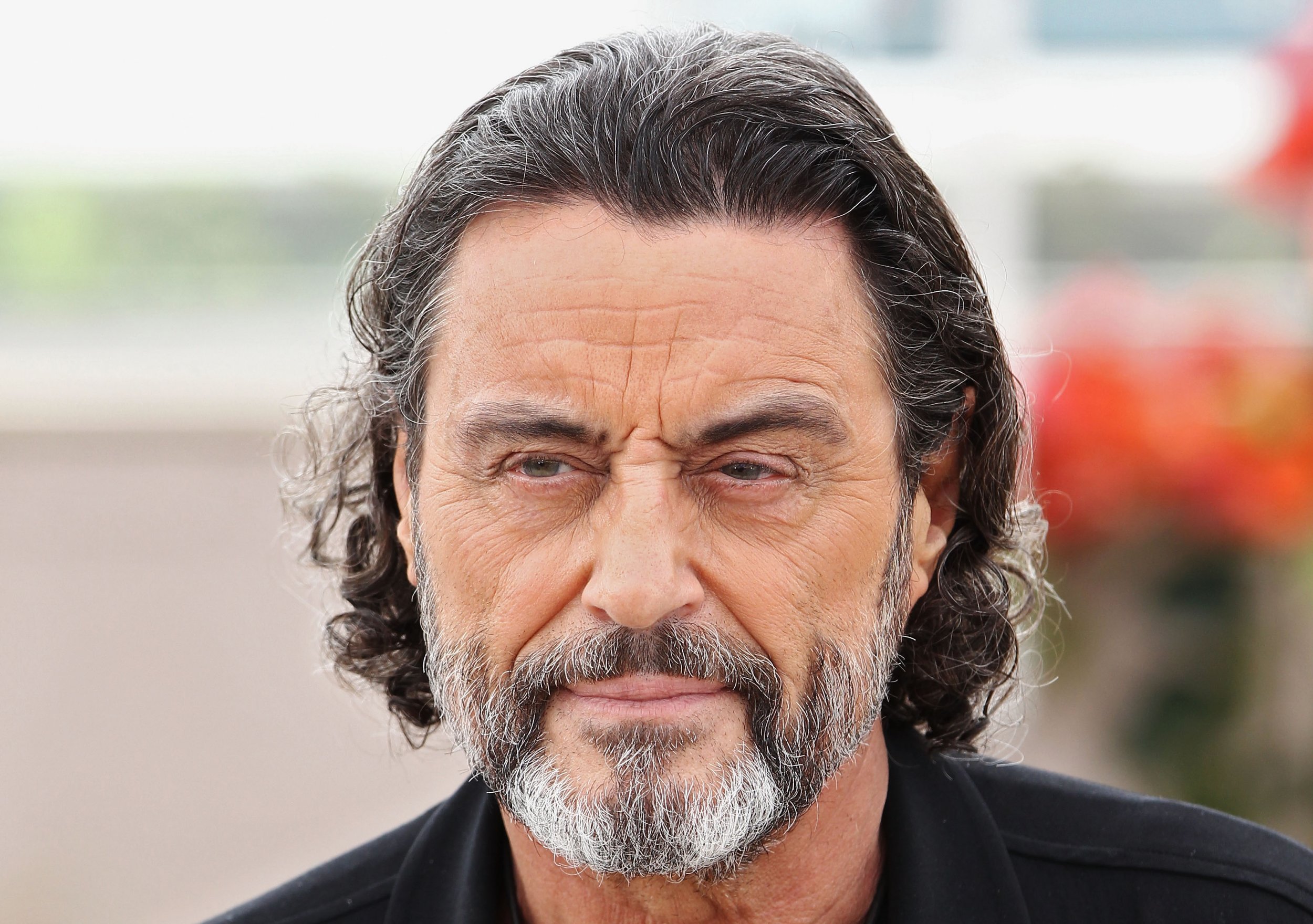 "What can I say about this show?" actor Ian McShane tells me, before letting out a bellowed laugh. "This is about gods and white buffaloes." That is a more generous description of his new series, American Gods, than the actor afforded Game of Thrones last year. He dubbed the fantasy drama "tits and dragons" and duly incensed its legions of fans.
McShane, 74, had a small but integral role in a single episode of Thrones's sixth season: his character ushered the return of popular fan favorite, the Hound, who was previously thought dead in season four. The star was accused of spoiling the plot by social media users when, months before the premiere, he revealed some key details about his character—including that he would die.
The backlash prompted his famous "tits and dragons" line, urging fans to not take a television program so seriously, which, in turn, led to more outrage. Not that McShane cares. "They all got their knickers [in a bunch]... they said stupid things like, 'Oh, you're giving it away,'" he says. "You'll have forgotten it by the time it comes around! I'm in one episode… you think I don't die? Of course I die. And then the other thing I said, 'Oh, fuck off, it's only tits and dragons.' They loved the publicity—it's fine for the show."
McShane's brief experience dealing with voracious Thrones fans should prepare him for the built-in fan base that comes with American Gods. Based on Neil Gaiman's bestselling 2001 fantasy novel of the same name, the high-concept series is set in a dystopian America inhabited by gods old and new in human form. McShane plays Mr. Wednesday, otherwise known as Odin, the Norse god who recruits newly-released convict Shadow Moon—played by Ricky Whittle—as his bodyguard in preparation for war with the new gods, such as media and technology, who want to wipe out the old guard.
The show is co-created by Bryan Fuller, the executive producer behind Hannibal and Pushing Daisies, and Michael Green, credited as a writer on some of 2017's biggest movie releases, Logan, Alien: Covenant and Blade Runner 2049. Gaiman is also on board as a producer and is "very creatively involved," says McShane.
Gaiman's book is more odyssey than novel. The characters, settings and action are finely crafted by the award winning author, immersing readers in Shadow's universe in the same way George R.R. Martin's highly descriptive A Song of Ice and Fire books make Thrones fans feel like they are in Westeros. American Gods's cult following on social media may also have influenced the show—Whittle was championed as the dream choice for Shadow and, in a Hollywood rarity, actually won the part.
"They sent me the book and I thought it was a perfect blueprint for a TV series. And how can you turn down playing a god?" says McShane. "It could be something rather special. It'll be interesting to see how people react to it, because people have their own ideas about how things should be."
Related: Carrie-Anne Moss on 'Humans' Season 2, 'The Matrix' Reunion with Keanu Reeves and Technophobia
American Gods raises existential questions about man's belief in religion and faith, as well as the apparent idolization of what Gaiman's book depicts as the new gods—media and technology. The author's foresight of these modern deities is more prophetic now than even just 16 years ago, when iPads and Netflix streaming didn't exist. The rapid speed at which technology and the internet has developed, and encroached deeper into our everyday lives, does not concern McShane, however.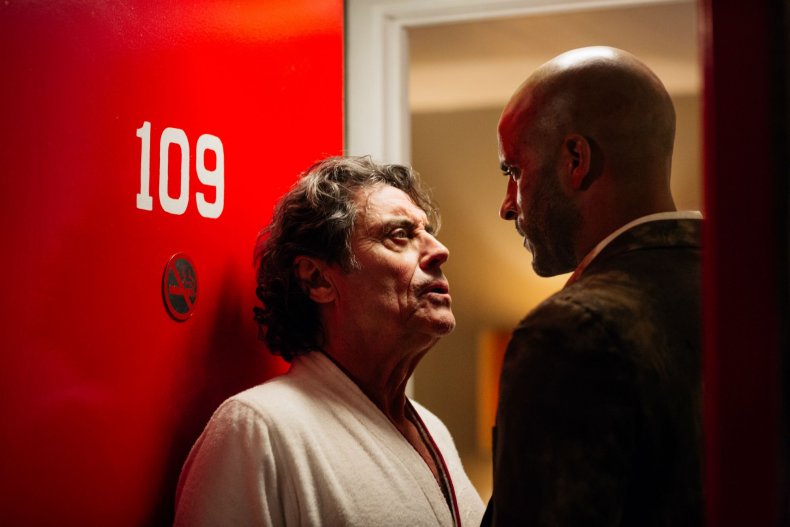 "If you're smart and you get old, all you know is that everything changes. You're not in control of anything. If you don't learn that early, you're going to be fucked," he says. "No, really… you can rail it all you like. It's like the last railings of Donald Trump and his people. It's like the last railings of this group of people who are going extinct and you want to go, 'What the fuck are you talking about?' What are you clinging to? America of the '50s? Or England of the '50s with Brexit? People pottering around tending their garden in Norfolk thinking, 'These Syrians are going to come in any minute now and ruin my roses.' What a load of cock."
American Gods's dystopian view of the U.S. isn't without its similarities to present day America, which instituted a controversial immigration ban in January. "America's a country of immigrants and that's what we're talking about in the show. Orlando Jones plays the African spider god who gives this amazing speech about race in the prologue of one of the episodes," says McShane.
Anticipation for the fantasy series, preceded by a world premiere at South by Southwest festival in Austin, Texas, earlier in March and a U.K. premiere to follow in April, is reminiscent of the pre-launch buzz for Game of Thrones in 2011. Attaining even a fraction of that show's popularity would make Gods a certified hit. "I hope it is [popular]," says McShane, with just a hint of caution. "Everything changes. We had The Sopranos, then we had our show, Deadwood, which was hugely popular until that disappeared for other reasons—from ego and hubris."
Deadwood, which featured McShane in his most memorable role and earned him a Golden Globe for best actor, ran for three seasons on HBO from 2004 to 2006. A decade on from its abrupt cancellation—rumored to be a result of its extravagant budget—the western drama is still revered by critics; TV Guide ranked it No.8 on its top 60 shows that were canceled too soon. "Hubris and ego," McShane says again when I press him about the reason for the show's demise. Whose? "I can't say that… but it was hubris and ego. It was a very expensive show to make."
HBO, apparently realizing it was a mistake to end the series, commissioned a movie revival from creator David Milch in early 2016. "There is [a script]," says McShane. "I had lunch with David Milch just last week. They're hoping it will [happen]... whether it's just pie-in-the-sky bullshit, I don't know. There is a script. It's being rewritten, but they could say it's being rewritten for another 10 years."
If the Deadwood resurrection does happen, McShane will be ready to reprise his role as brothel owner Al Swearengen. His commitment to American Gods is only for two years. "I'm signed up for one more year, and that's it. I can't [do more at my age]," he says. "I figured two years is fine for me to do this."
American Gods premieres April 30 on Starz in the U.S. and May 1 on Amazon Prime Video globally.