When we last saw Harry Gardner (Finn Wittrock) in American Horror Story he had just taken the black pill Austin Sommers (Evan Peters) gave him to help with his writer's block.
Following on from the events of "Cape Fear," "Double Feature's" second episode, "Pale," dives straight into the aftermath of Harry's decision, showing the brilliance bestowed upon him by The Muse.
Harry is almost possessed as he types away at his computer, desperately trying to get out as many words as possible without food or sleep. He barely even realizes anyone is around him as he writes, and writes, and writes.
Of course, everything has a cost and the horror anthology's 10th season warns people should be careful what they wish for because they just might turn into a blood-sucking creature for a taste of success.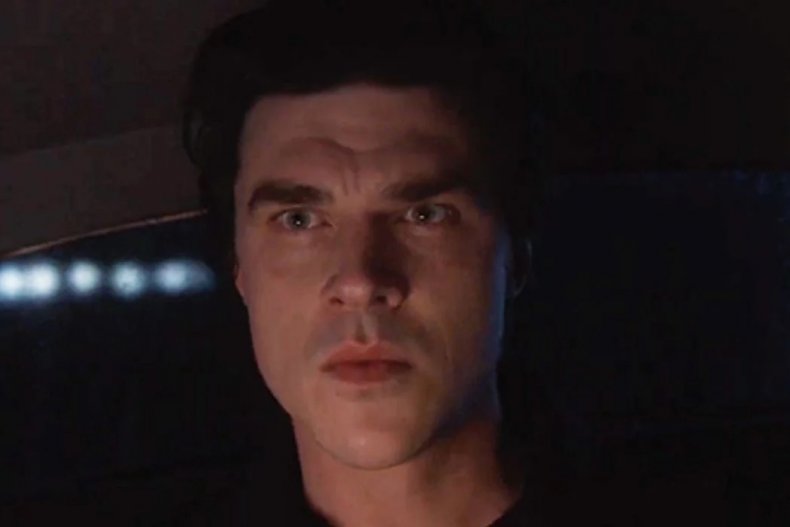 Harry's desperate bid to write reflects Jack Torrence's own struggle in The Shining, and it may well end the same way given the patriarch's sudden mood swings and rudeness to wife Doris (Lily Rabe) and daughter Alma (Ryan Kiera Armstrong).
He churns out the scripts for an entire season of a TV show in a matter of days and it sparks the interest of Joaquin Phoenix and Netflix. While he initially tries to stop taking The Muse, he quickly changes his mind.
Harry is left distraught after attacking his wife because of his craving for blood, and he turns to Austin and Belle Noir (Frances Conroy) for help.
Bringing him into their world, the pair take him for his first kill and suggest he visit Lark Feldman—a welcome return from AHS alum Billie Lourd—to get his teeth shaved into points.
Austin also reveals The Muse was made through experimentation with drugs in Provincetown but it only works on those with talent, those without it turn into mindless Pale People like the ones that attacked Doris and Alma in episode 1.
Luckily for Harry he has talent but others might not be so fortunate, as the episode tries to cleverly point out when Macaulay Culkin's Mickey considering the drug to help inspire his own writing and TB Karen's (Sarah Paulson) warns him not to.
Will Provincetown become infested with Pale People over the course of "Red Tide"? Most likely, and the body count will no doubt triple in no time.
Another person tempted by the quick fix to success is Alma, worryingly, as she spends the entire episode asking her mother whether she could find greatness as a violinist if she took the same pill she saw her dad have.
Unfortunately she decides to follow through with this, and steals a pill without realizing it'll turn her into a monster.
Alma is blessed with greatness at first, but whether it'll last is yet to be seen as the episode ends with Doris finding her drinking the blood from a dead animal.
American Horror Story: Double Feature airs weekly on FX on Wednesdays, and is released on FX on Hulu the next day.