FX is bringing Season 10 of American Horror Story to viewers this August, but the new series might be a little different to what fans are used to from 1984, Apocalypse or other recent seasons of the show.
Unlike those previous seasons, which told one story over the course of a dozen-or-so episodes, this new series will be split in two, hence the name Double Feature.
Those two stories have also been given names.
The first is Red Tide, while the second is Death Valley. Posters for the show, meanwhile, have mixed aliens and sea monsters, which might give viewers a idea of what to expect for AHS Season 10.
The Theme of American Horror Story Season 10, Explained
Roughly speaking, aliens and sea monsters are the two sides of American Horror Story: Double Feature, but this being AHS, of course there is more to it than that.
Show creator Ryan Murphy was the first to hint at the theme of the new series. Earlier in the year, he released a teaser trailer, "two horrifying stories, one season. One by the sea, one by the sand."
That video was location tagged in Provincetown, Massachusetts. This is also a clue for Red Tide, which is telling a modern story of something very strange going on in the coastal town.
While Red Tide is telling a modern story, Death Valley seems to be delving into the golden age of UFO sightings. In the second part of Season 10, Neal McDonough is playing President Eisenhower, who notably was president when Area 51 was purchased by the U.S. Air Force in 1955.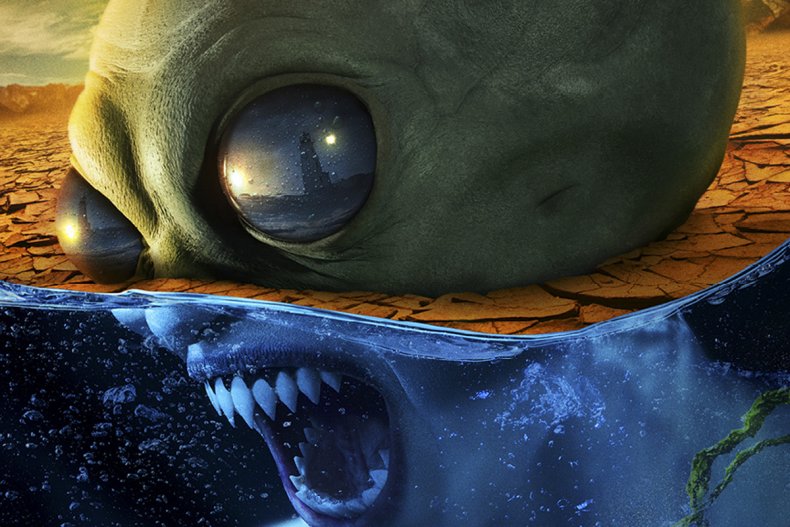 As for Red Tide, we are less certain what the creatures terrorising Provincetown are. Some think they are vampires due to their resemblance to classic vamps like Nosferatu, while others think they are sirens due to all the beach imagery in the advertising campaign.
An Entertainment Weekly interview with Red Tide lead Finn Wittrock merely calls them, "monsters with sharp teeth."
This article, however, provides us with our first glimpse on what to expect from the first part. It reveals that Wittrock's character is a writer with writer's block who moves his family (including a pregnant wife played by Lily Rabe) to Provincetown.
The synopsis for the show teases, "The destination is said to offer residents the inspiration they desperately crave, but this inspiration has a price."
Wittrock said the first part was less complicated than previous seasons with their flashbacks and multiple perspectives. "There's monsters outside and then there's monsters inside. Which one is scarier?" he teased. "It's a good question."
Murphy was teasing the two ideas of this season since the end of 1984. At that time, he told Hollywood Life, "I have two ideas that I'm going back and forth with, so I don't know which one is going to win."
It seems like he chose to do both.
American Horror Story Season 10 airs Wednesdays at 10 p.m. ET on FX and Thursdays on Hulu.