'American Horror Story' Season 10 Episode 1 Recap: Meet the Residents of 'Cape Fear'
American Horror Story has returned for its 10th season with "Double Feature," which splits the story into two parts: "Red Tide" and "Death Valley."
Ryan Murphy's horror anthology series begins with "Red Tide," which follows a struggling writer and his family as they move to Cape Cod for three months in the hope of him finding inspiration.
The first episode, titled "Cape Fear," finds Harry Gardner (Finn Wittrock) at his wits end, fighting the blank page and finding no respite from the pressure he is under to get his pilot for a new show finished.
To rectify this, Harry, his wife Doris (Lily Rabe) and their daughter Alma (Ryan Kiera Armstrong) head over to the seaside spot, with heavily-pregnant Doris also hoping to kick off her new career as a decorator by doing up the house they're staying in.
Of course, things aren't quite as they seem in Provincetown as animals are being left with their throats torn open and creepy beings known as Pale People roam the seaside locale looking for new victims.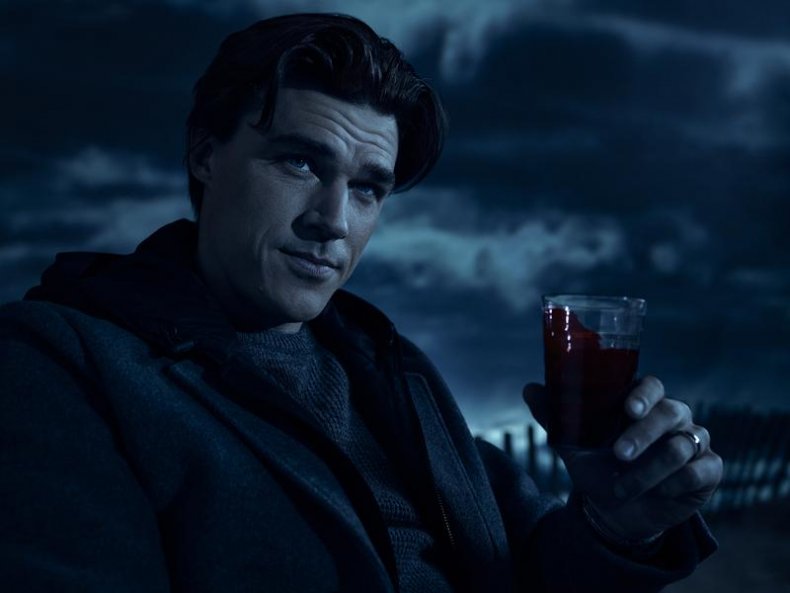 In true AHS style, when Harry and his family first arrive at their new home, Alma remarks how it's the kind of house that would be haunted, something that bodes well for them because fans are well aware how that's played out in the past.
Unlike the show's first season, "Murder House," the creatures are lurking outside rather than inside the property, and the family become a target for the Pale People almost as soon as they arrive.
The hissing creatures look more like Nosferatu than Ariel, but they are certainly terrifying even if they're easily evaded by Harry, Doris and Alma throughout the course of the episode.
Something is clearly afoot in Provincetown because several houses have red lights that turn on at night—something the Gardner's don't have, which perhaps could explain how they've inadvertently made themselves a target.
"Cape Fear" spends much of its time establishing the various characters that will play a part throughout the course of the story, teasing the terrifying happenings rather than going all out.
AHS alum Sarah Paulson brings a lot of the scare factor, with her in the role of TB Karen, as she ominously warns Harry multiple times that he needs to "get out" of town before he's eaten.
While Evan Peters and Frances Conroy both make a magnificent entrance when Harry visits the local restaurant, with the pair stepping out on stage for a sing-a-long before setting their sights on the unsuspecting writer.
Austin Sommers (Peters) and Belle Noir (Conroy) claim to both be writers whose careers took a turn for the better after spending the winter in Provincetown, and they try with all their might to get Harry and his family to stay.
Belle is not of this world, though, as it is later established that she has sharp teeth like the Pale People and she even demands to drink the blood of local gigolo Mickey (Macaulay Culkin) for cash.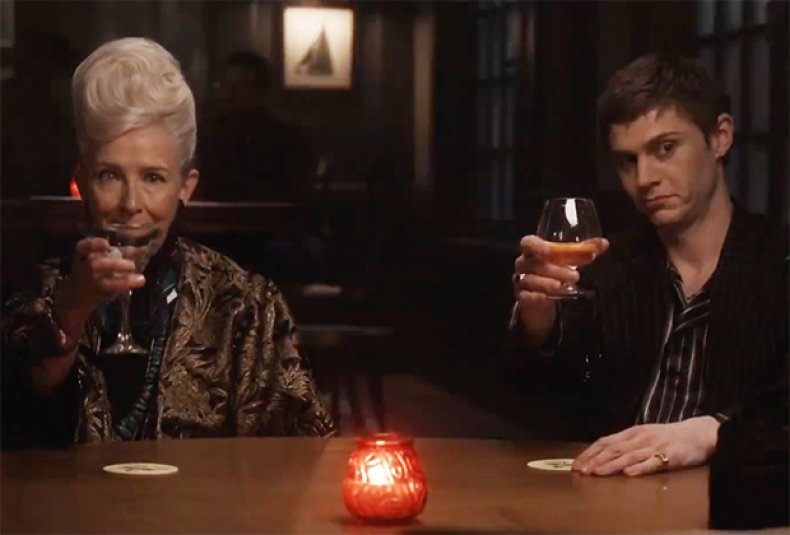 But that's not all, as she also makes Karen procure her a baby for an unknown, yet likely unsavory, purpose because she's sold "her soul to get close to greatness."
Austin may well also be like Belle given their friendship, but all he does is give Harry a bag of "tragic, magic little black pills" that he claims will get rid of the latter's writer's block for good.
Despite deciding to leave Provincetown after thwarting an attack from a Pale Person, Harry decides to take Austin up on his offer and the episode ends with him taking the drug while his daughter watches on in fear.
For an opening episode "Cape Fear" is intriguing, and it gives just enough away to entice viewers to stick around for more even though, clearly, things won't end well for Harry and his family.
American Horror Story season 10 airs on FX every Wednesday, and is released the next day on FX on Hulu.