'American Horror Story' Season 10 Episode 3 Recap: Everything is Chaos and Blood in 'Thirst'
Never let it be said that The Muse is not relentless, it demands sacrifice in return for greatness and "Thirst" is the most blood-drenched episode yet in American Horror Story Season 10.
Starting directly after Episode 2 of Double Feature, Alma (Ryan Kiera Armstrong) has followed in dad Harry's footsteps and taken the pills that'll make her the best violinist in the world and has started drinking blood as a result.
Pregnant mom Doris (Lily Rabe) is understandably upset after finding Alma drinking a rabbit dry and tries to get Harry to help (Finn Wittrock), but the stress of everything that's happened, including suspicion from Chief Burleson (Adina Porter), leads her to have a sudden pain in her womb.
Doris is taken to the hospital and out of Harry and Alma's way, which is lucky for her otherwise a demon child might have been on our hands!
Given Alma's newfound taste for fresh blood, Harry quickly realises what she's done and tries his best to be parental, given it's all his fault, and warns her to never kill someone herself so that her small hands are kept clean (more on that later).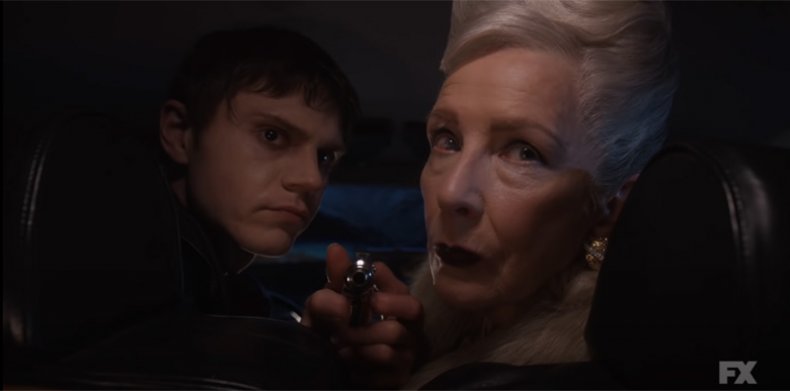 To keep up with Alma's relentless thirst for blood, Harry goes out on several kills over the course of the episode, and one solo hunt even leads to him being kidnapped by two meth heads for a rather unsavory purpose, though he manages to get away unscathed.
Harry's killing spree draws the interest of Austin Sommers (Evan Peters) and Belle Noir (Frances Conroy) who demand, at gunpoint, that he explain why he's collecting so much blood in containers, and he confesses that Alma has started taking The Muse.
They make him promise to stop her from taking any more pills and secretly decide to do away with the pair completely.
Austin and Belle are determined to keep a lid on the situation as best they can, but things are getting out of control faster than they can anticipate.
As well as Alma's thirst for blood, they have to contend with Harry's agent Ursula (Leslie Grossman), who arrives at Provincetown to check on Harry, insults Austin and Belle, and quickly realises that something sinister is going on.
Ursula pressures Mickey (Macaulay Culkin) to tell her why so many people, including himself, have become incredible writers overnight and he reveals the origins of the pills, even taking her to The Chemist (Angelica Ross) who created them.
Ever the savvy businesswoman, Ursula gives The Chemist a deal: be her supplier for Hollywood's up-and-coming talent and she'll give her a cut in the profits.
But The Chemist isn't interested and she goes to Austin and Belle to demand they kill Ursula, Mickey, Harry and his family before things get even more out of control.
In true American Horror Story style the bloodshed isn't over until the last second, and the episode ends with Alma killing Chief Burleson after she comes to talk to her about the mysterious deaths around town.
Harry, who was out getting blood for Alma, comes home to find the police chief drained in the living room and his daughter happily playing cards with Ursula, who is completely unperturbed by the scene, proving chaos reigns supreme.
American Horror Story: Double Feature airs weekly on FX on Wednesdays, and is released on FX on Hulu the next day.