Everything We Know So Far About 'American Horror Story' Season 11
American Horror Story may be ending for now, but like many of its villains, it is pretty hard to kill. Season 11 of the show has already been confirmed.
Details of what Ryan Murphy and the AHS team have in store for the next season, however, are hard to come by. Questions like when it is out and what its theme will be can only be guessed at, though there are some hints that are starting to drop from series regulars like Sarah Paulson.
Murphy, however, has spoken about he puts together seasons of the show, and has even discussed potential Season 11 themes on his Twitter, so some intriguing details about the future of the FX show are starting to emerge.
Here is what has been revealed so far about the upcoming season of American Horror Story. We will update this article as more details are dropped about the future of the franchise.
American Horror Story Season 11 has already been confirmed
In January 2020, AHS was renewed for three more seasons – that is, Seasons 11, 12 and 13.
At the time, FX chairman John Landgraf said in a statement: "Ryan and Brad [Fulchuk] are the undisputed masters of horror TV, having created the anthological limited series with American Horror Story and sustaining its success for nearly a decade as FX's highest-rated series."
We may already know the Season 11 theme
Throughout April, Murphy posted a series of polls on his Twitter where he asked AHS fans to vote on potential themes from upcoming seasons of the show.
The potential storylines that made it to the top three were a story based around: Bloody Mary, the folklore figure said to appear if you say her name in a mirror; a historical plague like the Black Death; or sirens, creatures of legend said to sing to lure sailors to their deaths.
The producer, however, did not announce which theme had won the poll, so any of those could be a potential theme for Season 11. The artwork for the poll also said it was part of "expanding the universe" of AHS. Though this does rule out that Bloody Mary, plague or sirens will be the theme of Season 11, it could also mean that these appear on sister show American Horror Stories, or another connected spin-off yet to be announced.
Murphy has previously said he decides the theme for upcoming seasons at the end of October. Speaking to Hollywood Life in 2019, he said, "I decide always on Halloween day."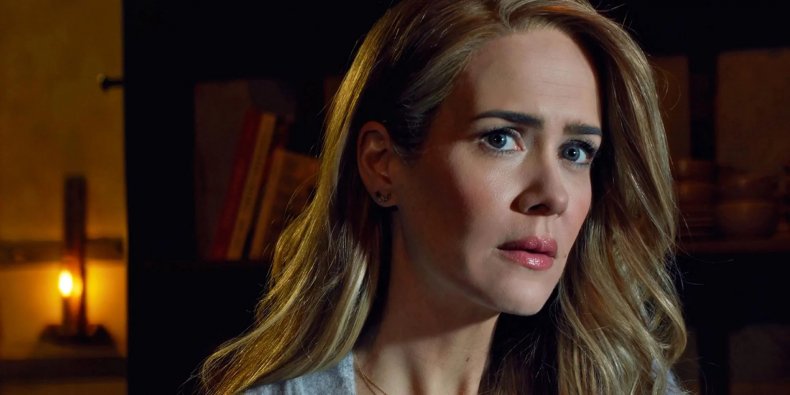 Sarah Paulson may not appear in the next season of American Horror Story
After appearing in nine of the 10 AHS seasons so far, the actor has hinted that her time on the show may be done.
Asked on Watch What Happens Live whether she would be back, Paulson said, "I don't know. It's the first time in about 3 years where I don't know. I think this is my last season of Horror Story, probably. I mean, I don't know. Every time he comes to me with some whack-a-doodle-stoodle character I tend to be like, 'Yes! Let's do it!' But I don't know. This is the first time so, we'll see."
Is there a release date for Season 11?
So far, we do not know when the season will be out. However, the most likely bet is fall 2022.
The first five seasons of the show (Murder House to Hotel) aired in October, while Roanoke to 1984 began in September. The most recent season Double Feature, however, aired in August 2021, though this was an anomaly due to the show being delayed by the coronavirus.
As such, it seems that September 2022 will be when the FX series will be back on screens.
American Horror Story Seasons 1 to 10 are streaming on Hulu. Seasons 1 to 9 are on Amazon Prime Video and Netflix.