American Pickers' Danielle Colby Shares Rare Photo of Son—'Missing My Baby'
American Pickers favorite Danielle Colby got personal on her social media accounts as she shared a rare photograph of her son.
It was recently confirmed by American Pickers creator Mike Wolfe that Colby, the Antiques Archaeology shop manager, is still very much a part of the show after fears that she might have left, like previous co-host Frank Fritz.
Away from the show, Colby is a burlesque dancer, OnlyFans model, and also a mother of two. While she often shares content on her popular social media accounts highlighting her daughter, her son features less frequently. That changed recently as she shared a touching Instagram post featuring him.
"Missing my baby boy today," Colby wrote on Sunday on her Instagram stories. Colby is an avid poster of Instagram content, and the tribute to her son, Miles, was hidden among dozens of other photos and videos.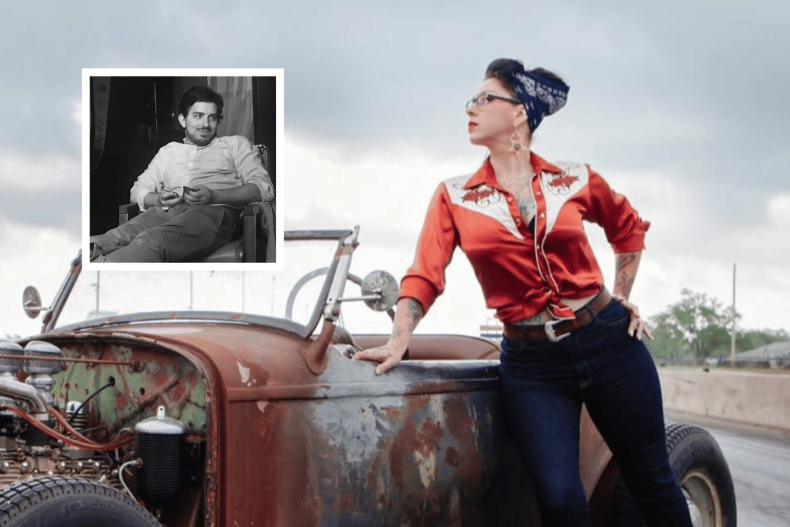 The picture showed Miles in a black and white photo, which was actually first posted by Colby back in December 2019. She didn't explain where her son is now or why exactly she's "missing" him.
Colby had Miles with her first husband, Chad Cushman. Her second child is daughter Memphis, who often features on Colby's social media. She included both of her children's names in the title for her business, 4 Miles 2 Memphis. Memphis is also an OnlyFans model.
Colby and Cushman divorced after Colby found fame on television. According to The Sun, Colby has suggested that the success American Pickers gained took a toll on their marriage, and they ended up separating.
In January, on her own Instagram account, Memphis shared a picture of herself together with her mom wearing feather boas, floating the idea that she might go onstage for a burlesque show soon too.
Miles meanwhile seems to have a private social media presence. In May 2022, Colby reshared a picture of herself with Miles while he was a little boy, seemingly at a soccer event. "My son just posted this! BB King said it best. Time is a thief," Colby wrote.
Colby is now partnered with Jeremy Scheuch, and while a date hasn't been given, he has suggested on his own Instagram account that the pair are getting married at some point in 2023.