American Pickers' Mike Wolfe Claps Back at Show's Lack of Diversity Claim
American Pickers creator and co-host Mike Wolfe has responded to allegations that the crew behind his show are as "diverse as a country club"—that is to say, not very diverse.
The front man for the History Channel reality show has been communicating with fans on his Instagram account, responding to multiple comments on a range of topics. This has included paying tribute to former co-host Frank Fritz, and explaining the apparent absence of longtime Antique Archaeology manager Danielle Colby.
The discussion of diversity was raised in the comment section of a recent post after Wolfe shared a behind-the-scenes look at the crew members of American Pickers. Wolfe didn't shy away from the issue and offered up an explanation for curious viewers.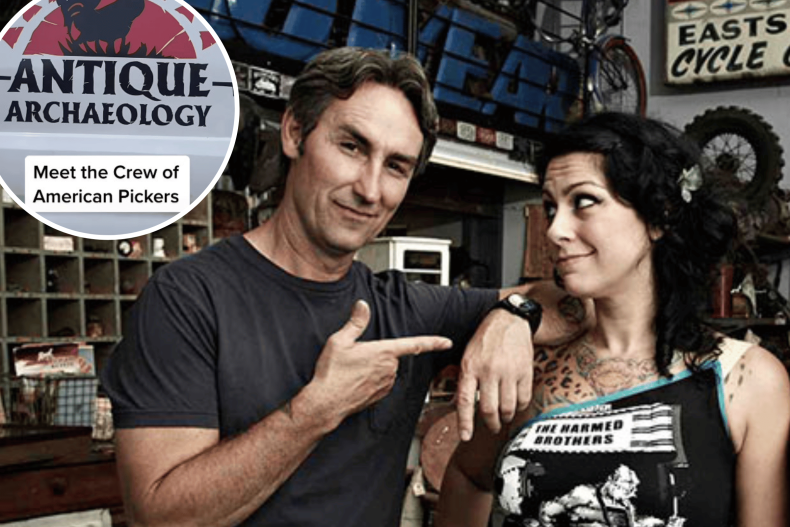 The 42-second video was shared to Wolfe's Instagram and TikTok accounts, as he introduced fans to members of the crew. The people introduced were: pickers Jersey Jon and Robbie Wolfe, co-executive producer Tyler Carnahan, director of photography John 'Chippy' Chiappardi, sound supervisor Luciano 'Luc' Dias, camera operator Tristan Amiott, production supervisor Cody Holland, production assistants Matt Bush and Alun Rees, associate producer Herschel Johnson-Pollack, additional camera operator Grant Pfizenmaier and finally, Mike Wolfe himself.
"It takes a crew to make this show happen," Wolfe wrote in the caption of the TikTok video, "Meet the team that's out here grinding with me all these years."
Some noted that there were no women featured as part of the crew, while others pointed out the lack of diversity. "Diverse as a country club," commented Instagram user @half_a_tank.
Sticking up for his team and the show, Wolfe took the time to reply to this quip.
"If we have Black people reach out we go, and have done some great stories with Black collectors." Wolfe continued, "We cast the show with the leads that come in. If you know of a cool story and collection hit me up."
Wolfe went on a replying spree across the social media platforms he posted the video to. Some of them were more serious in tone as he paid tribute to former co-host Fritz, who has suffered health issues since leaving the show, while other comments Wolfe made were more light-hearted.
On TikTok, one user said that there was a "lotta payroll" seen in the video. "Worth every penny," Wolfe wrote.
Another TikToker, @brentmichaelott, said he owed his business success to Wolfe, and he'd love to buy him a beer one day to repay him. "Thanks for that," Wolfe replied, "Will let you know when we roll through."