Americans Say South Korea, Germany Handled Coronavirus Better Than U.S., Poll Shows
Americans gave South Korea and Germany higher marks than the U.S. in a new poll by the Pew Research Center that measured approval ratings of different countries' responses to the coronavirus pandemic.
Though only 47 percent of Americans said the U.S. response to the pandemic was "good" or "excellent," researchers said the results of their responses indicated opinions differed in accordance with respondents' political leanings.
The survey, which was published on Thursday, was conducted among 10,957 American adults between April 29 and May 5. The results came as Americans have reported varied views on how the pandemic has played out around the globe. In an April Pew Research Center poll, after the virus had been first detected in Wuhan late 2019, China was identified as a threat to the U.S. Italy, another former hot spot for the virus, has also been rated poorly in its pandemic response by Americans.
South Korea has generally been praised for its efforts to control the virus' spread. The country moved quickly to test residents and identify others who may have been infected with COVID-19 through contact tracing. Both testing and contact tracing are strategies the U.S. has significantly invested in over the past two months. After the pandemic appeared to be under control in South Korea, health officials began reporting instances where recovered patients tested positive for the virus again, resulting in a second wave of lockdowns throughout the country as officials worked to stifle the spread.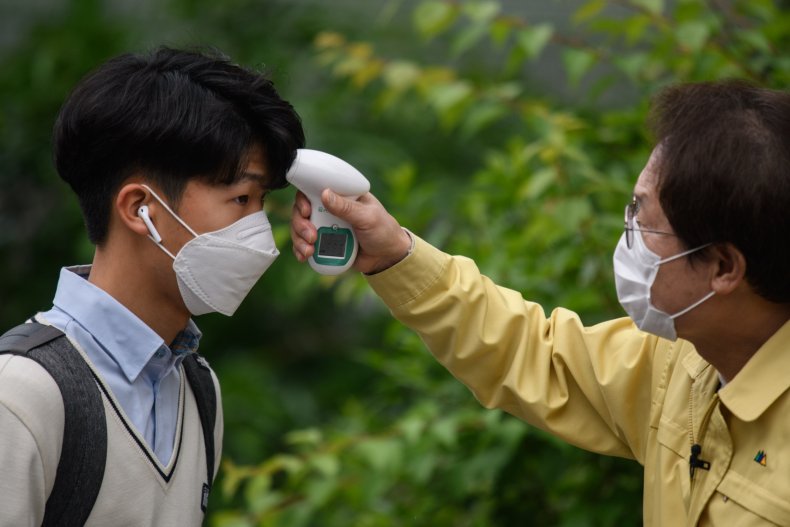 Director-General Dr. Tedros Adhanom Ghebreyesus of the World Health Organization applauded South Korea's response to the pandemic during a news briefing Wednesday. "It has been particularly impressive to see how countries like the Republic of Korea have built on their experience of MERS to quickly implement a comprehensive strategy to find, isolate, test and care for every case, and trace every contact," Ghebreyesus said. "This was critical to the Republic of Korea curtailing the first wave and now quickly identifying and containing new outbreaks."
While 66 percent of Americans rated South Korea's pandemic efforts as "good" or "excellent," the same percentage of poll respondents said they approved of Germany's virus containment efforts, despite the fact that Germany's rate of 9.82 COVID-19 deaths per 100,000 residents is significantly higher than that of South Korea, according to an analysis by researchers at Johns Hopkins University. Even so, the COVID-19 death rate in Germany has been consistently lower than that in other countries and is also much lower than the per capita death rate in the U.S.
Recent polling in Germany indicated approval of the pandemic response has not been reciprocal toward the U.S. According to a survey published Monday by Körber Stiftung, a nonprofit, 73 percent of German respondents said they approved less of the U.S. in early April than they did at the start of the pandemic.
While the poll's results indicated a majority of Americans approved of efforts made by countries that had comparatively found more success in managing the spread of the virus, the outlook at home was not as positive. The 47 percent who rated the U.S. pandemic response positively revealed a strong partisan divide, with 71 percent of conservative-leaning respondents and only 27 percent of liberal-leaning respondents agreeing.
The political divide among Americans regarding their country's COVID-19 response has been echoed in several recent polls, with overall approval of President Donald Trump's handling of the pandemic steadily declining since the first COVID-19 case was reported in the U.S. in January.