Americans Split Over Whether Biden's COVID Package Should Be Bipartisan: Poll
Although the vast majority of Americans support Congress passing further COVID-19 stimulus relief, just under half say they back President Joe Biden's efforts to push through his $1.9 trillion package without Republican support, new polling shows.
Last week, Democrats pushed forward with using the budget reconciliation process to pass the massive relief package. This legislative maneuver will allow Democrats to pass the $1.9 trillion package through the Senate by a slim majority vote—instead of the 60-vote threshold typically required due to the filibuster rule. But Republicans have criticized this decision, saying it goes against Biden's calls for unity and to govern in a bipartisan manner.
A new poll released Sunday morning by ABC News/Ipsos shows that just 49 percent of Americans support Biden and Democrats pushing through the massive bill without Republican backing. Meanwhile, the survey found that 40 percent of Americans believe a smaller package with the support of Republicans would be better. An additional 10 percent oppose any further stimulus legislation at the present.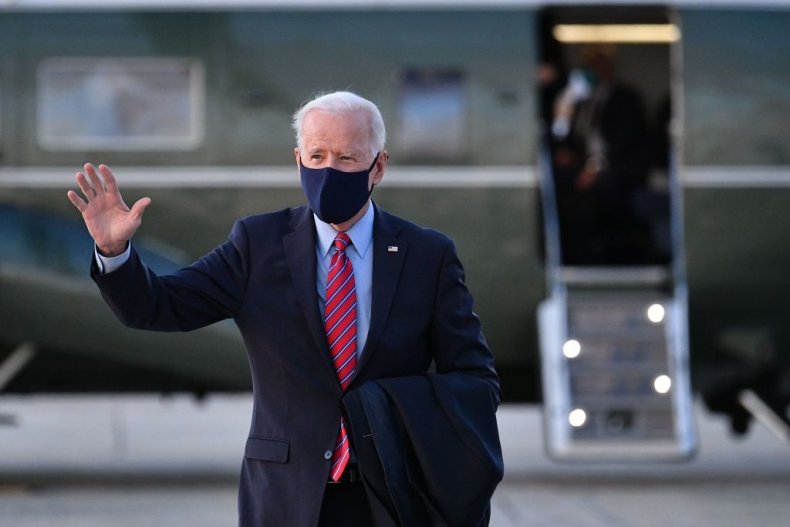 The poll, which was conducted from February 5 to 6, showed that more than two-thirds (67 percent) of Americans currently approve of how Biden is responding to the COVID-19 pandemic. Just 32 percent said they disapproved of how Biden is handling the crisis.
Whether some Republicans will ultimately vote in favor of Biden's stimulus package remains to be seen. During the reconciliation process, Republicans and Democrats can submit amendments and put forward suggested changes. However, a group of moderate Republican senators last week put forward a substantially smaller proposal totaling about $600 billion—which was rejected by Biden and most Democrats.
While Republicans have expressed frustration with Democrats pushing forward without their support, analysts and lawmakers have pointed out that the GOP did the same thing when it controlled the House and the Senate. Former President Donald Trump's signature tax cuts were passed through the Senate using reconciliation without any Democratic support. Similarly, Republicans attempted to use budget reconciliation to end the Affordable Care Act—although that effort did not ultimately succeed.
Senator Mitt Romney, a Utah Republican, pointed out last week in an interview with the Utah Politics podcast that Democrats are simply following the same playbook his party used when it was in power.
"When we've put a tax program on that basis that did not require any Democrat votes through reconciliation, we have a difficult time explaining why we're not happy with what they would be doing at this stage," Romney said.