Americans Who Think Pandemic Will Last Through 2022 More Than Doubled in Last Month: Poll
The number of Americans who expect the pandemic to persist through the end of 2021 or later has more than doubled over the last month, a new poll found.
The polling service Gallup asked 3,475 adults over the age of 18, "How long do you think the level of disruption occurring to travel, school, work and public events in the U.S. will continue?"
In June, just 17 percent of Americans thought that the disruptions would continue into 2022. As of July, 42 percent of Americans do.
An additional 41 percent of Americans think that the disruptions will continue "through the end of 2021." Combined, 83 percent of Americans think the pandemic's disruptions will continue either through the end of the year or well into the next year.
Gallup conducted its poll from July 19 to July 26. The poll has a margin of error of plus or minus 2 percentage points.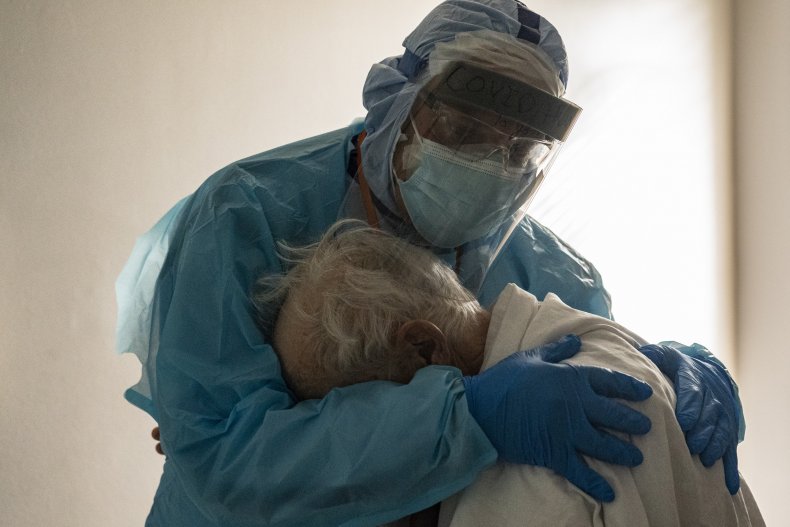 In June, 89 percent of respondents felt the pandemic was getting "a little" or "a lot better." By July, that number fell to 40 percent. Conversely, in June, 3 percent felt the pandemic was getting "a little" or "a lot worse." By July, that number rose to 45 percent.
Gallup's poll also showed that vaccinated individuals are more worried about contracting COVID-19 than unvaccinated individuals. In June, 18 percent of vaccinated Americans worried about contracting coronavirus. By July, that number increased to 33 percent.
In June, 15 percent of unvaccinated Americans worried about contracting coronavirus. By July, that number increased to 20 percent.
Despite the growing worry, the percentage of respondents who said they would start sheltering in place or avoiding public places, public transport, small gatherings or large crowds didn't change much between June and July.
Gallup noted that increasing pessimism about the pandemic has coincided with the COVID-19 Delta variant increasing infection rates nationwide.
Approximately 90 percent of recent COVID-related hospitalizations and deaths in the U.S. have occurred among unvaccinated people, the Associated Press reported in late June using data from the U.S. Centers for Disease Control and Prevention (CDC).
While "breakthrough" cases have occurred among vaccinated people, such infections seem to be happening among 0.0098 percent of all fully vaccinated people, ABC News reported. It based its report on CDC data of new cases that occurred near the last week of July.
Democratic President Joe Biden has said he considers it "unlikely" that the new wave of infections could cause further lockdowns. However, he also hesitated to rule out the possibility completely. The Biden Administration has also said that it will not make vaccines mandatory.
Newsweek contacted the CDC for comment.