Amid Biden's Strong Jobs Report, U.S. Recession Still Looms: Larry Summers
Economist Larry Summers threw cold water on Friday's glowing jobs report, saying its data reaffirmed the U.S. economy is overheating and likely headed toward a recession.
Summers, the U.S. Treasury secretary from 1999 to 2001, and director of the National Economic Council under former President Barack Obama, made the comments Friday to CNN's Wolf Blitzer in response to new federal figures showing stronger-than-expected job growth. Summers' views on the precarious state of the economy have taken on added credibility after he predicted President Joe Biden's stimulus policies would significantly drive up inflation.
"I think our core problem is that we have an unsustainably overheated economy that's leading to high inflation, which is cutting people's paychecks," Summers told CNN.
New jobs numbers for July showed unemployment dipped even further, from 3.6 percent to 3.5 percent, continuing months of post-pandemic employment gains. The Bureau of Labor Statistics, which prepared the figures, said the U.S. unemployment rate had returned to its February 2020 levels before the coronavirus pandemic caused the economy to hemorrhage jobs.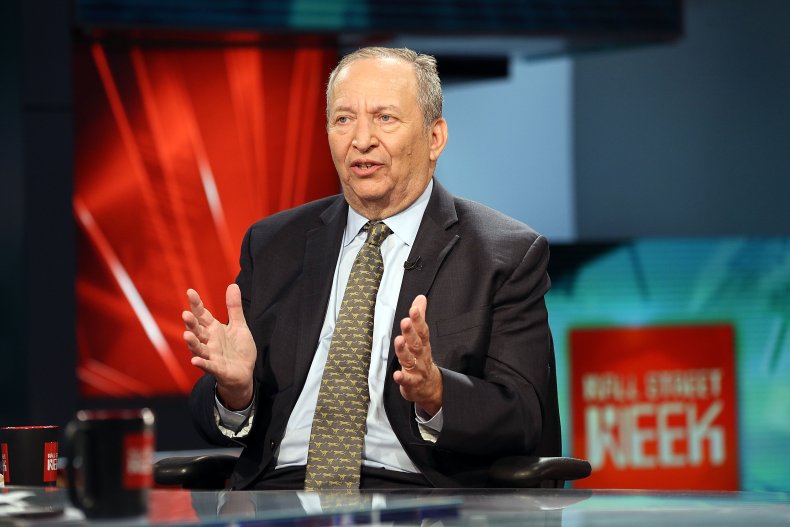 Blitzer asked Summers if the report changed his earlier prediction that there was a three-fourths chance the U.S. economy will enter a recession within the next two years. Summers said he stood by his prediction.
"The fundamental problem, the fundamental challenge that the economy faces is a kind of overheating," said Summers. "And this just shows that we're overheating—overheating more."
In a Washington Post op-ed in February 2021, Summers wrote that Biden's $1.9 trillion COVID-19 stimulus package would trigger "inflationary pressures of a kind we have not seen in a generation."
At the time, Biden and his economic advisers brushed aside inflationary concerns given the extent that the pandemic had damaged the economy.
But the consumer price index, a key inflationary measure, has risen, soaring to 9.1 percent in June, the highest figure since 1981 and an increase from May's 8.6 percent.
Economists have blamed inflation on too much demand for too few goods. U.S. rising inflation has tracked with months of strong job growth and wage increases.
Biden took to Twitter on Friday to herald the new jobs numbers, particularly the 613,000 manufacturing positions he said were created since he took office.
"More people are working than at any point in American history," said Biden. "That's no accident, it's results."
But Summers told CNN that while it's "welcome news when people are getting jobs," he said the report showed that inflation remains out of control. He said that the high number of job vacancies reflected in the report and wages rising in dollars, but not purchasing power, means that prices will continue to rise.
The Federal Reserve has signaled it'll again hike rates in an attempt to slow the economy without causing a recession. But Summers said that "proverbial soft landing" has become harder.
Summers did offer one bright note. He said the Inflation Reduction Act, a sweeping bill that appears poised to clear Congress, will lower prescription drug prices and make renewable electric power more affordable, while increasing corporate taxes.
"I think that's a positive thing that's going to make the Fed's job easier, make the economy stronger and better-protected for the long run," he said.
Newsweek has reached out to the White House for comment.