What Recession? Payrolls Data Gives Economy Boost to Biden
There was good news for the Biden administration on Friday as the headline jobs data showed higher-than-predicted growth.
Non-farm payrolls were 528,000 for July, far ahead of the predicted 250,000 by a Reuters poll of economists. A Trading Economics forecast was for 300,000 jobs.
The figure is significantly higher than the jobs growth in May and June, when payrolls increased by 384,000 and 372,000 respectively.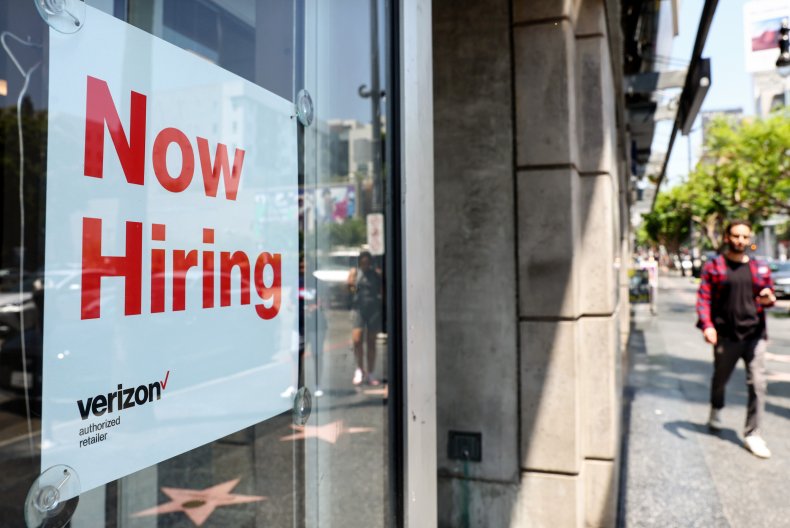 The unemployment figure for July edged down to 3.5 percent, from 3.6 percent in June. This is the lowest since February 2020 and in line with market expectations.
The Bureau of Labor Statistics said in the release that "Job growth was widespread, led by gains in leisure and hospitality, professional and business services, and health care. Both total nonfarm employment and the unemployment rate have returned to their February 2020 pre-pandemic levels."
The balancing act for the Federal Reserve is about how fast and steeply to raise interest rates to curb inflation, which is at a 40-year high. The Consumer Price Index is at 9.1 percent, and the PCE (Personal Consumption Expenditures) price index was 6.8 percent for June. Both are far higher than the 2 percent target set by the Fed.
The higher-than-expected nonfarm payrolls will add fuel to the idea that the U.S. is not yet in a recession. Recently, the argument over whether the economy is or is not in recession has flared up after both the first and second quarter GDP numbers were negative, with the Biden administration sticking to the policy of when it is declared by the National Bureau of Economic Research. Many economic observers note that two quarters of declining GDP are seen as a standard indicator of a recession. The argument got to the point where Wikipedia had to lock down its page on the subject.
The overall picture of the American labor market is hard to grasp. Why are there so many jobs, with not enough workers to fill them, and yet an unemployment figure of 3.6 percent? There were 10.7 million job openings at the end of June, with 1.8 openings for every unemployed worker.
The answer is complicated, but according to the U.S. Chamber of Commerce, there are several factors: an increase in savings; early retirements; lack of access to childcare; and people starting their own businesses.
President Joe Biden has said that tackling inflation is his number one priority; if he can get that figure down while avoiding a deep recession and pushing up unemployment, it will be quite a feat with only three months to the midterm elections.