Wikipedia Suspends Editing of Recession Page as Biden Rejects Claims
A furious editing war broke out on the Wikipedia page for "recession" after Biden administration officials played down figures showing the United States had entered an unofficial recession following two quarters of negative economic growth.
The page is currently locked so only "established, registered users" can make changes with anyone else having to suggest edits for approval.
On Thursday, figures from the Commerce Department revealed U.S. gross domestic product (GDP) fell by an annualized rate of 0.9 percent during the second quarter of 2022. This follows negative growth in the first quarter with an annualized rate of 1.6 percent.
Two consecutive quarters of decreasing GDP, which measures all the goods and services a country produces, is traditionally defined as a recession. However, key figures within the Biden administration avoided using the word "recession" both before and after the latest figures came out.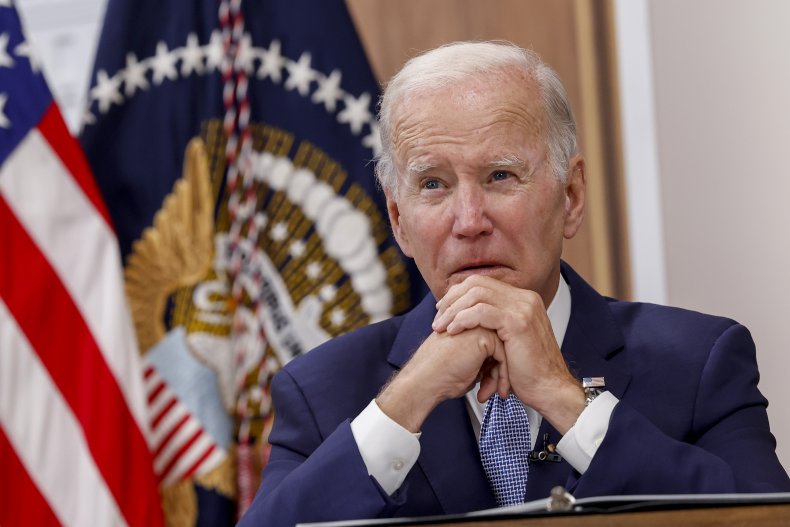 In a statement released after the Commerce Department announcement, President Joe Biden said that America remains "on the right path" and "will come through this transition stronger and more secure."
Defending his economic record Biden said: "Coming off of last year's historic economic growth, and regaining all the private sector jobs lost during the pandemic crisis, it's no surprise that the economy is slowing down as the Federal Reserve acts to bring down inflation. But even as we face historic global challenges, we are on the right path and we will come through this transition stronger and more secure."
The statement infuriated House Minority Leader Kevin McCarthy. Addressing Biden from the House he commented: "You would rather redefine a recession than restore a healthy economy."
Over the weekend, Treasury Secretary Janet Yellen denied the U.S. was about to enter recession during an appearance on NBC's Meet the Press.
"This is not an economy that's in recession," she said. "But we're in a period of transition in which growth is slowing and that's necessary and appropriate and we need to be growing at a steady and sustainable pace."
President Biden said on Monday that "we're not going to be in a recession, in my view", adding "my hope is we go from this rapid growth to steady growth."
The denials were reflected in the editing war on the Wikipedia recession page, with a user called Soibangla removing references to the standard definition of a recession. Instead, they added a line stating: "There is no global consensus on the definition of a recession."
After the definition was changed several times by competing users, the page was protected, restricting who can edit it.
Whether the U.S. is in a technical recession will be determined in the following months by the National Bureau of Economic Research, which will wait for more data before making its decision.
On Wednesday, the Federal Reserve hiked interest rates by another 0.75 percent in a bid to control runaway inflation.
However, this will also make it more expensive for businesses and individuals to borrow, which could further impact economic growth.
Republican National Committee Chairwoman Ronna McDaniel said in a statement: "This is Joe Biden's recession. Biden can lie and deflect blame all he wants, but that will not alleviate the pain Americans feel every time they fill up their gas tanks, go grocery shopping, check their retirement savings, or balance their budgets.
"Biden and Democrats are responsible for our shrinking economy, and they're only trying to make it worse."
Economist Peter Schiff recently told Newsweek that the U.S. has likely been in recession for some time, even if this wasn't reflected in official figures.
He warned: "This is going to be a brutal recession. I think it's going to be more of a depression by the time it's over."
News that the U.S. has entered an unofficial recession could be damaging for Biden ahead of the November midterms, and ultimately the 2024 presidential election. No Democratic president has won re-election after a recession broke out on their watch since FDR.