Biden in Peril as No Democrat President Has Survived a Recession Since FDR
News that the U.S. has unofficially entered recession spells political danger for Joe Biden, with no Democrat president having been re-elected after a recession began in their term of office since Franklin D. Roosevelt.
Figures from the Commerce Department released on Thursday showed U.S. Gross Domestic Product (GDP) fell by an annualized rate of 0.9 percent in the second quarter of 2022.
This follows negative growth of 1.6 percent at an annual rate during the first quarter.
GDP is used to measure all the goods and services produced by a country, with two consecutive quarters of negative growth widely regarded as a recession.
Whilst the US isn't in technical recession, as the designation can only be made months later by the National Bureau of Economic Research, the latest figures are a bitter blow for the Democrats ahead of the November mid-terms.
Roosevelt secured re-election in 1940, despite having overseen the recession of 1937–1938 that saw U.S. GDP decline by 18.2 percent, America's second-worst 20th century recession after the Great Depression.
However, no Democrat president has replicated this feat since, with a number losing power after a recession began under their leadership.
Republican Dwight D. Eisenhower won the 1952 presidential election after Democrat President Harry Truman oversaw the 1949 recession, which shaved 1.7 percent off U.S. GDP.
Under Jimmy Carter the U.S. entered recession for six months in January 1980, after which Ronald Reagan won the 1980 presidential election with a landslide.
Republican presidents have been far more successful in surviving recessions, with Eisenhower securing re-election in 1956, despite having led America through a recession in 1953 that knocked 2.6 percent from U.S. GDP.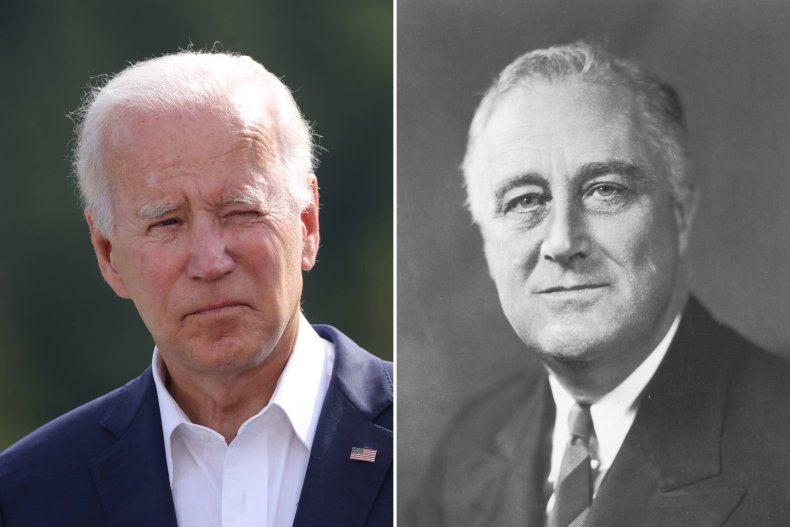 Richard Nixon was re-elected for a second term in 1972 after overseeing the relatively mild recession of 1969–70 and Ronald Reagan won the 1984 presidential election after overseeing the 1981–1982 recession, which cost the US 2.7 percent of its GDP.
Whilst Barack Obama had to contend with the end of the Great Recession in early 2009, this began in December 2007, during the presidency of George W. Bush.
According to William Lee, chief economist at the Milken Institute think tank, the current recession is likely to hit young professionals particularly hard.
Speaking to MarketWatch he warned of a "white-collar recession," with the jobs of entry-level office staff at risk because of technological advances.
Lee said: "The Joe Six-Pack, who used to be the first guy to be laid off, can be less concerned if he has one of these jobs that are in high demand, like the Amazon warehouse worker, delivery guy, the guy who's working in the ghost kitchen."