Amidst a Pandemic, Trump Says He Hopes Supreme Court Will End Obamacare in Leaked '60 Minutes' Interview
President Donald Trump said he hopes the Supreme Court will put an end to Obamacare in a leaked clip from his recent interview with 60 Minutes.
The president has frequently tried to dismantle the Affordable Care Act, commonly known as Obamacare, throughout his time in office. His latest comments about the health care reform law came as the country continues to struggle with a surge in coronavirus cases and with less than two weeks remaining until Election Day.
In the clip from the interview, which was conducted earlier this week, 60 Minutes' Lesley Stahl is starting to pose a question about the Supreme Court and Obamacare when Trump interrupts and says, "We'll have to see what happens. It's got a ways to go."
Before Stahl can finish asking her question, Trump adds, "I hope that they end it. It will be so good if they end it."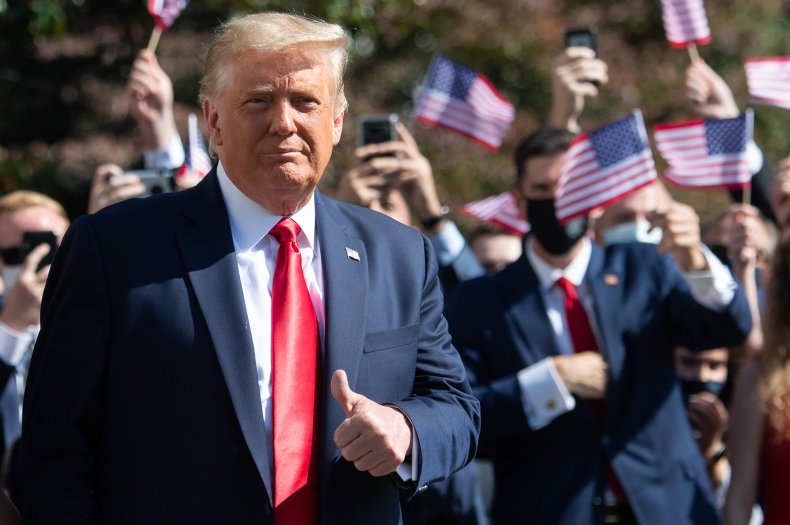 Trump's Tuesday interview with Stahl ended when the president abruptly left and began tweeting taunts at her, according to CBS News. The network is expected to broadcast the interview on October 25, but Trump said during a campaign event on Tuesday that he was considering sharing the interview early, in breach of the network's agreement with the White House.
On Thursday, Trump shared the interview, as well as 60 Minutes' interview with Vice President Mike Pence, on his Facebook page. The move elicited a statement from CBS News, which called it "unprecedented." CBS also confirmed the network will still broadcast the interviews this weekend, as planned.
The Lincoln Project, a group of conservatives who are actively supporting Democratic nominee Joe Biden, posted on Twitter the clip featuring Trump's comments about Obamacare. "And there it is," the Thursday tweet accompanying the video read. "12 days before the election, Donald Trump admits he wants to get rid of your health care."
The clip surfaced the same day that the Senate Judiciary Committee advanced Trump's Supreme Court nominee, Amy Coney Barrett, to the full Senate for a confirmation vote next week. Barrett's nomination to replace the late Justice Ruth Bader Ginsburg has been widely criticized by Democrats, who have raised concerns about the future of the Affordable Care Act after another Trump-nominated conservative justice is added to the court. Democrats also questioned Barrett's perspective on the law during her confirmation hearings last week.
Several recent polls have identified health care as a significant issue for voters as the presidential election approaches and the coronavirus pandemic remains a crisis throughout the country. By Thursday, more than 8.3 million people had contracted the virus in the U.S., and more than 222,000 people have died from the virus, Johns Hopkins University researchers report. According to an Ipsos/Reuters poll published last month, voters said health care was a greater concern for them than the economy, while a Fox News poll published in June said that a majority of Americans support Obamacare.
Newsweek reached out to the White House and Trump's campaign for comment but did not receive a response in time for publication.
This story has been updated with additional information and background.