Amy Coney Barrett Advanced Unanimously as Democrats Fill Seats with Cut-Outs of Obamacare Recipients
The Senate Judiciary Committee voted 12-0 on Thursday to advance the Supreme Court nomination of Amy Coney Barrett to the full chamber, as all 10 Democrats on the panel boycotted the vote and left poster-size images of Affordable Care Act recipients in their place.
Senate Majority Leader Mitch McConnell (R-Ky.) plans to hold the final confirmation vote on Monday, just eight days before the election. The conservative Trump nominee will make history by becoming the first justice to be confirmed so close to an election.
"We did it. We did it. Judge Barrett's nomination is going to the floor," Judiciary Committee Chairman Lindsey Graham (R-S.C.) said. " I hope you look back on this time on the committee and say, 'I was there when it mattered,' and you were."
Democrats said their boycott theoretically should have delayed the committee's vote because of a lack of quorum under Senate rules, which requires at least two members of the minority to be present. But Republicans said rule XXVI.7(a)(3) trumped other regulations and allowed them to move forward with the presence of any Democrats.
The posters were meant to represent the Americans who Democrats believe will be just some of the millions of ACA recipients impacted by Barrett's confirmation. The Supreme Court will hear oral arguments in a case to dismantle the Obama-era health insurance law that was brought by state Republican attorneys general and the Trump administration.
Democrats say Barrett could be the deciding vote on striking down the ACA, which would leave some 130 million Americans with pre-existing conditions without health insurance protections. The ACA was among several topics that Barrett largely refused to answer questions about during her confirmation hearing last week.
Sen. John Cornyn said the posters reminded him of "some sort of sporting event" and chastised the absence of his colleagues from across the aisle.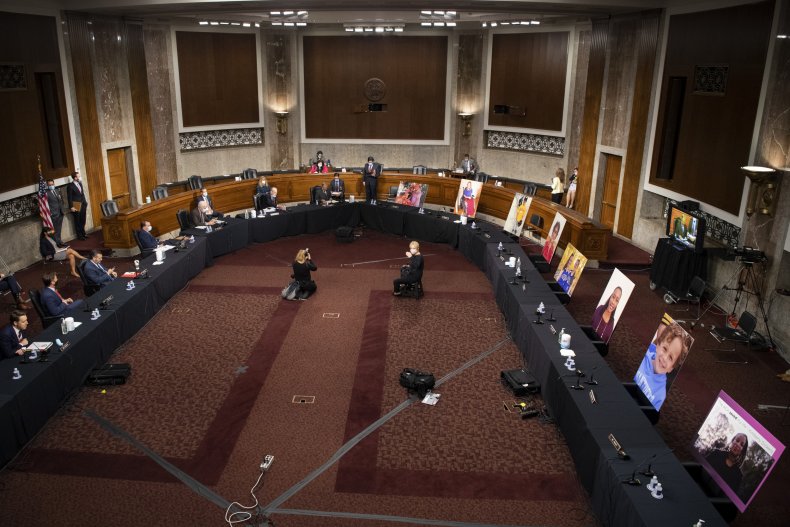 "I find this to be a surreal environment we're in, where our Democratic colleagues announced yesterday they were going to boycott one of the most important votes this committee will have, probably during our entire senatorial tenure," the Texas Republican said.
Republicans already have the votes secured to confirm Barrett on Monday. The only GOP senator who's said they will oppose her confirmation is Sen. Susan Collins of Maine, who is battling for re-election. Sen. Lisa Murkowski (R-Alaska), who previously opposed confirming a new justice before the election, has yet to say how she'll vote.
But even if Murkowski joins Collins to oppose Barrett, Democrats would need two more Republicans to dissent. Democrats have long realized that they lack both the procedural power and Republican support to prevent Barrett from filling the place of the late Justice Ruth Bader Ginsburg, who died last month from complications with cancer.
Ginsburg's dying wish was for the Senate to wait until the inauguration in January to replace her.
Democrats have long called Barrett's confirmation process "illegitimate" because of its breakneck pace to occur before Election Day and accused Graham of violating Senate rules by proceeding with Thursday's vote. Trump has conceded that she may be needed to determine the outcome of cases stemming from the election.
"The Senate Republican majority is conducting the most rushed, the most partisan and the least legitimate nomination to the Supreme Court in our nation's history," Senate Minority Leader Chuck Schumer (D-N.Y.) said on the front steps of the Capitol as a small group of protesters shouted. "To call this process illegitimate is actually being too kind."