Among Banned Books in U.S. Schools, 41 Percent Have LGBTQ+ Themes: Report
An estimated 41 percent of books banned in U.S. classrooms and school libraries during the 2021-2022 school year involved LGBTQ+ content, according to a new report released by PEN America at the start of this year's Banned Books Week.
Some LGBTQ+ advocates say the report is reflective of a larger "organized national attack on LGBTQ youth."
Book bans have been on the rise in the U.S. over the last few years, according to the report PEN America released on Monday. While some data indicates classroom censorship efforts have increased by about 250 percent over the last year, the trend appears to be widespread, with the American Library Association reporting an "unprecedented" number of book ban requests in 2021.
In April, PEN America released a report covering the first nine months of the 2021-2022 school year. That report found bans on 1,145 unique book titles, about 33 percent of which were found to "explicitly address LGBTQ+ themes, or have protagonists or prominent secondary characters who are LGBTQ+."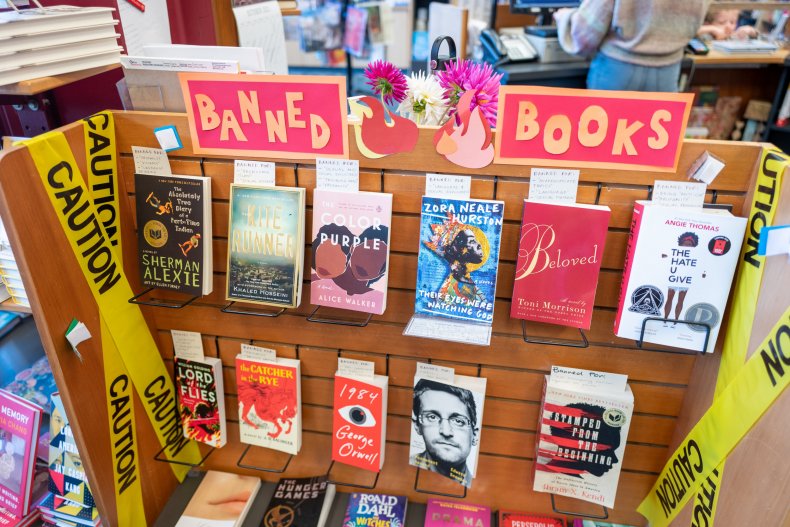 PEN America's latest report found an increase in the percentage of banned books containing LGBTQ+ content. According to the New York City-based nonprofit's updated data—which this time assessed titles banned during the entire 2021-2022 school year from July 2021 to June 2022—41 percent of the titles involved LGBTQ+ themes, or featured LGBTQ+ protagonists or important secondary characters. Of the 674 titles involving LGBTQ+ themes, about 9 percent involved transgender themes, the report said.
PEN America's report said book bans grew into "a full-fledged social and political movement" through the 2021-2022 school year, which the organization described as being "powered by local, state, and national groups."
"The vast majority of the books targeted by these groups for removal feature LGBTQ+ characters or characters of color, and/or cover race and racism in American history, LGBTQ+ identities, or sex education," PEN America said.
PEN America identifies book bans as actions "taken against a book based on its content and as a result of parent or community challenges, administrative decisions, or in response to direct or threatened action by lawmakers or other government officials," with the effect of "a previously accessible book being either completely removed from availability to students, or where access to a book is restricted or diminished."
The report includes a qualification that the included titles were either reported to PEN America or discussed in the media, and thus "there are likely additional bans that have not been reported."
In addition to LGBTQ+ subject matter, 40 percent of banned titles involved protagonists of color or major secondary characters of color. Twenty-two percent of the banned titles involved sexual content, 21 percent involved "issues of race and racism" and 10 percent had themes involving rights and activism.
In response to the report, the LGBTQ media advocacy organization GLAAD identified book bans in a Monday press release as "the latest method to target LGBTQ people and youth." In addition to "extremist" members of school communities, GLAAD said book bans are being pushed by "national anti-LGBTQ organizations and politicians." GLAAD said its president and CEO, Sarah Kate Ellis, is one author whose book was questioned this year over its inclusion in a Michigan children's library.
Ellis told Newsweek there were "very few books for children that reflected our family" more than 10 years ago. "LGBTQ families and youth did not have much representation in children's media of any kind," she said.
In 2022, "that has changed," Ellis said, with GLAAD publishing books for children and "countless others," contributing to the rise in inclusive books and other media.
"But whenever there's an increase in representation, there's also a backlash that follows," Ellis said. "The thing about this current backlash is that it's futile." She said the estimated 20 percent of Generation Z that identifies as LGBTQ+ "are absolutely standing up, resisting anti-LGBTQ censorship, and soon they're going to vote."
Meanwhile, Ellis said the same organizations and figures battling inclusive media are also often seen engaging in fights over other matters involving "private decisions."
"Book bans are part of this extremist agenda that voters must forcefully reject," she said. "The freedom to read, marry who we love, and start a family on our own terms, should never be up for debate."
In reference to the coming midterm elections, Ellis said 2022 is "an extremely important year to vote."
"We are being flooded with anti-LGBTQ bills—more than 240 this year—and most of those target youth at the state level," she said. "This year's election is about protecting youth and voting the bullies out."