Campus Censorship Efforts Up 250 Percent Since 2021: Study
A recent study published by PEN America found that legislative efforts toward censoring classroom curricula have increased by 250 percent over last year.
PEN America, a nonprofit working to defend free expression, said the legislation is an effort to restrict teaching about topics such as race, gender, American history and LGBTQ+ identities in grades K-12 and in higher education.
The study found that 36 states introduced 137 "educational gag order bills" this year, compared to 22 states introducing 54 bills in 2021. PEN America reported a year-over-year decline in passing the bills—seven have passed this year after 12 were passed last year.
Legislation restricting education has passed in Florida twice, Georgia, Kentucky, Mississippi, South Dakota and Tennessee in 2022. The majority of these laws restricted education on race and U.S. history, but several have also restricted certain curricula on gender, identity and ethnicity and culture.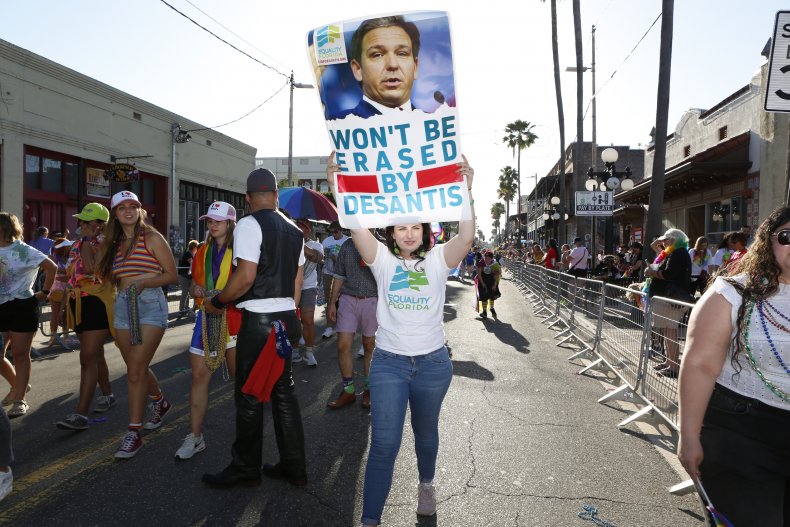 The study also found bills proposed in 2022 saw an increase in punishments if the laws were broken.
"Those punishments have more frequently been harsh: heavy fines or loss of state funding for institutions, termination or even criminal charges for teachers," PEN America said in the study.
Florida's HB 1557—referred to by critics as the "Don't Say Gay" bill—was one such bill that was signed into law earlier this year.
According to its description, the law establishes that "classroom instruction by school personnel or third parties on sexual orientation or gender identity may not occur in kindergarten through grade 3 or in a manner that is not age appropriate or developmentally appropriate for students in accordance with state standards."
"Let us be clear: should the vague language of this bill be interpreted in any way that causes harm to a single child, teacher, or family, we will lead legal action against the State of Florida to challenge this bigoted legislation," LGBTQ advocacy group Equality Florida tweeted after the bill landed on Governor Ron DeSantis' desk.
Recently introduced bills have also targeted higher education more frequently than bills introduced in 2021. PEN America's study showed that 39 percent of bills restricting curricula in 2022 targeted higher educated, compared to 30 percent in 2021. And although bills most often target public schools, some have targeted private education institutions as well.
"In 2023, we anticipate that the assault on education will continue," PEN America wrote in the study. "More gag order bills will be filed in states where they failed narrowly this year."
The study found only one of the bills had a Democratic sponsor. The other 136 bills were sponsored by Republicans.