Transgender Athlete Ban Smacked Down in Kansas as Governor Vetoes Bill
Kansas' Democratic governor has vetoed a bill that would have banned transgender student athletes from participating in girls' sports.
Governor Laura Kelly on Friday nixed the Fairness in Women's Sports Act, which was passed by the state's Republican-controlled Legislature, and would have required publicly funded schools and colleges to enforce the ban. Over a dozen states have enacted similar bans proponents say keep the playing field level in school sports. Calling it flawed and divisive, Kelly is now among several governors who've blocked proposed bans on transgender athletes.
Passing both of the state's legislative chambers on lopsided votes, Senate Bill 160 would prohibit "students of the male sex" from playing on public school and college sports teams designated for women or girls. The bill allows for coed teams and for women and girls to play on teams for men or boys.
Kelly said in a statement to Fox affiliate WDAF-TV that the bill would harm families and send the wrong message to companies considering doing business in Kansas.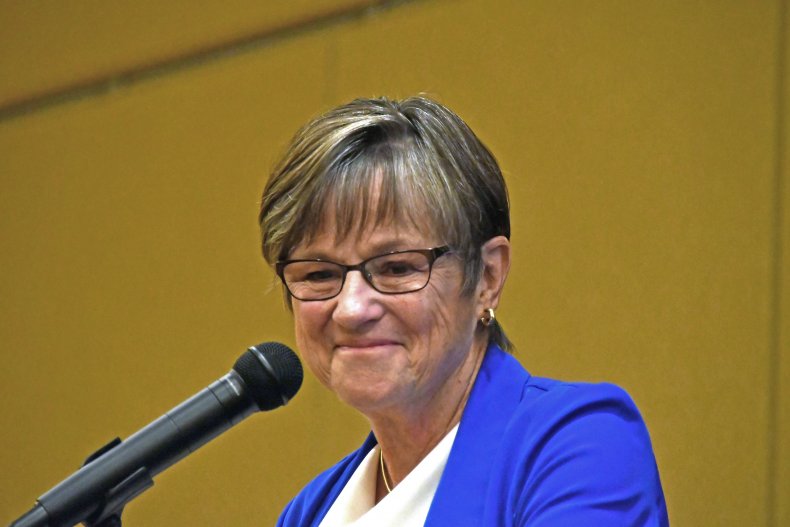 "We all want a fair and safe place for our kids to play and compete," she said. "However, this bill didn't come from the experts at our schools, our athletes, or the Kansas State High School Activities Association. It came from politicians trying to score political points."
Transgender athletes have become a hotly contested issue and culture war flashpoint. Some sports fans, conservatives and others have argued that allowing transgender athletes, who were born biologically male, to compete in women's sports is unfair. Fifteen Republican-led states have passed restrictions on transgender athletes, according to the Movement Advancement Project.
Kansas Senate Ty Masterson, a Republican, told Newsweek in a statement that the governor was ignoring the concerns of female athletes and parents, demonstrating she is "still largely controlled by the hard left."
"The Fairness in Women's Sports Act is about just that—fairness. It simply sets guidelines that ensure the fair playing field continues for women that we have recognized for decades," Masterson said. "It's about protecting the woman who worked and trained all her life and should not have her hard work wiped out by being forced to compete on unlevel playing fields."
Kansas Attorney General Derek Schmidt, a Republican who is challenging Kelly's 2022 re-election bid, said on Twitter that he would have signed the bill, calling it "commonsense."
"Men should not be competing in women's sports," he said.
Other governors have vetoed similar legislation. Indiana's Republican Governor Eric Holcomb last month struck down his state's bill, saying there was a lack of evidence that the government needed to step in to ensure fairness in girls' sports.
Utah Governor Spencer Cox became the second Republican governor to veto a proposed ban this year, saying it would single out and stigmatize the state's four transgender kids participating in school sports.
Last year, Arkansas GOP Governor Asa Hutchinson vetoed a ban that was later overridden by the Legislature.
Kelly also vetoed the Parent's Bill of Rights, legislation that would give parents the right to inspect classroom materials and initiate a challenge to remove them from the classroom, calling it "divisive."
"We know that parental engagement in their child's education greatly impacts the outcome," she said in a statement to WDAF-TV. "This bill, however, is about politics, not parents."
Masterson said the bill is "an essential tool to allow parents to access curriculum and information about what is being taught or provided in the classroom, ensuring they are able to challenge (objectionable) material that has been appearing all too often in our schools."
He said the Senate will hold override votes when they return in late April.
Newsweek has reached out to Kelly for comment.
Update 4/18/22, 3:35 p.m. ET: This story has been updated with additional information and background.