School Librarian 'Enraged' Over Order to Remove 'Banned Books Display'
A Texas school librarian said she was ordered to remove her display of "banned books" last week, dividing students and parents in her community.
Mary Wilson, a librarian at Belton Middle School in Belton, Texas, went viral on TikTok after saying that she refused to remove her display in honor of Banned Books Week. Her video has accumulated 1.3 million views.
"I'm sitting here minding my own business the day before school starts and [the principal] comes in and tells me that I need to take down my Banned Books Week display that's in the library entrance because a parent called him and complained about it," Wilson said in the clip.
The librarian said that she declined.
"I told him no, I was not taking it down because I serve over 700 students, not one student alone, and celebrating Banned Books Week is in our ALA (American Library Association) standards and something every secondary library does in our school district," she said.
Banned Books Week is held every September to celebrate "the freedom to read," according to the ALA. The books banned or challenged most between 2000 and 2009 include the Harry Potter series, by J.K. Rowling, the Alice series, by Phyllis Reynolds Naylor, and I Know Why the Caged Bird Sings, by Maya Angelou.
According to Wilson, the principal told her to "keep things academic." She responded by asking if she should take down other non-academic displays, such as one focused on superheroes.
Wilson said that she continued to refuse the principal's request, finally bursting into tears because she was so "enraged."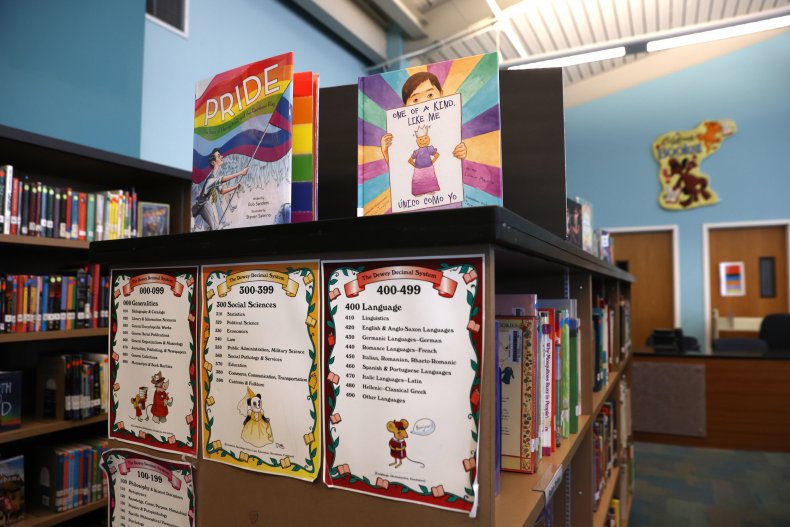 "I'm mad because people want to take away books that largely feature marginalized people," she said.
The Belton Independent School District told Newsweek that the display is still currently set up in the library at Belton Middle School.
"We strive to provide exceptional learning experiences for each and every student and for every employee to feel valued, supported and engaged," said a school district spokesperson. "We cannot comment on specific personnel matters."
Newsweek reached out to Wilson for comment.
The librarian's display has sparked outrage among more than one Belton parent. Parents protested at a school board meeting on Monday night, complaining primarily about their children being exposed to sexual content.
"I'm here for awareness of the harmful material that is in our schools, particularly sexually explicit and age-inappropriate material," said parent Hillary Hickland, according to KCEN-TV.
However, Belton Middle School students started a petition in support of the librarian. The petition said that students would stage a walkout if the display was removed, local news reported.
A nationwide trend toward politicizing the books children read has prompted an unprecedented number of bids to have books banned. The ALA's Office for Intellectual Freedom (OIF) recorded 729 challenges to materials and services from libraries, schools and universities in 2021, affecting 1,597 books.
The office noted that demands for removal targeted books addressing racism and racial justice. On the ALA's list of top 10 most challenged books in 2021, every title focuses on marginalized communities or issues of sexuality.
Tennessee legislators passed the Age-Appropriate Materials Act effective in April, requiring public schools to post a list of materials in their libraries online for parents to review. In January, Eastern Tennessee's McMinn County School Board voted to ban Art Spiegelman's Pulitzer Prize-winning graphic novel Maus, over concerns about nudity and curse words.
In Oklahoma, a bill was proposed last year to prohibit public school libraries from carrying books that dealt with sexual activity, sexual identity or gender identity, allowing parents to seek up to $10,000 for each day a book was kept in their child's school library after it was nominated for removal.