Philadelphia Amtrak Train Was Going 106 MPH in a 50 Zone Before Crash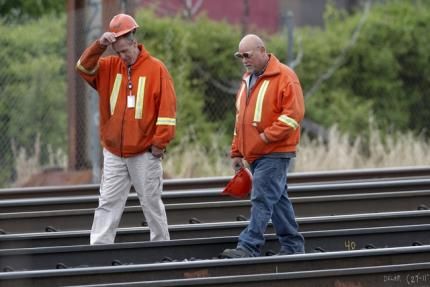 Updated | Emergency personnel continued on Wednesday afternoon to search for passengers and personnel unaccounted for in the wreckage of an Amtrak train that derailed the previous night near Philadelphia.
Seven people died as a result of the crash, Philadelphia Mayor Michael Nutter confirmed.
Speaking at a press conference, officials from the National Transit Safety Board said the train was traveling more than twice the speed limit when it hit the curve and derailed. The train was traveling at 106 miles per hour when the conductor pulled the emergency brake, bringing the speed down to 102. Immediately thereafter, the train derailed.
Officials said a more complete investigation will need to be done before they can confirm speed was the primary factor in the crash. The NTSB added that prior to the curve, the speed limit is 80 miles per hour. Only at the curve is the speed limit 50.
One key figure is refusing to cooperate in the NTSB investigation: the engineer who was controlling the train at the time of the crash. They declined to give a statement to authorities, according to the Associated Press. They have retained the services of an attorney. Authorities did not name the engineer.
Earlier today, Nutter urged people to stay focused on making sure officials can continue to search every car and the area around the train to locate individuals who might have been on the train.
"There will be another day for policy and/or politics. I'm asking that today not be that day," Nutter told reporters at an afternoon press conference.
Officials have recovered the equivalent of the train's "black box" recorder. The device was sent to Amtrak's operation center in Delaware for analysis as investigators search for the cause behind the deadly crash, in which dozens were injured.
"We have not experienced anything like this in modern times," Nutter told reporters earlier on Wednesday. "We will get to the bottom of it and figure out what happened, why it happened, but that will take some time."
The train, which was traveling from Washington, D.C., to New York City, was approaching a turn when its cars derailed at around 9:30 p.m. About 238 passengers and five crew members were on board, according to Amtrak.
"It's a devastating scene. There are many first responders out there," NTSB board member Robert Sumwalt told reporters. The search and recovery process takes precedence over the NTSB's investigation, he added.
Nutter said he didn't have an accurate number of people who remained unaccounted for at the scene. He declined to comment on the identities of the deceased victims.
More than 200 people were treated at hospitals overnight, according to Samantha Phillips, director of emergency management for the city of Philadelphia.
"We are deeply saddened by the loss of life from Amtrak Northeast Regional Train 188 that derailed north of Philadelphia Tuesday evening," Amtrak said Wednesday in a statement. Amtrak has not released any information on the possible cause of the crash.
Amtrak service between New York and Philadelphia on Wednesday was canceled, with modifications between Washington and Philadelphia, Harrisburg and Philadelphia, and New York and Boston.
President Barack Obama, who called Nutter on Wednesday to extend his condolences, issued a statement Wednesday morning, saying the first family was "shocked and deeply saddened" to hear about the derailment. He commended the emergency personnel working to save lives.
The crash is the second Amtrak incident just this week. On Sunday, a train headed to New Orleans hit a flatbed truck at a railway crossing in Amite, Louisiana, killing the truck driver and injuring two train passengers, according to The Times-Picayune.
In March, an Amtrak train on its way to New York City collided with a tractor trailer in Halifax County, North Carolina. The engine, second car and part of the third car derailed as a result of the crash. Dozens of injuries were reported.
Metro-North, the country's second-largest commuter rail system, saw six deaths and 126 injuries from accidents between May 2013 and March 2014.
Funding for Amtrak and investment in its infrastructure have been the source of heated political debate in recent decades. Republicans want to end all federal funding for Amtrak and high-speed rail, citing the high costs of service for taxpayers. But Democrats say the country should invest in rail, similar to what foreign countries like Germany are doing.
Crashes always raise concerns about whether there are enough rail safety measures in place. Legislators hurried to pass a measure in 2008 after a commuter train crash in Los Angeles in which 25 people died, according to The Washington Post. The 2008 law required new technology to prevent crashes and limited the number of hours engineers can work. The measure expired two years ago in 2013, but congressional inaction and disagreement have caused delays in its reestablishment.
Amtrak provides national rail service to more than 500 destinations daily. It has 21,000 route miles in 46 states, the District of Columbia and three Canadian provinces, according to the company's website.
"The victims could have been any one of our parents, children or someone from one of our communities," Vice President Joe Biden said in a statement, adding that Amtrak's employees had become "like a second family" to him through his travels.
Additional reporting by Polly Mosendz.