Amy Klobuchar Hits Back at Trump's Repeated Comparison of Coronavirus to Seasonal Flu: 'I Know. My Husband Has It'
Former Democratic presidential hopeful Amy Klobuchar, whose husband has coronavirus, made remarks against President Donald Trump's comparing the coronavirus pandemic to the milder seasonal flu.
Trump, who has said he wants to lift measures put in place to curb the spread of the coronavirus and send Americans back to work by Easter, made the comparison while sitting down for a Fox News town hall on Tuesday night.
"We lose thousands and thousands of people a year to the flu. We don't turn the country off — I mean, every year," the president said, according to a transcript of the remarks.
"Now, when I heard the number — you know we average 37,000 people a year. Can you believe that? And actually, this year we're having a bad flu season. But we lose thousands of people a year to the flu. We never turn the country off."
Trump added that America wasn't designed to shut down and advocated for returning to nearly normal operations as soon as possible. "Our country is not built to shut down, our people are full of vim and vigor and energy, they don't want to be locked into a house or apartment or some space," he said. "We're not built that way."
Shortly afterwards, the Minnesota senator — who has endorsed former vice president Joe Biden — took to Twitter and urged people to "listen to doctors" as she personally knows badly coronavirus is as her husband, John Bessler, has tested positive.
"This is not seasonal flu. I know. My husband has it. He is 52 & has been sick for 2 weeks. He coughed up blood & is on oxygen. Many are worse. Listen to doctors!" Klobuchar wrote alongside a link to a Washington Post article that explained why Trump's recurring comparison of the coronavirus pandemic to the seasonal flu is "not fair." Klobuchar has been contacted for additional comment.
In a Medium post published on Monday morning, Klobuchar shared her family's news and noted that being forced to stay apart from her husband while he is ill and quarantined "is one of the hardest things about this disease."
"I have news that many Americans are facing right now: my husband John has the coronavirus. We just got the test results at 7 a.m. this morning," she wrote. "While I cannot see him and he is of course cut off from all visitors, our daughter Abigail and I are constantly calling and texting and emailing. We love him very much and pray for his recovery. He is exhausted and sick but a very strong and resilient person."
She added that her husband started to feel sick while in Washington, D.C., and had initially dismissed his symptoms as a cold.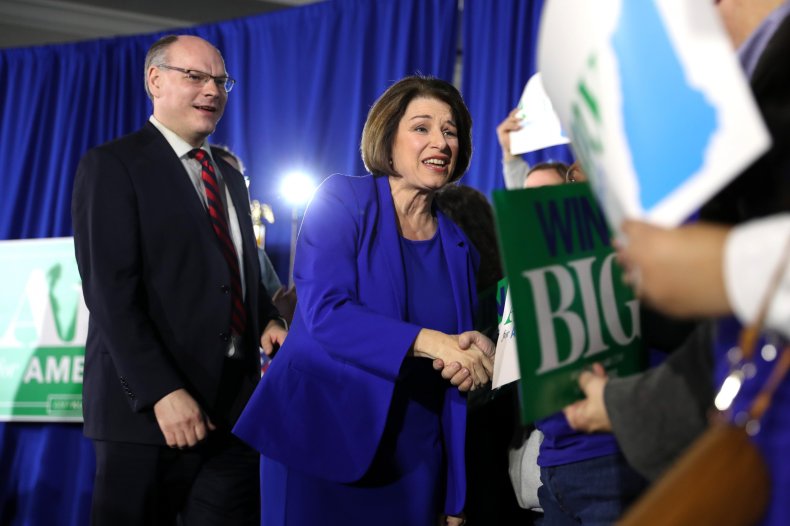 "Yet he immediately quarantined himself just in case and stopped going to his job teaching in Baltimore," she added. "He kept having a temperature and a bad, bad cough and when he started coughing up blood he got a test and a chest X-ray and they checked him into a hospital in Virginia because of a variety of things including very low oxygen levels which haven't really improved. He now has pneumonia and is on oxygen but not a ventilator."
The senator added that as she had been apart from her husband for the past two weeks, she was advised by her physician to not get a test.
"I love my husband so very much and not being able to be there at the hospital by his side is one of the hardest things about this disease," she added. "I hope he will be home soon. I know so many Americans are going through this and so much worse right now. So I hope and pray for you, just as I hope you will do for my husband. Meanwhile I am working in the Senate to get help to the American people."
This infographic, provided by Statista, shows the number of confirmed of COVID-19 cases in the U.S. as of March 25.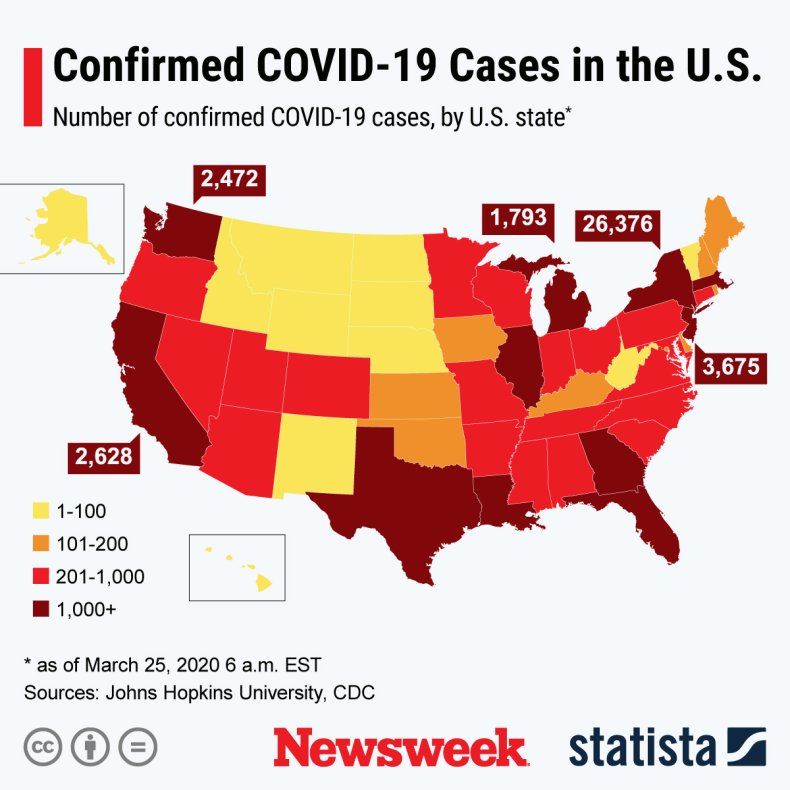 World Health Organization advice for avoiding spread of coronavirus disease (COVID-19)
Hygiene advice
Clean hands frequently with soap and water, or alcohol-based hand rub.
Wash hands after coughing or sneezing; when caring for the sick; before, during and after food preparation; before eating; after using the toilet; when hands are visibly dirty; and after handling animals or waste.
Maintain at least 1 meter (3 feet) distance from anyone who is coughing or sneezing.
Avoid touching your hands, nose and mouth. Do not spit in public.
Cover your mouth and nose with a tissue or bent elbow when coughing or sneezing. Discard the tissue immediately and clean your hands.
Medical advice
If you feel unwell (fever, cough, difficulty breathing) seek medical care early and call local health authorities in advance.
Stay up to date on COVID-19 developments issued by health authorities and follow their guidance.
Mask usage
Healthy individuals only need to wear a mask if taking care of a sick person.
Wear a mask if you are coughing or sneezing.
Masks are effective when used in combination with frequent hand cleaning.
Do not touch the mask while wearing it. Clean hands if you touch the mask.
Learn how to properly put on, remove and dispose of masks. Clean hands after disposing of mask.
Do not reuse single-use masks.