Amy Klobuchar Surges Into Third Place in New Hampshire After Democratic Primary Debate: Polls
Senator Amy Klobuchar (Minnesota) has moved up to third place in New Hampshire following the Democratic primary debate on Friday, two new polls shows.
The surveys released by Emerson College and Suffolk University overnight found the Minnesota senator on 14 and 13.6 percent of the New Hampshire vote respectively, putting her ahead of Joe Biden and Elizabeth Warren just 24 hours before the second nominating contest.
The Emerson College poll of Democratic primary voters conducted from February 8 to February 9 showed Klobuchar's numbers were up five points on Friday, the date of the ABC News Democratic debate in New Hampshire.
By comparison, the latest Suffolk University poll found her 7.6 points ahead of her numbers going into the eighth Democratic debate, while Senator Warren and former South Bend Mayor Pete Buttigieg saw their polling dip.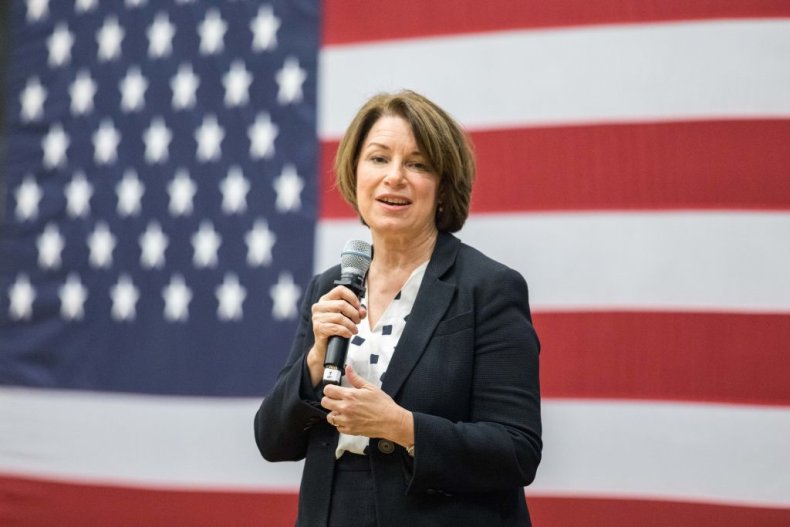 In other polls released over the weekend, Klobuchar's position going into the New Hampshire primary tomorrow was less marked, with one poll by CBS News and YouGov putting the Minnesota senator in fifth place on just 10 percent of the New Hampshire Democratic vote.
Another survey released on Sunday by the University of New Hampshire and CNN found the Minnesota senator in fifth place with just 6 percent of the vote, putting her 22 points behind frontrunner Bernie Sanders.
New Hampshire primary polling averages by FiveThirtyEight and Real Clear Politics put Klobuchar in the same spot, with 9.5 and 9.6 percent of the vote respectively.
But they have also recorded jumps in her polling numbers since the ABC News debate in the Granite State, with both FiveThirtyEight and Real Clear Politics putting her around 1.5 points up on Friday.
While Klobuchar's polling numbers in New Hampshire certainly seem to have improved recently, Emerson College Polling Director Spencer Kimball noted in a release that she "still trails the top two candidates by a significant margin."
As the Democratic primary field stands just a day before New Hampshire voters nominate their favorite candidates, Senator Sanders is leading the pack with 26 percent of the projected vote on average.
He is closely followed by Buttigieg on a little under 21 percent of the vote heading into the Tuesday vote, following possible victory in the controversial Iowa caucus on February 3.
While the Vermont senator was found to have won the popular vote in the Hawkeye state last Monday, Buttigieg had a 0.1 percent lead on state delegate equivalents.
In results released yesterday by the Iowa Democratic Party, Buttigieg was said to have won with two more national delegates than Sanders.
However the long delayed results have faced contest, with Senator Sanders' team reportedly seeking a partial recanvass ahead of a Monday deadline as several news outlets are holding back from calling victory in the state over questions about the accuracy of results.