Bernie Sanders held his ground as the moderates squabbled for votes in the eighth Democratic debate held in New Hampshire on Friday night. The progressive senator, with help from billionaire activist Tom Steyer—who appears to have emerged in recent weeks as a Sanders hype man—fended off attacks from all directions, demonstrated unrivaled strength in his rhetoric on foreign policy, climate change, criminal justice and inequality, solidifying his position as a Democratic frontrunner.
"Donald Trump lies all the time," Sanders declared in the first five minutes. "He says terrible things about Joey, ugly, disgusting things about Elizabeth, about anybody else who is up here... the way we beat Trump is by having the largest voter turnout in the history of this country."
Blunt, yes—but it paid off. He was the night's big winner, with Senator Elizabeth Warren and former Vice President Joe Biden coming in as runners up. The losers: former South Bend, Indiana Mayor Pete Buttigieg and entrepreneur Andrew Yang.
It's worth noting that all candidates on stage had strong performances tonight, particularly when you factor in the intense periods of campaigning over the last month and, for the senators on stage, trips back to the impeachment proceedings in Washington. Everyone showed more passion than in any previous debate, despite appearing exhausted backstage before the event.
Biden needed a strong performance to stabilize his campaign after a disappointing fourth place finish in Iowa and another lackluster fundraising cycle. He boosted the energy on stage, but is still too reliant on his long and sometimes patchy record, rather than articulating his case for the future. Given that he has taken few questions from voters in New Hampshire this year, the thought on everybody's minds going in was: Can he turn this around?
Tonight we saw a different Biden, his strongest debate performance to date. The former vice president spoke with anger, clarity and staunchness, especially when it came to touting his own electability. No more mister nice-bumbling-gaffe-grandpa guy. Biden has proven to America that he does indeed want it, though he's still lacking on issues surrounding his vote for the Iraq War.
"I introduced the first assault weapons ban. I, in fact, got it passed. I'm the only guy that beat the NRA twice," Biden said when asked to comment on Sanders' record on gun legislation. "Bernie voted five times against it when he was in the house."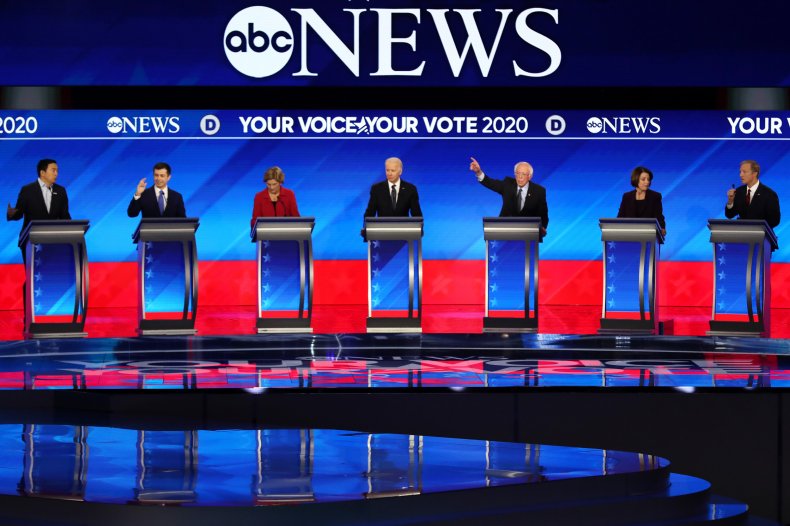 Buttigieg—again—made his case for electability on being from outside Washington. But he struggled to capitalize on his strong finish in Iowa with a commanding debate performance. At times, Buttigieg's electability argument was too heavy on platitudes—"we need to turn the page"—without making it clear exactly what is on the next page.
He also took heavy fire from other candidates on both his experience and his record as mayor of South Bend. Debate moderator Linsey Davis called out the record of the South Bend police department under his mayoralty, with arrests for marijuana possession disproportionately impacting the black community under his watch. Buttigieg struggled to account for this, pivoting to a broader message about structural racism. This won't boost his support amongst critical black Democratic supporters.
After Warren's campaign stalled through late 2019 as she backpedaled on Medicare for All and was elusive about the cost of the program, she needed a strong performance to promote herself as the potential "unifier" of the moderate and left wings of the Democratic party. Her debate performance was strong—particularly on structural inequality and abortion rights—but unlikely to peel any support away from Sanders, whose base of support is particularly committed. Without a fundamental change in the dynamics of the race, her path to victory is narrowing.
Senator Amy Klobuchar had another solid performance. She didn't stray far from her core message but made a striking plea for a more empathetic style of governance in her closing remarks, repeating, "I know you, and I will fight for you."
Yang has a knack for speaking directly to American families in a disarmingly effective and casual manner. However, he struggled to expand his message beyond his promise of a universal basic income and did not even get to speak on a number of issues.
The biggest applause of the evening went to Lt. Col. Vindman, which came in the form of a standing ovation encouraged by Biden, who said he, not Rush Limbaugh, should have been awarded the Presidential Medal of Freedom.
The second most applause went to Steyer when he took a shot at Buttigieg's lack of experience. Amid a tense quarrel between moderates and progressives over health care, Steyer interjected that all Democratic health care plans are a "million times better" than Trump's. "That's why I'm worried about Mayor Pete," he said. "You need to be able to go toe-to-toe with this guy and take him down on the debate stage or we're going to lose."
Sanders and Buttigieg Spar Over How to Unify America
The two Iowa primary leaders, who both declared themselves victorious before the results were released, continued their battle for early-state dominance at the start of the debate—this time over the best way to bring a divided America together. Buttigieg accused the Vermont senator of focusing too heavily on purity. He said his "opponent" is "saying 'If you don't go all the way to the edge, you're out.' Politics that say 'It's my way or the highway.'"
When asked if he is referring to Sanders, Buttgieg responded: "Yes."
"Needless to say, I never said that," Sanders replied, adding that "the way you bring people together is by presenting an agenda that works for the working people of this country, not for the billionaire class."
Biden Hugs Sanders As Candidates Rally Behind Senator Over Clinton Attacks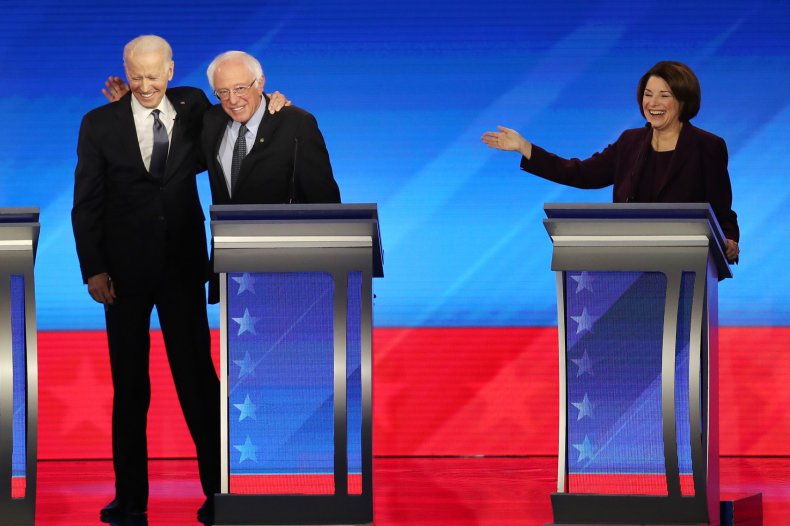 One moment of warmth happened near the halfway point of the debate when Davis brought up former presidential candidate Hillary Clinton's recent comments on Sanders that "nobody likes him," or can work with him. When Davis asked Klobuchar if she had experience working with Sanders, Biden reached over and embraced Sanders as a show of support.
Klobuchar gestured to the hug, as if to answer the question about whether or not he could get the support. She then described the Klobuchar-Sanders Amendment to bring in less expensive prescription drugs from Canada. The two senators shared a gentle moment as Sanders joked that the amendment was actually the Sanders-Klobuchar Amendment, and Klobuchar laughingly corrected the senator from Vermont.
Biden Refuses to Disavow Racist Comments Made by Supporter
South Carolina state Senator Dick Harpootlian questioned on Wednesday if one of Steyer's staffers, South Carolina state Representative Jerry Govan, had earned the $50,000 he was paid for a month's work, according to an FEC filing by Steyer. Harpootlian, who endorsed Biden, was accused of racism, for implying that Govan had somehow committed a crime or otherwise done something wrong.
When Steyer called upon Biden to disavow Harpootlian, the former vice president refused, instead pointing to his support in the black community. "I have more support in South Carolina in the Black Caucus and the black community than anybody else. Double what you have, or anybody else has," Biden said. After further pressing from Steyer to disavow Harpootlian, Biden instead said that he'd already spoken to him, "and he is, I believe, sorry for what he said."
Warren and Klobuchar Unite in Supporting Women's Rights

In the second half of the debate, David Muir asked if there was a "litmus test" on the issue of abortion in terms of appointing future Supreme Court Justices. Warren opened by saying she lived in an America where abortion was illegal—"and rich women still got abortions. That's what we have to remember about this." She used this as a springboard to argue that "we can't simply rely on the courts," but instead push for a congressional solution.
Klobuchar agreed, answering that while she would only appoint judges "that would respect precedent, and one of those key precedents is Roe v. Wade," but underlined the importance of putting abortion rights into law. She criticized Trump for arguing to jail women who have abortions, and then doctors who perform them.
Sanders was the only male candidate to address what they would do about abortion, saying he would refuse to nominate any judge who was not "100% pro-Roe v. Wade," and echoed Warren's call for a legislative solution.