What Amy Robach, T.J. Holmes Have Said About Each Other Amid 'GMA3' Exit
Amy Robach and T.J. Holmes, whose affair went public last year, have left GMA3: What You Need to Know, according to ABC News.
The show's co-anchors were taken off the air in December after photos surfaced of them together, including a weekend trip and a get-together at a New York City bar. A series of hosts filled in for them in the meantime.
ABC has yet to decide who will permanently replace Robach and Holmes on the show, which is the third hour of Good Morning America. The network also has to find a replacement for Robach on 20/20, which she had co-anchored.
In a memo to ABC News staff last week, President Kim Godwin confirmed the anchors' departure.
"I know that this has been a distraction for so many of us, but let's not forget all the great work that continues to make ABC News the #1 news network in America, and that's because of you," Godwin wrote in the memo, CNN reported. "I want to thank you again for your patience and professionalism during this time."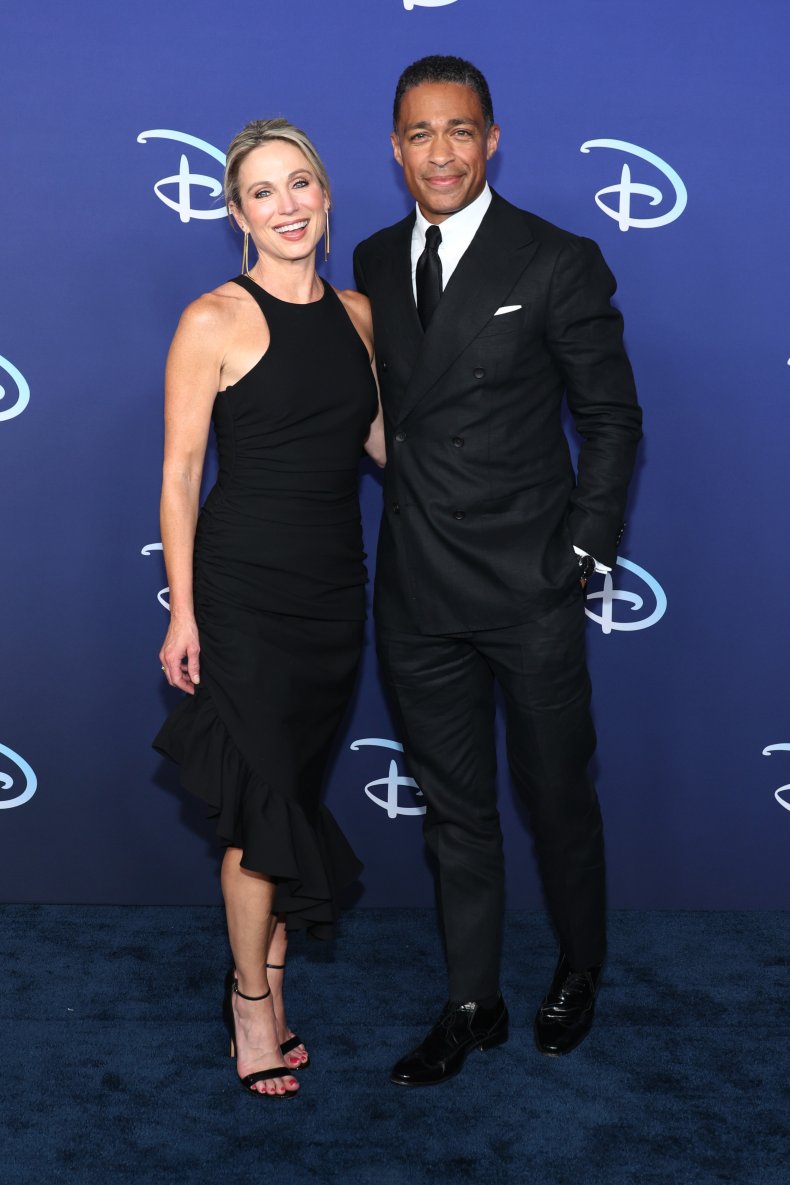 ABC News later confirmed the departure in a public statement.
"After several productive conversations with Amy Robach and T.J. Holmes, about different options, we all agreed it's best for everyone that they move on from ABC News," an ABC News spokesperson said. "We recognize their talent and commitment over the years and are thankful for their contributions."
Robach and Holmes' chemistry was evident on the show, and they trained together for the New York City Half Marathon last year.
"I pretty much announced to everyone that TJ was going to run the half-marathon with me and then publicly pressured him to join...and it worked!" she told Page Six in 2022.
Holmes described how Robach convinced him to run the race and also their training regimen.
"I think 'Robes' knew that this was a manageable distance for me. Then throw in a little public shaming, a little peer pressure, plus she took advantage of my pride and ego, and here we are...I'm running a half-marathon," he told Page Six.
"I was totally committed to the training schedule that Robach put me on," he continued. "And it absolutely helped that I work with her every day. We literally have to sit next to each other for over an hour each day, so you have someone to compare notes with and someone who'll hold you accountable."
In 2014, Robach described the moment ABC News suggested Holmes as her co-anchor on GMA3.
"[They] said, 'Hey, we want to bring on a co-anchor. What do you think of T.J. Holmes?' And I almost fell out of my chair," she told People. "My God. You couldn't have picked a better person to ask me what I thought of, because we've been trying to figure out a way to work together for literally the last five years."
She continued: "Basically, he's like my brother. We just can finish each other's sentences. We get along so well. It's so wonderful to have again. It's that trust, and you don't always have that on the set. But I know no matter what I do or say, he's got my back and vice versa, and that's everything."
On the show, Holmes once stumbled through a report on workplace romance not long after the rumors emerged about his affair with Robach.
Last month on Twitter, actor and singer Jessie Woo shared a resurfaced video from GMA3 in which Holmes reported on Boston Celtics head coach Ime Udoka, who was suspended in September for an allegedly improper relationship with a Celtics staff member.
"This is not what the NBA wants. Headlines like this. They're just about three weeks away from the start of the new season," Holmes began, before seemingly referring to Udoka's coaching skills. "He has, he is getting great and high remarks, high marks, for a new coach. Finally got his head coaching, uh, opportunity and now this. We don't know if he'll ever coach the Celtics again. They still could make a decision about his future down the road."
In her tweet's caption, Woo wrote: "Not TJ Holmes stuttering thru THIS report knowing he was reupholstering Amy Robach's guts."
Shortly after photos of Robach and Holmes together appeared online, the pair shared an awkward on-air moment.
"It's too bad it's Friday," Holmes told Robach and viewers, just days after the photos came out. "It's been a great week. I just want this one to keep going and going and going."
Robach replied, "Speak for yourself," adding, "I am very excited about the weekend—and I'm sure everyone else is too. We all love our Fridays around here. Some of us do, at least."
Holmes wed attorney Marilee Fiebig in 2010 and was previously married to Amy Ferson. He has one daughter, Sabine, with Fiebig and a daughter, Brianna, and a son, Jaiden, with Ferson.
Robach split from her second husband, actor Andrew Shue, last year after getting married in 2010. She was previously married to Tim McIntosh, with whom she shares two daughters, Ava and Annie.