T.J. Holmes' Estranged Wife Still Follows Amy Robach Amid Hosts' Mexico PDA
T.J. Holmes estranged wife, Marilee Fiebig, still follows his new girlfriend and former co-anchor, Amy Robach, on Instagram.
Holmes, 45, and Robach, 50, left ABC News and their roles as hosts on GMA3: Everything You Need To Know after photos of them together were published in the media and their rumored relationship became public. Robach also stepped down from co-anchoring 20/20 on the network.
The couple were first pictured on a romantic getaway and then getting cosy in a New York City bar in November 2022.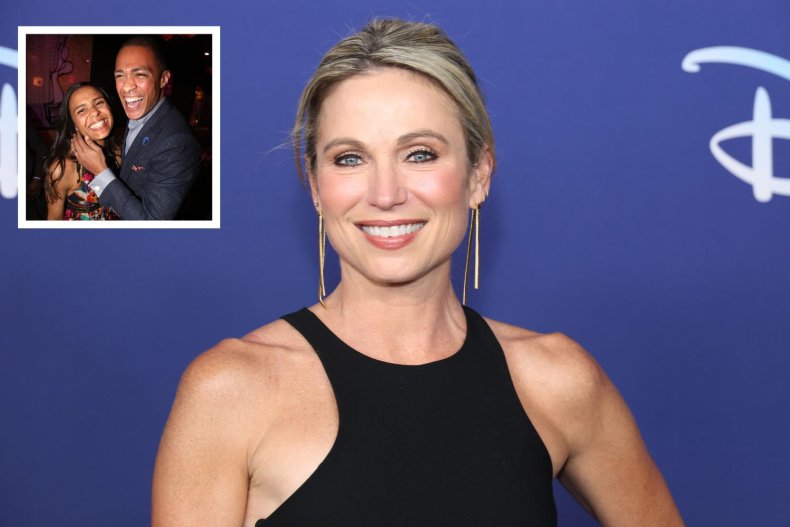 Then, in December, Holmes filed for divorce from Fiebig after almost 13 years of marriage. The couple are parents to 10-year-old daughter, Sabine, and Holmes is dad to Brianna and Jaiden, from his first wife, Amy Ferson.
Fiebig temporarily made her Instagram private, shortly after news of Holmes and Robach's relationship public. However, she did not stop following Robach on the social-media platform.
Robach's bio on her Instagram account still describes her as the co-host of GMA3 and 20/20. The profile picture remains of her posing in front of a Good Morning America sign.
While Fiebig still follows Robach on Instagram, the latter has been vacationing alongside her new love in Mexico.
The pair were spotted kissing poolside, holding hands as they took in the sights. Robach cuddled up to Holmes as they enjoyed a beer.
After news of their romance became public in November, Robach and Holmes were quickly taken off the air, pending an internal investigation. A series of anchors filled in for them.
ABC News President Kim Godwin confirmed Holmes and Robach's departure in late January in a memo sent to staff.
An ABC News spokesperson later released a statement to the media.
"After several productive conversations with Amy Robach and T.J. Holmes, about different options, we all agreed it's best for everyone that they move on from ABC News," the statement read. "We recognize their talent and commitment over the years and are thankful for their contributions."
In January, Fiebig broke her silence about her split from Holmes through her divorce lawyer, Stephanie Lehman.
"During the holiday season and in light of the challenging times, Marilee's sole focus has remained on the overall best interest of her 9-year-old daughter," Lehman told the Daily Mail in a statement. "To that end, T.J.'s lawyer and I have been working together to move their divorce forward privately, expeditiously and as amicably as possible."
Lehman added: "Notwithstanding, we continue to be disappointed by T.J's lack of discretion, respect and sensitivity toward Marilee and the party's daughter. Marilee has been touched by the outpouring of support and looks forward to a new beginning in this new year."
Prior to her relationship with Holmes, Robach was married to Andrew Shue from 2010. She was previously married to Tim McIntosh from 1996 until they split in 2009. Robach has two daughters with McIntosh: Ava, born in 2002, and Annie, born in 2006.