Amy Schneider Hopes 'Jeopardy!' Success Will Inspire 'Nerdy Little Trans Kid'
Jeopardy! champ Amy Schneider has expressed hope that her ongoing success on the show will serve as inspiration to young transgender people.
The California-based engineering manager's debut on the syndicated quiz show aired during Trans Awareness Week, and she has gone on to become the first transgender woman to qualify for the Jeopardy! Tournament of Champions.
And in an interview with ABC affiliate KGO-TV, the Ohio native noted that the path she's blazing has the potential to inspire others to chase their dreams.
"Seeing trans people anywhere in society that you haven't seen them before is so valuable for the kids right now that are seeing it," she said.
"I'm so grateful that I am giving some nerdy little trans kid somewhere the realization that this is something they could do, too."
Schneider, who recently told Newsweek that she had tried to land a slot on Jeopardy! for over a decade, also gushed about finally making her dream a reality.
"Just being there, seeing the set and getting to stand at the podium and click the little button and all that sort of thing—even in just the rehearsals in the morning—was pretty neat," she told KGO-TV.
After defeating five-time champ Andrew He, University of Dayton grad Schneider—who observes June 30, 2017, as the date she started openly living as her true self—took to Twitter to pay homage to another contestant.
"FYI, I am not the first out trans person to appear on Jeopardy (a few friends have asked)," wrote Schneider. "There have been a handful before, including one, Kate Freeman, who was the first out trans champion on 12/16/20. My thanks to all of them for blazing the trail!"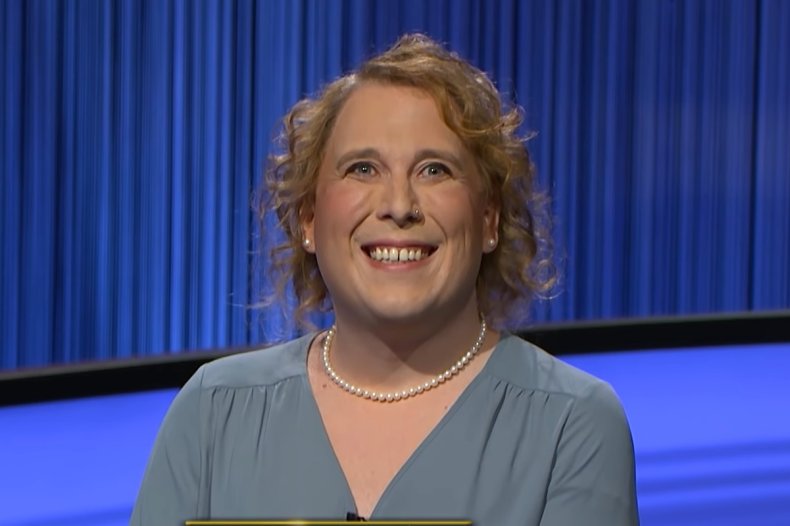 Speaking with Newsweek shortly after she made her debut on the show, Schneider discussed the importance of representation.
She said: "I know that in my life, [it's great] to see trans women out there, not being the sort of freaks or prostitutes, or other things that until only a few years ago was all you ever saw them as.
"So as that changed, as I've been able to see them in other contexts—as the human beings that they are—that's been really important for me. And so I'm just really glad to be able to do that same thing for other people."
Revealing the women who have inspired her, Schneider added: "Some of them were the sort of people, like Laverne Cox, who were inspirational to a lot of people."
She then added that one figure "really specifically" in her life is "a great comedian called Natasha Muse who I got to know a bit and was just a fun, great person and a trans woman.
"Seeing her as a woman who was smart, who was funny, and also just a normal person with a wife and kid, that was one of the first people I knew in person that made me really understand what it actually meant to be trans, which is just being your own person."
On Wednesday night's installment of Jeopardy! Schneider was seen extending her run of victories with 11 games and a total cash prize of $421,200.
Climbing up the ranks in the Jeopardy! hall of fame, Schneider is now in seventh place in the show's entire history for highest cash winnings in regular season play.