Amy Schneider is on the verge of breaking another Jeopardy! record as she closes yet another successful week on the quiz.
The California-based engineering manager already has the most consecutive wins of any woman to have competed on the show, with her total of 37. She is also the highest-earning woman, thanks to a haul of $1,253,200.
If she emerges victorious from Friday night's episode, she will tie with Matt Amodio for second place in the ranking of most games won.
As any self-respecting Jeopardy! fan will remember, Yale PhD candidate Amodio kept viewers captivated between the latter part of Season 37 and the first month of Season 38 with his 38-game run.
Amodio bested James Holzhauer's total of 32 consecutive victories before finally being defeated last October.
At the time, it was widely thought that another such run would likely be years away. Yet just three months later, Schneider now stands to equal—and possibly even surpass—Amodio's record.
The top spot in the all-time list continues to be held by Jeopardy! legend and host Ken Jennings, who clocked up a jaw-dropping 74 consecutive wins in 2004.
Schneider, who regularly shares post-game analyses with her 85,000 (and growing) Twitter followers, acknowledged on Thursday that she was one step closer to "the once-unthinkable, matching Matt Amodio."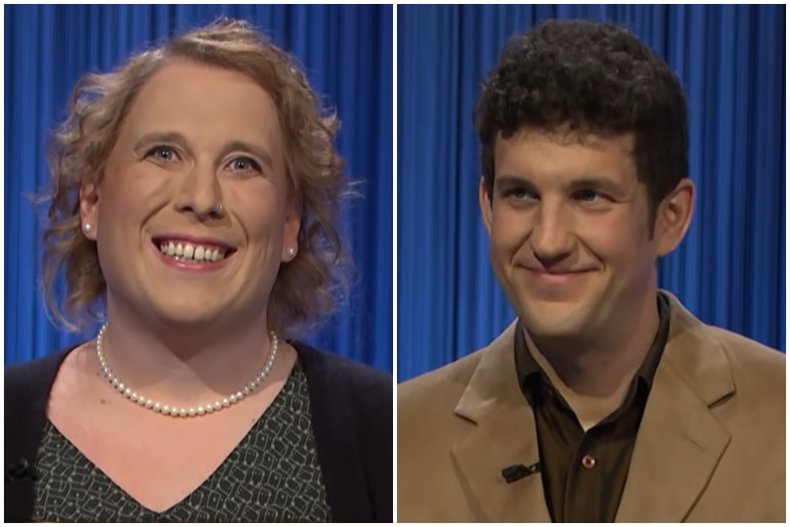 When it comes to prize money, Schneider has some way to go to catch Amodio, who sits in third place on the all-time winnings list with $1,518,601. Jennings is No 1 with $2,520,700, followed by Holzhauer with $2,462,216.
She scored a personal best for prize money on Thursday, though, racking up $71,400 in a single episode.
The landmark was acknowledged on the Jeopardy! Twitter account, which posted the message: "Amy Schneider delivers her best performance yet with a whopping $71,400—her highest single-day winnings so far!"
Over the course of Schneider's seemingly unstoppable Jeopardy! run, the show has experienced a huge boost in ratings.
In the week of December 27 to January 2, an average of almost 9.7 viewers tuned in for each episode of the quiz—beating the hit drama Yellowstone (9.34 million) as well as every network's New Year's Eve special, according to Entertainment Weekly.
Jeopardy! has pulled in an average of 9.2 million viewers over the course of Season 38, which began in September 2021.
Schneider—who is the first openly transgender woman to qualify for the Jeopardy! Tournament of Champions—has received special recognition from the GLAAD Media Awards.
With her star continuing to rise, Schneider has revealed that she would "certainly consider" returning to the show as a presenter.
Hosting duties on the show are currently split between Jennings and Mayim Bialik, who stepped in after the departure of scandal-plagued Mike Richards.
As producers continue to seek a permanent replacement for the late Alex Trebek, Schneider was asked during an interview with the Los Angeles Times whether she would consider stepping up to the lectern.
Describing Jennings as a "fantastic" host, she said of taking on the role herself: "It would certainly be a cool experience. It's a lot harder than it looks. Whether I'd actually even be good at it, I don't know … But yeah, I'd certainly consider it if somebody asked."
Schneider will be seen vying for her 38th consecutive Jeopardy! victory on Friday.