Jeopardy! champ Amy Schneider said she feels "honored and humbled" after getting special recognition from the GLAAD Media Awards.
The engineering manager arrived on Jeopardy! with force, unseating five-day champ Andrew He during Trans Awareness Week in November, before going on to become the first openly transgender woman to qualify for the Tournament of Champions.
With California-based Schneider's run continuing to captivate fans, she took to Twitter on Wednesday to reveal her joy at being named among the honorees at the 33rd Annual GLAAD Media Awards, set to take place later this year.
Taking to Twitter, where she shares detailed play-by-plays on each of her Jeopardy! games, the Ohio native wrote: "Hi all! So, yesterday's and today's game threads will get up at some point, but as you might imagine my life is pretty crazy right now!
"But I did want to take a moment to acknowledge how honored and humbled I am to have been recognized in this year's @glaad Media Awards."
She added: "Of all the things that have come out of my Jeopardy run, I will always be most proud of any good that I've managed to do for the trans community, so this acknowledgment means more than I can ever say."
The official Twitter account of LGBTQ advocacy group GLAAD responded to Schneider's elated tweet with a single heart emoji. Schneider's post can be read here.
Per its website, the GLAAD Media Awards "honor media for fair, accurate, and inclusive representations of LGBTQ people and issues. Since its inception in 1990, the GLAAD Media Awards have grown to be the most visible annual LGBTQ awards show in the world, sending powerful messages of acceptance to audiences globally."
A host of TV shows, movies, stage productions, and other media have been named among the nominees, with Schneider sharing the Special Recognition space with The Laverne Cox Show and Outsports' coverage of the Tokyo 2020 Olympics and Paralympics, among others.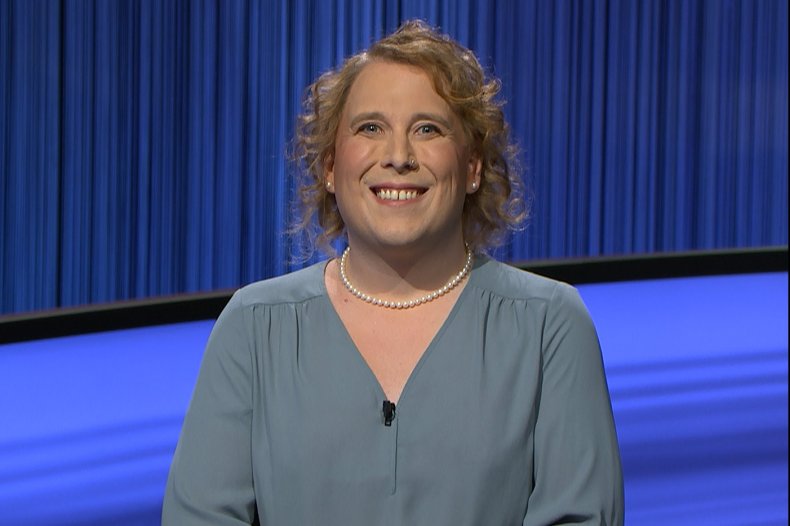 In an interview with Newsweek back in November, Schneider discussed the positive impact that her appearance on Jeopardy! has had.
The University of Dayton alum said: "I know that in my life, [it's great] to see trans women out there, not being the sort of freaks or prostitutes, or other things that until only a few years ago was all you ever saw them as.
"So as that changed, as I've been able to see them in other contexts—as the human beings that they are—that's been really important for me. And so I'm just really glad to be able to do that same thing for other people."
Sharing her own inspirations over the years, she further told Newsweek: "Some of them were the sort of people, like Laverne Cox, who were inspirational to a lot of people."
She added that one impacting figure "really specifically" in her life is "a great comedian called Natasha Muse who I got to know a bit and was just a fun, great person and a trans woman.
"Seeing her as a woman who was smart, who was funny, and also just a normal person with a wife and kid, that was one of the first people I knew in person that made me really understand what it actually meant to be trans, which is just being your own person."
Schneider has become a formidable force since making her Jeopardy! debut two months ago. On Wednesday night's installment of the show, she was seen winning her 36th consecutive game and boosting her earnings to a total of $1,181,800.
Her record places her high in the Jeopardy! hall of fame, behind all-time champ Ken Jennings (74 wins) and Matt Amodio, who enjoyed a 38-game winning streak between seasons 37 and 38 last year.
The GLAAD Media Awards will take place in Los Angeles on April 2, followed by a ceremony in New York City on May 6.