Amy Schneider Says She Would 'Certainly Consider' Becoming 'Jeopardy!' Host
While Amy Schneider continues to prove that her name deserves to be alongside some of the greatest Jeopardy! champs, she's also open to showing what she can do elsewhere in the studio.
On Monday night's installment of the show, the California-based engineering manager became a 34-day champion with $1,148,600 after trouncing yet another pair of competitors. She is now in third place for all-time win streaks.
And the Ohio native has admitted that she would "certainly consider" it if she were ever offered the job as the new Jeopardy! host—an undertaking currently shared by top all-time champ Ken Jennings and Mayim Bialik.
While she lauded Jennings as a "fantastic" host, Schneider told the Los Angeles Times of landing the job herself: "It would certainly be a cool experience. It's a lot harder than it looks. Whether I'd actually even be good at it, I don't know ... But yeah, I'd certainly consider it if somebody asked."
The road to Jeopardy! producers naming a new host has been a notably bumpy one since the November 2020 passing of beloved presenter Alex Trebek.
A host of celebrities—including LeVar Burton, Aaron Rodgers, Robin Roberts, Anderson Cooper, Katie Couric, and George Stephanopoulos—took a turn at guest-hosting Jeopardy! throughout much of Season 38.
Jeopardy! executive producer Mike Richards was named as Trebek's successor in August, only to step down nine days later amid controversy over comments he had made several years earlier in a now-defunct podcast. He was also out of his executive producer position by the end of August.
Bialik stepped in to immediately replace Richards, who had only shot a single week's worth of episodes in his role as the permanent Jeopardy! host. It was later announced that Bialik and Jennings would share hosting duties for the remainder of the season.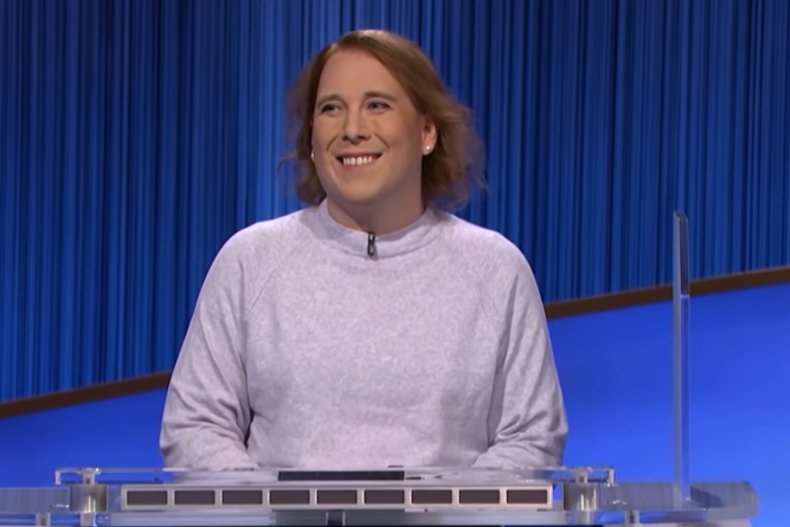 In an interview with Newsweek, days after her Jeopardy! debut in November, Schneider spoke candidly about who she had backed for the role as new host.
"I didn't actually watch a ton of the guest hosts," she said. "It felt really weird because everyone was in their first couple weeks hosting it, so seeing somebody new and slightly uncomfortable every time."
"I like Levar Burton," she went on. "I had said years ago he ought to be the next host. But I understand he wasn't as solid as he and I had hoped he would be and I get that."
Burton proved to be a fan favorite in the months leading up to his guest-hosting slot over the summer, and stated that hoped to succeed Trebek. However, he stated after being overlooked for the position that he longer wanted the job.
Although her first choice didn't get the honor of becoming the permanent Jeopardy! host, Schendier told Newsweek that she's pleased with the current selection.
"I will say that when they said it was gonna be Ken Jennings and Mayim Bialik for a while, I was quite happy with that decision. I like both of them," she said.
Schneider currently stands just four victories behind equaling the record of Matt Amodio, who landed in second place of all-time champs with a 38-day win streak that started last summer. Jennings sits comfortably atop the table with 74 wins.