Amy Schneider Reveals How Shakespeare Led to Her Coming Out As Transgender
Jeopardy! champ Amy Schneider has revealed that appearing in a play by William Shakespeare led to her coming out as a transgender woman.
The California-based engineering manager has made history as the first openly transgender woman to qualify for the Jeopardy! Tournament of Champions, during a run that has so far seen her win 13 games and earn an impressive $536,400.
And as Schneider took to her Twitter account to share her daily post-game analysis over the weekend, she took time out to share a personal anecdote about the connection legendary playwright Shakespeare's work has with her own life.
She wrote: "Fun fact about my Shakespeare experience: the trigger that eventually resulted in my coming out was playing Flute in Midsummer [Night's Dream]. There's a play-within-a-play at the end, and Flute is forced to play a woman, and dressing up as a woman every night felt shockingly right to me."
The Ohio native—who observes June 30, 2017, as the date she started openly living as her true self—recounted the moment in further detail during a recent interview with Newsweek.
Answering the question of when she first started living as Amy, she said: "To an extent, there's a lot of different answers you could give to when it started. You could say it was my whole life, you could say it was this time, it was that time.
"I would say one key moment was actually I was in a production of Midsummer Night's Dream and I was playing Francis Flute, who is required to play a woman in a play within a play at the end. I was required to put on a dress every day for the show and I was like, 'Hmmm, this is interesting!'
The University of Dayton grad added: "In terms of a timeline, it was kind of the end of 2016, the beginning of 2017 that I really started to fully transition."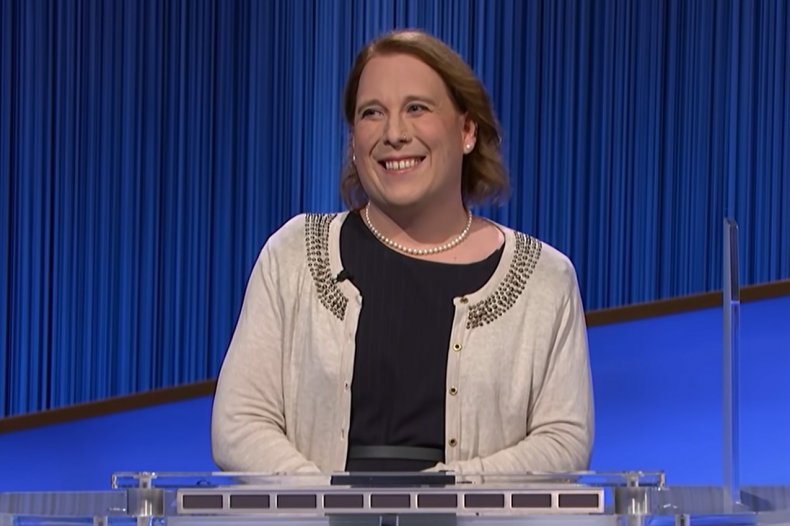 After defeating five-time champ Andrew He in an episode that aired in the midst of Trans Awareness Week, Schneider paid homage to another contestant before her.
"FYI, I am not the first out trans person to appear on Jeopardy (a few friends have asked)," Schneider wrote on Twitter. "There have been a handful before, including one, Kate Freeman, who was the first out trans champion on 12/16/20. My thanks to all of them for blazing the trail!"
Schneider has gone on to be a hit with Jeopardy! fans, amassing more than 14,000 Twitter followers since she debuted on the show.
Discussing the importance of representation in her interview with Newsweek, conducted days after her debut Jeopardy! episode aired, Schneider said: "I know that in my life, [it's great] to see trans women out there, not being the sort of freaks or prostitutes, or other things that until only a few years ago was all you ever saw them as.
"So as that changed, as I've been able to see them in other contexts—as the human beings that they are—that's been really important for me. And so I'm just really glad to be able to do that same thing for other people."
Schneider will return to screens to vie for a 14th consecutive Jeopardy! win on December 20. For the next two weeks, the hit syndicated quiz show will be airing its first Professors Tournament, to be presented by Mayim Bialik.