Amy Schneider Reveals One Thing That 'Sucks' About Her 'Jeopardy!' Success
Jeopardy! champ Amy Schneider likely enjoyed a Thanksgiving to remember, with her seventh victory on the game show broadcast on Thursday.
The engineering manager who lives in Oakland, California, trounced the competition as she clocked up another win and boosted her earnings to $257,800.
Hours before her seventh game aired, Schneider posted a recap of Wednesday's episode on Twitter, admitting that there was one aspect of her success that "sucks."
On Wednesday, the Ohio native was seen fending off competition from Dan Brady, a retired market researcher from Edgewood, Kentucky, and Madeline Hornsey, a teacher from Carrollton, Texas, to secure her sixth win.
Later that day on Twitter, where she has been posting detailed recollections of the events of each episode, Schneider admitted that sending opponents home isn't as pleasing as one would imagine.
"The one thing that sucks about Jeopardy is that for me to win, the other contestants have to lose," she wrote.
"Madeline was a very nice person as I said, and as a viewer watching at home, I would have loved to see her go on a run of her own (no offense to Dan btw). But I don't want to lose!"
And lose Schneider didn't on Thursday, sailing to victory over Ged Trias, an architect from Rockford, Illinois, and Nancy Edelman, a high school English teacher from Teaneck, New Jersey.
A post on the official Jeopardy! Twitter account marked her win with a video summary of the episode, alongside the caption: "While you were carving the turkey on #Thanksgiving, 7-day champ Amy Schneider was carving up the competition on #Jeopardy!"
In a recent interview with Newsweek, Schneider revealed that she had been trying to get on Jeopardy! for more than a decade.
Her delayed moment of glory, and the COVID-19 pandemic, meant she missed out on meeting Alex Trebek, the show's beloved former host who died in November 2020.
She said: "It's sad, because I was originally scheduled to be on the show last year and between COVID and, I assume, his poor health, I was down there and they said, 'We'll have to reschedule. We'll get you back on.'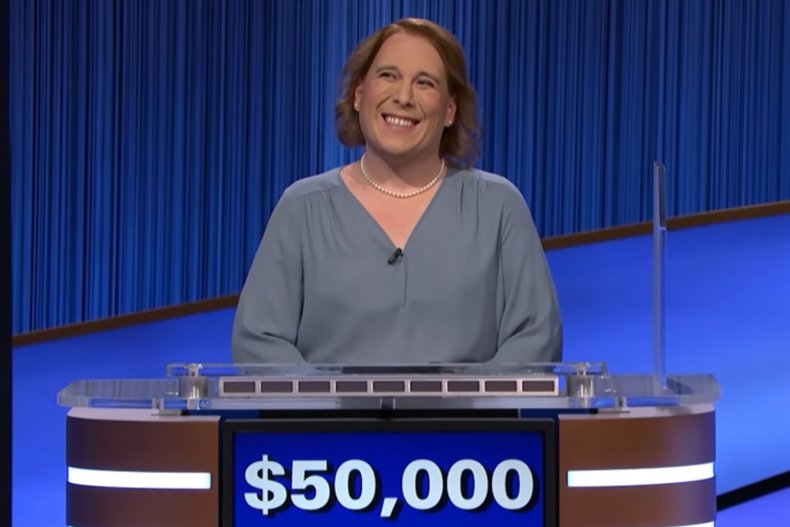 "It was really disappointing not to get a chance to be on the show with Alex. It was a bummer, but things happen for a reason. And I don't know that I'd have done as well last fall compared to now."
Schneider added: "For one thing, my girlfriend [of nine months] is much more into popular culture, so I feel like she's given me at least a little bit more knowledge in that category. And I've had such a great time."
Jeopardy! is currently hosted by Ken Jennings, the show's all-time champion with a streak of 74 games back in 2004.
Jennings and Mayim Bialik are splitting Jeopardy! hosting duties for the remainder of 2021 as fans await the announcement of a new permanent presenter.
Schneider also revealed to Newsweek who she had been backing to become the show's new host, naming LeVar Burton as her top choice before he ruled himself out of the running.