Amy Schneider has etched her name into the Jeopardy! history books in a big way, thanks to a phenomenal run that has seen her scoop 39 consecutive wins.
On Monday night's episode of the show, the California-based engineering manager edged past the 38-game record set by Matt Amodio just months ago—leaving her behind only all-time champ Ken Jennings, who secured 74 wins back in 2004.
In an interview on Good Morning America on Monday, Schneider was asked by George Stephanopoulos what the secret was to her record-breaking success.
"I'm not really sure about a lot of it; I never expected to do this well, but I think the main secret is just being curious and spending my life learning a lot of stuff," the University of Dayton alum told Stephanopoulos, who guest-hosted the show in July.
Stephanopoulos pointed out that while Schneider said she wasn't expecting to be so successful, she was actually voted most likely to be on Jeopardy! when she was at school in her native Ohio.
"Yeah, I mean, I was good in school," she said. "I got good grades, I won the spelling bee. So yeah, I definitely—I did expect to be on Jeopardy! and to do all right, just never expected to do it quite this well."
And while a breadth of knowledge is the obvious requirement to get on the road to Jeopardy! success, Schneider revealed that part of her formidable success has been her "instinct" for getting to the buzzer with lightning speed.
"I practiced at home with a ball-point pen but you don't really know until you get there," she said. "The sort of strategy I had in mind, the way I was planning to time it, like that first game, it wasn't quite working as well as it needed to.
"For whatever reason I decided to throw that out and stop thinking about it and purely try to go on instinct and feel. From then on I've just been really good at the buzzer. I didn't know if that would be the case and I'm pretty excited it has been.
"I think that the best part for me has been being on TV, you know, as my true self, expressing myself and representing the entire community of trans people and... just being, you know, a smart, confident woman and doing something super normal like being on Jeopardy!"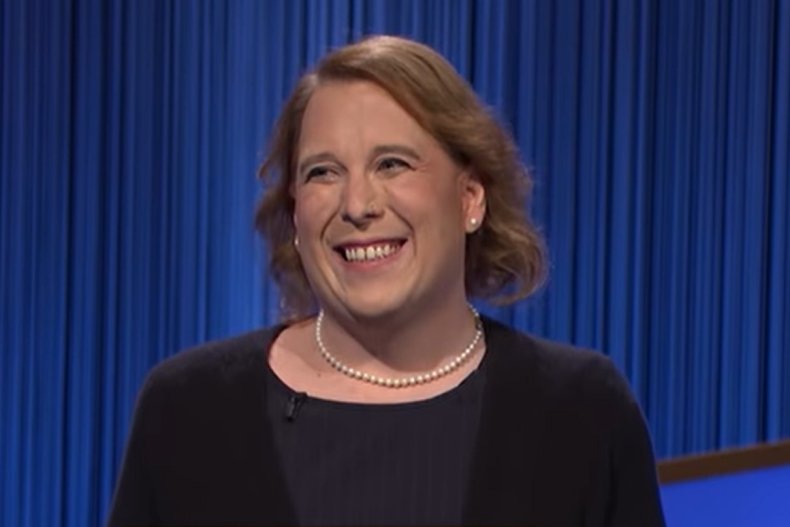 Early on in her Jeopardy! run, Schneider qualified for the Tournament of Champions, to become the first ever openly transgender woman to do so.
The competition, set to take place later this year, will see her face the past season's most elite players, one of whom will be Yale Ph.D. candidate Amodio.
"I'm definitely looking forward to it," Schneider said of the upcoming tournament. "I'm also a little bit intimidated by it. When I first started I wasn't sure if I might be going up against Matt Amodio and I was really hoping I wouldn't.
"And now it turns out I'm going to have to anyway. It's going to be really challenging; a lot of strong players there, but it should be a lot of fun."
As for Schneider's plans after finding fame and success on the show, Schneider explained that she's exploring her options.
"I'm not sure, but I'm thinking about it," she said. "I'm like, you know, considering do I want to write a book? What other opportunities might be out there? I'm exploring that."
Jeopardy! has enjoyed a sizable ratings boost during Schneider's run. She recently stated that she would "certainly consider" returning to the show as a host.
The cash Schneider has earned during her run currently stands at $1,319,800, putting her in fourth place for regular play winnings, behind Jennings ($2,520,700), James Holzhauer ($2,462,216), and Amodio ($1,518,601).