Amy Schneider Hopes to Beat 'Confident' James Holzhauer's 'Jeopardy!' Record
Jeopardy! champ Amy Schneider has revealed that she's hoping to beat James Holzhauer's record, as her win streak on the quiz show continues.
Engineering manager Schneider was seen sealing her 10th win during Tuesday night's installment of the syndicated show, boosting her earnings to $380,200—and catapulting her to ninth place for all-time winnings in regular season play.
And the Ohio native has revealed that her eye is now trained on breaking the record held by Holzhauer, who pocketed $2,462,216 in winnings from the 32 consecutive games he won on Jeopardy! back in 2019.
During an interview with Jeopardy! Clue Crew member Jimmy McGuire, Schneider was asked if there were any greats from the show whose record she'd like to beat.
"I'd like to beat James Holzhauer, I think," Schneider responded. "He seems very confident, I guess I'll say. And so it would sort of feel good, I think, in a way."
The Chase star Holzhauer boasts quite the ranking in the Jeopardy! hall of fame, with his win streak placing him behind just current guest host Ken Jennings (74) and Matt Amodio (38). His regular play cash earnings place him second behind Jennings ($2,520,700).
When it comes to single game winnings, Holzhauer dominates the entire top 10, ranging from a high of $131,127 down to a still impressive $89,229.
In all-time winnings that include Jeopardy! tournaments, Holzhauer still sits comfortably near the top of the table, in third place with $2,962,216, behind Brad Rutter ($4,938,436) and Jennings ($4,370,700).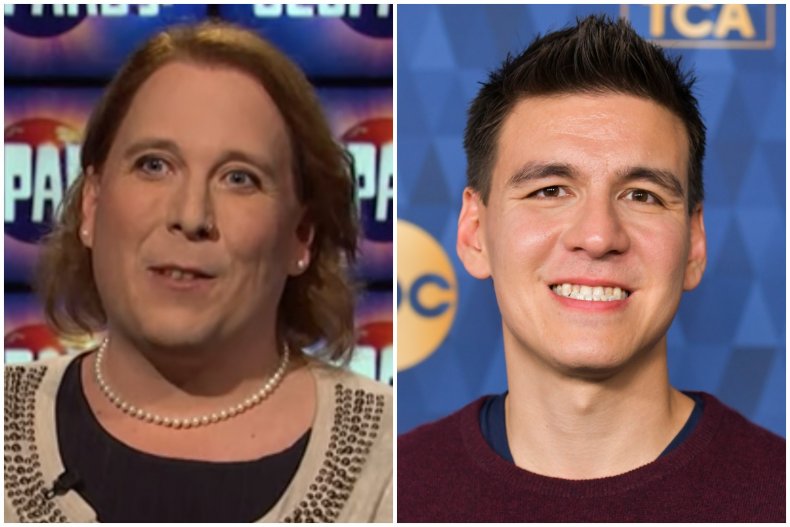 Elsewhere in her Jeopardy! interview, Schneider admitted that she found her continued achievements on the show "so surprising."
"I'm not gonna pretend I didn't think I could do good, but this has just been so much better than I thought I would do," she said.
It's also something of a dream come true for the life-long Jeopardy! fan, who said: "My parents watched it, so I grew up watching it. So it's probably been 35 years I've been watching the show.
"My mom was a college professor, so I was always very interested in learning and she really instilled that in me. So by upbringing and inclination it always was right in my sweet spot as something that I wanted to do."
In a November interview with Newsweek, Schneider revealed that it took quite some time to achieve her dream of appearing on the show, as she had been applying to land a contestant slot for more than a decade.
She said: "I'm not sure quite how long [ago I first applied], but I remember trying out when I still lived in Ohio, and I've lived in Oakland since 2009, so it has to have been at least that amount of time."
California-based Schneider, whose debut episode aired during Trans Awareness Week, went on to add that a "few things" were likely holding her back, explaining: "One is that when you take the first online test, no matter how good you do it's a random chance whether they look at you to go any further. So that's part of it.
"The reality is that for the first few years of that, when I was trying out, I was, as far as any of us knew, a standard white guy. And there's just more competition for those slots on Jeopardy!
"They're making a TV show, they don't want everybody to look the same, and looked a lot like many of the other contestants, and I think that definitely made it a little tougher for me at that time. I would have got on eventually—I was never gonna stop trying!"