Amy Schneider Unveils Tattoo She's Required to Cover Up on 'Jeopardy!'
Jeopardy! champ Amy Schneider has unveiled a sizeable—and very personal—tattoo that she's been required to hide for her appearances on the hit quiz show.
While the main Jeopardy! show takes a two-week screen break for spin-off Professors Tournament, the California-based engineering manager has kept her growing army of Twitter followers entertained by sharing snippets of her home life.
And after telling her social media followers more about her pre-Jeopardy! life, Schneider shared a photo of her beloved cat, Meep, resting in her lap—and at the same time showed the body ink dominating her upper arm as she sported a sleeveless top.
On Thursday, the Ohio native returned to her account to explain the meaning behind the tattoo, tweeting: "My tattoo is indeed of Ozma of Oz. For those who don't know, L. Frank Baum wrote many sequels to The Wizard of Oz, and in all of them the ruler of Oz was Princess Ozma. She had been the rightful heir, but was kidnapped as a baby by a sorceress, who enchanted her to become a boy."
"Eventually, the enchantment is lifted, and she is revealed to be the beautiful princess she always was," added Schneider. "So it seemed like the perfect image to commemorate my transition!"
Schneider shot to fame after unseating five-time champion Andrew He during November's Trans Awareness Week, and she has since become the first transgender woman to qualify for the Tournament of Champions.
She now has 13 consecutive wins under her belt—and has earned $536,400 in the process.
In an interview with Newsweek shortly after becoming the show's new champion, Schneider revealed that she found the whole business of finding suitable clothing for Jeopardy! to be a trying task, as her tattoo couldn't be visible on camera.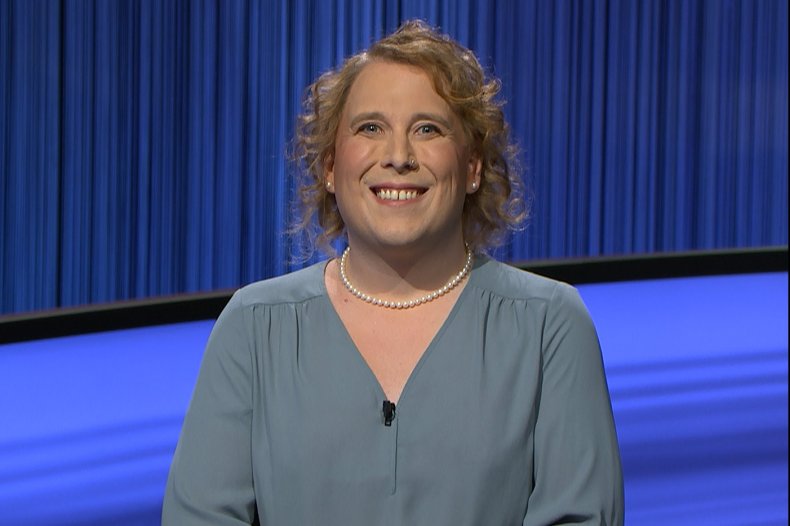 "This is certainly something that I was pretty stressed about going into filming," she said. "Almost none of this is stuff I really wear usually in my life, because I almost exclusively wear dresses. But they asked us not to, because they just don't have a good place to hook the mic pack.
"And I also generally don't wear long sleeves, but I had a tattoo that had to be covered up, because if it wasn't they'd have to get clearance from the artist and that's sort of a copyright issue. So I had to wear long sleeves every day, which was unusual for me. So I was a bit worried about it."
Elsewhere in her revealing Twitter updates, Schneider shared that she was once married to a woman before transitioning, explaining that they met several years ago on the set of a theater production.
"I met my wife while doing Taming of the Shrew," she wrote. "She was playing the titular shrew, and I could make some joke about omens, since we ended up divorcing, but that's unfair to a woman I loved for many years, and we're still friends."
"She was a theater major, and interested in standup comedy, so we needed to move to a major city for her to pursue that," she added of her ex-wife. "We visited some friends who were attending Berkeley, and fell in love with the Bay Area. So we moved to Oakland in 2009, and I, for one, never want to leave!"
The University of Dayton graduate went on: "In 2016, my father passed away, Kevin Durant joined the [Golden State] Warriors, my wife and I split up, I realized I was trans, and [Donald] Trump got elected. It was quite a year!"
She clarified in another tweet: "Now, when I say I realized I was trans in 2016, I'm simplifying a process that in some ways had been going on my whole life, and certainly since 2011 or so, but 2016 was when I finally realized that I was living a lie, and began to let my true self show."
Schneider revealed in her interview with Newsweek that she observes June 30, 2017, as the date she started openly living as her true self.
Since launching her Twitter account, Schneider has regularly kept her followers updated with detailed analyses on each of her episodes on Jeopardy! on the days they air. She has also spoken about her girlfriend, Genevieve, and expressed her stance on political issues.
Professors Tournament, which is hosted by Mayim Bialik, is set to run until December 17. Schneider will be seen returning to the main show to vie for her 14th consecutive win on December 20.