Anatoly Chubais Dismissed as Putin Representative After Leaving Russia
Russian President Vladimir Putin has dismissed Anatoly Chubais from his role as a special representative for relations with international organizations after the official reportedly left Russia.
Kremlin spokesman Dmitry Peskov said Friday that Putin had signed a decree for Chubais' dismissal, according to Russian news agency Tass.
Chubais' dismissal came after he reportedly resigned from his post on Wednesday over his opposition to the Russia-Ukraine war. An anonymous source informed Bloomberg of his resignation and said he had already left Russia, with no plans to return.
Chubais is the most high-profile Russian official to leave his post since the start of the Russia-Ukraine war over a month ago. The purported resignation and subsequent dismissal effectively ends, at least for the time being, his long career in the Russian government.
His current whereabouts have not been officially confirmed, but Russian newspaper Kommersant reported that he was seen in Istanbul, Turkey, as early as last week, according to The Guardian. The newspaper published a picture of a man who appeared to be Chubais withdrawing money from an ATM.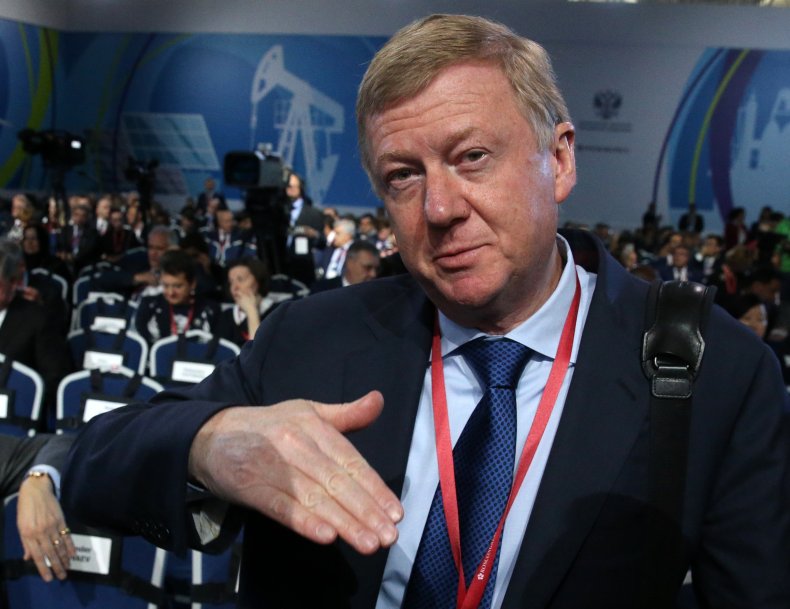 Chubais' nearly three decades of high-profile roles began under Boris Yeltsin, the first Russian leader after the collapse of the Soviet Union. During his time under Yeltsin, Chubais reportedly recommended that Putin, a KGB agent, be hired by the administration, according to the Associated Press.
The hiring is widely viewed as a key boost to Putin's career, and he succeeded Yeltsin as Russia's president in 2000 after Yeltsin stepped down. Chubais also held roles as deputy prime minister from 1994 to 1996 and then as first deputy prime minister from 1997 to 1998.
He was appointed the special representative for relations with international organizations on December 4, 2020, according to the Kremlin's website.
Chubais has yet to comment publicly on his resignation. While he is the most high-profile figure to leave a post since the Russian invasion of Ukraine, he is not the only one to do so.
Arkady Dvorkovich, who was once Russia's deputy prime minister, is the chairman of the International Chess Federation and chair of the state-backed Skolkovo Foundation. The foundation said last week that Dvorkovich had decided to step down from his role, two days after a top United Russia party official called for his firing after he criticized the Russia-Ukraine war, the AP reported.
Lilia Gildeyeva, who was an anchor with the state-funded NTV channel, quit her job and left Russia following the invasion.
Newsweek reached out to Russia's Foreign Ministry for comment but did not hear back by publication time.
Update 03/25/22, 12:15 p.m. ET: This story was updated with additional information and background.