Russian News Presenter Praised by Putin Resigns, Flees Country
Russian news presenter Lilia Gildeyeva has quit her job of 15 years at Gazprom-Media's channel NTV and fled the country, according to reports.
Her decision to resign from her role at NTV was reported by independent Russian journalist and well-known blogger Ilya Varlamov. Gildeyeva told Varlamov that she left before submitting her resignation letter, fearing she would not be able to abandon her post at the prominent TV channel.
"I left [Russia] first because I was afraid they would not let me go just like that, then I submitted my resignation," she told Varlamov.
While Russia's government control the two leading channels in the country—Russia-1 and Channel One—NTV is technically a commercial station. In the 1990s, it was renowned for its independent, critical reports—but as its ownership went to state-owned energy giant Gazprom in 2001, its agenda re-aligned closer to the Kremlin.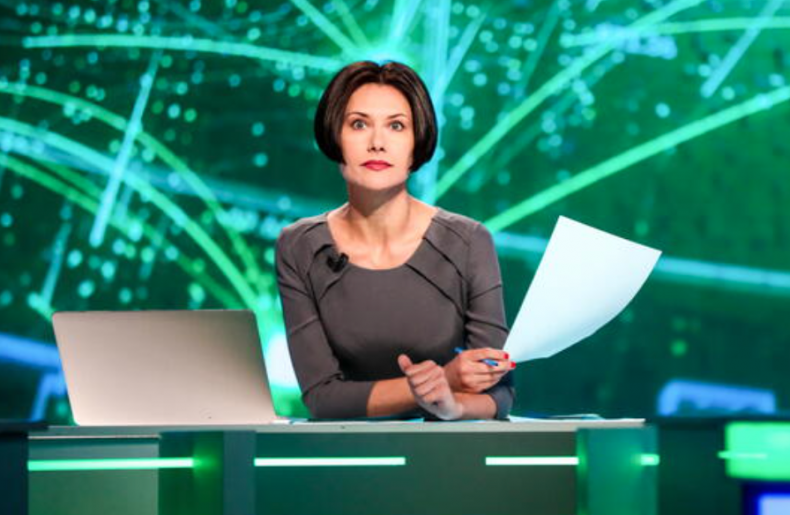 Spreading Dissent
Gildeyeva's resignation follows an incident that occurred on Monday evening when a producer on state-run Channel One jumped on set during the live news program, shouting "Stop the war, no to war" and showing a sign that read "Don't believe the propaganda. They're lying to you here."
The TV producer, Marina Ovsyannikova, was later arrested and has now been charged with organizing an unauthorized public event. She could be punished with a fine, community service or up to 10 days in jail.
Under a recently passed law, spreading "intentionally" fake news about the Russian military is a crime punishable with fines and up to 15 years in jail. Russia has also banned the media from calling the conflict in Ukraine a "war" or "invasion." Instead, they have to stick to calling it a "special military operation."
Before the anti-war protest on-air, Ovsyannikova had recorded a video where she said she was ashamed of having work on "Kremlin propaganda" for so long and she called the invasion of Ukraine a "crime."
Since the incident on live TV on Monday evening, she has received support from all over the world, with Ukraine's President Volodymyr Zelensky praising her for "telling the truth."
Gildeyeva was one of the anchors on the most followed evening news programs of NTV, Russia's third most popular TV station after Russia-1 and Channel One.
She has never openly criticized the Kremlin, and in 2021 she was included in President Vladimir Putin's list of journalists thanked for "achievements in developing mass media."
She was personally praised by Putin in 2008, when he thanked her for "information provision and active social activity to develop civil society in the Russian Federation."
Her fleeing the country now would certainly deliver a blow to Putin's attempts to win the information war surrounding the Ukraine war.