Ancient 'Crayon' From 10,000 Years Ago Likely Used by Stone Age People to Color Animal Skins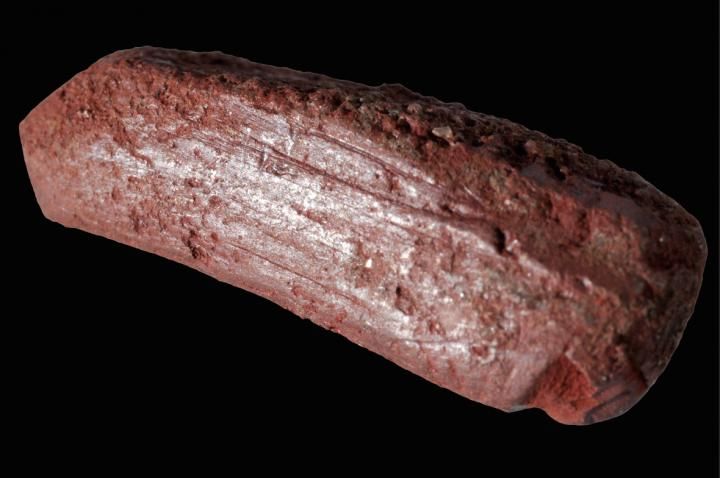 Archaeologists may have stumbled upon one of the first-ever "crayons" used thousands of years ago by hunter-gatherers.
The coloring utensil, which is a shade of reddish brown, was discovered in the 1980s but had never been studied. When archaeologist Andy Needham learned that no one had ever attempted to learn about the object, he jumped on the chance for a closer look in the hope that it might reveal something about what our ancestors were doing in the area where it was found.
The ancient object was found in England at a site called Star Carr, in Scarborough, Yorkshire, near what was once Lake Flixton, which was filled in with peat throughout the Mesolithic period. The region in Europe is a well-known site for artifacts from the Middle Stone Age, which dates from 8,000 B.C. to 2,700 B.C. In addition to the crayon, a similar pebble with deep grooves was discovered in the area in 2008. Both artifacts are made of ocher, a natural clay-earth pigment.
Although both items are significant, Needham was particularly impressed by the sharpened crayon.
"I was really amazed by how small and delicate the piece is. It is only a few centimeters long yet preserves very clear evidence of having been used by Mesolithic humans," Needham, an associate archaeology lecturer at University of York, told Newsweek. "Imagine the odds of recovering an object this small and delicate after it has been buried in the ground for around 10,000 years?"
Although ocher has a long list of recorded uses, including as a sunscreen or insect repellant, the various markings and shapes of these particular ocher objects led the researchers to hypothesize they were instead used for art. Using various methods, the researchers were able to look at the items on an intensely magnified level.
"The deep grooves lacking any apparent artistic design on the pebble suggest it was used to harvest red pigment powder," Needham and his colleagues wrote in their paper published in the Journal of Archaeological Science. "The sharp edges with striations in multiple directions might indicate the elongate shaped piece was used as a drawing and coloring tool, perhaps in a similar way to a contemporary pencil or crayon."
Because the objects were found in a region known for its art, it's possible they were used to make decorative pieces or even color the skin of animals. In the future, the team plans to make a replica piece of ocher, use it like a crayon and then compare the results on a microscopic level with the real thing. That comparison might allow them to confirm exactly how this ancient object was being used, Needham told Newsweek.