Ancient Roman Floor More Than 1,500 Years Old Found Under London Street
An incredibly well-preserved Roman floor has been discovered beneath the streets of London, with the more than 1,500-year-old mosaic branded a "once-in-a-lifetime" find.
Archeologists from the Museum of London Archaeology (MOLA) made the incredible discovery during excavation work in the capital, near the tallest skyscraper in the U.K, The Shard.
The highly decorated floor has been lauded as the largest section of Roman mosaic discovered in London for half a century, with the find believed to date back to the late 2nd or early 3rd century A.D.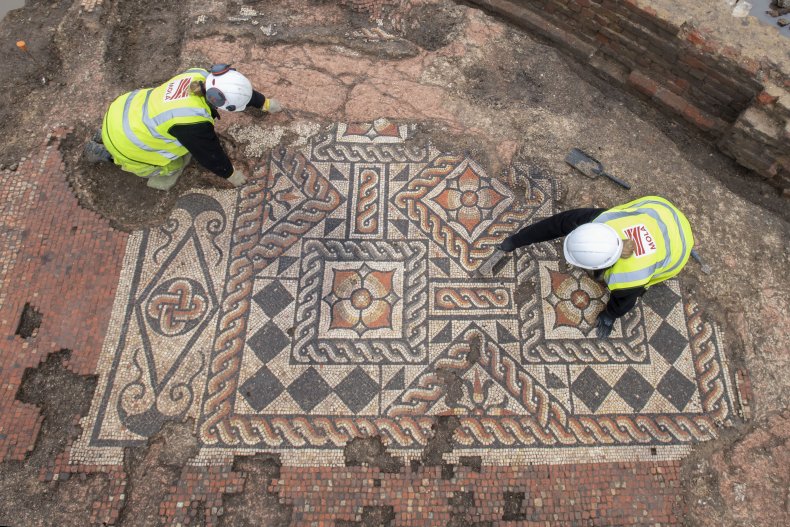 MOLA site supervisor Antonietta Lerz said: "This is a once-in-a-lifetime find in London.
"It has been a privilege to work on such a large site where the Roman archaeology is largely undisturbed by later activity—when the first flashes of color started to emerge through the soil everyone on site was very excited!"
It's surmised that the floor was part of a large room, believed to be a "lavish" dining room known as a "triclinium."
It's thought the building was in use for a considerable time, with archaeologists finding traces of an earlier mosaic underneath the top layer, pointing to renovation work, possibly in keeping with the latest trends.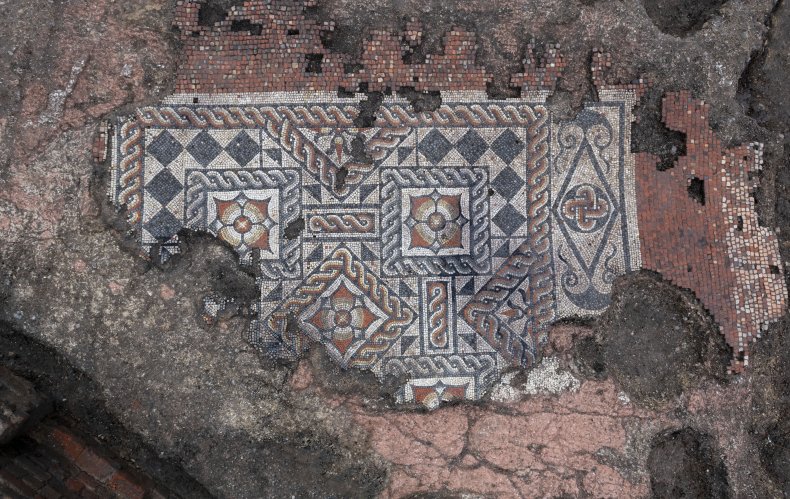 Describing the intricate find, MOLA said: "The recently uncovered mosaic includes two highly-decorated panels made up of small, colored tiles set within a red tessellated floor.
"The largest panel shows large, colorful flowers surrounded by bands of intertwining strands—a motif known as a guilloche.
"There are also lotus flowers and several different geometric elements, including a pattern known as Solomon's knot, made of two interlaced loops.
"Dr. David Neal, former archaeologist with English Heritage and leading expert in Roman mosaic, has attributed this design to the 'Acanthus group'—a team of mosaicists working in London who developed their own unique local style."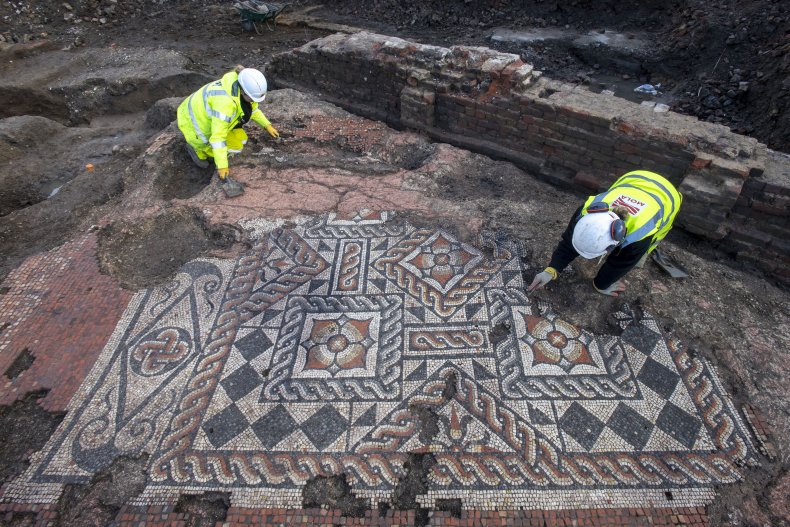 Meanwhile, a smaller section has a less complicated design, with two Solomon's knots, a pair of "stylized flowers" among geometric red, white and black motifs.
The team noted an almost identical design was discovered in Germany, suggesting the same artist worked in both locations.
The dining room is believed to have been part of a Roman "motel," known as a mansio, reserved for the wealthy. The building is thought to have housed key amenities including stables, accommodation and of course, dining.
"Given the size of the dining room and its lavish decoration, it is believed that only high-ranking officers and their guests would have used this space.
"The complete footprint of the building is still being uncovered, but current findings suggest this was a very large complex, with multiple rooms and corridors surrounding a central courtyard," MOLA said.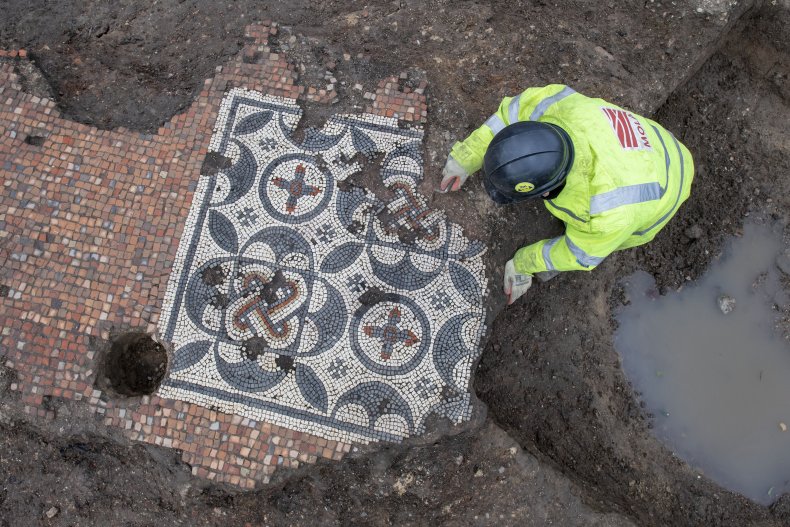 The mosaic floors will be lifted from the site for continued conservation work, allowing archaeologists to look at the earlier flooring beneath.
Next door to the mansio, archaeologists discovered remnants of another grand building, thought to be a private home belonging to a rich family.
"Traces of lavishly painted walls, terrazzo-style and mosaic floors, coins, jewelry and decorated bone hairpins all testify to the level of wealth enjoyed by the people living in this area 2,000 years ago," MOLA noted.
The excavation work is part of construction for The Liberty of Southwark, a scheme to provide shops, restaurants and homes being developed by Transport for London (TfL) and developer U+I.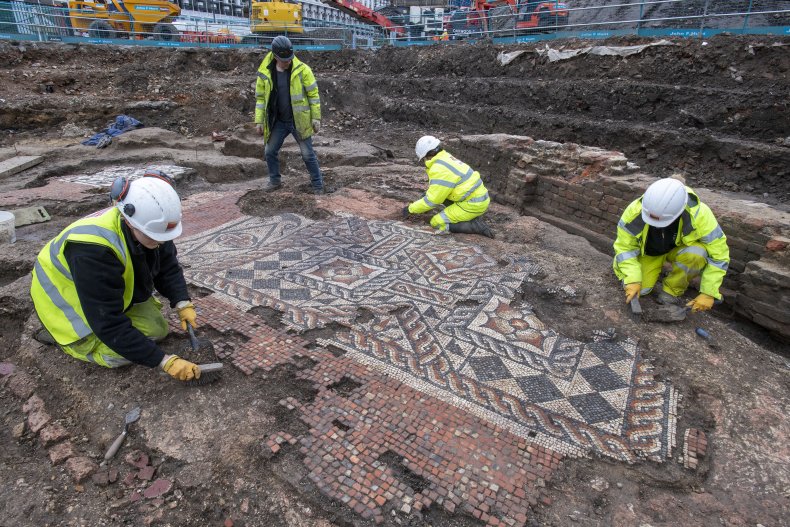 Henrietta Nowne, senior development manager, U+I, said: "The Liberty of Southwark site has a rich history, but we never expected a find on this scale or significance."
While Puja Jain, senior property developer at TfL, added: "This is a very exciting finding that illustrates the rich and complex history of this site and London as a whole."
Part of the plans will see the "medieval yards and lanes" of Southwark restored. London is famed for its long history, with the capital crowned Londinium by the Romans, who officially established the town in 43 A.D. and stayed for 400 years.