Andover Tragedy as Family of Three Found Shot Dead
A family of three was found shot dead in Andover, Massachusetts, in the early hours of Thursday, according to local authorities.
Police discovered the bodies of a 56-year-old man, a 55-year-old woman and a 12-year-old boy at 48 Porter Road, after responding to a 911 call made within the property at 3:20 a.m.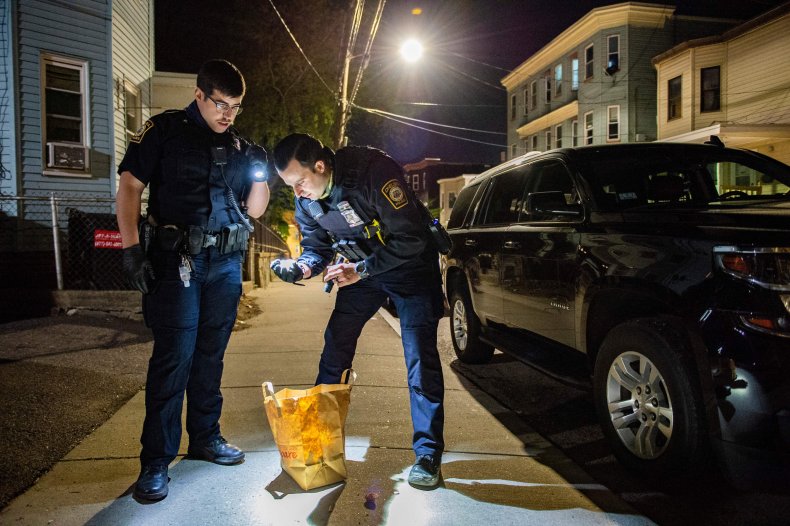 At a press conference, Andover Police Department Chief Patrick Keefe confirmed the two dead adults were the child's parents, though no names have been released as next of kin are still being informed.
Keefe said officers had to "breach two doors to get into the house," after which "they found the father, mother and a 12-year-old son dead. Wounds were from a gunshot."
The police chief added: "We know the how, we're trying to figure out the why right now."
Essex County District Attorney Paul Tucker said authorities are not seeking a suspect, and there is "no danger at all from anyone in the public."
Tucker would not comment on the shooter's identity, or who it was within the house who called 911.
He added: "This is a very good time to remind folks that if they are suffering from any mental health issues, any type of depression, services are out there."
The child was a sixth grader at St. John's Prep in Danvers, which has canceled all classes for today in response to the tragedy.
Andover Police are being assisted in their investigation by Massachusetts State Police and Methuen Police.
At the press conference, Tucker also highlighted how emotionally difficult cases like this are for first responders.
He said: "I also want to make sure that we recognize the first responders here. The difficulties of working these scenes, we only need to look back at the last couple weeks in Massachusetts, some of the difficult things that our first responders, State Police detectives, our local detectives, local police officers, firefighters and EMS, these can take an emotional toll as well.
"We're always concerned about their well-being. These men and women do an extraordinary job under some very difficult circumstances."
Speaking to local network WCVB, Jim Greer, who lives close to where the shootings took place, insisted it is normally a safe area.
He said: "Andover is a pretty safe community. I've been living here for 40 years. Stuff like this happens everywhere."
On January 31, Traci-Marie Jones, aged 52, was shot dead by her husband in Bethel, Connecticut, who shortly after killed himself at the same location.
In Plymouth, Massachusetts, 32-year-old Lindsay Clancy has been charged with murder after allegedly strangling two of her young children, then jumping out of her house with a third, who later died in hospital. Not guilty pleas have been entered on her behalf.
Speaking to Newsweek, Duncan Levin, a criminal defense attorney at Levin & Associates, said it would be up to the court to decide whether Clancy was mentally culpable for her actions.
He said: "We should expect to see a lot of expert psychological testimony. The question is not going to boil down to whether she did it, but whether Lindsay is not guilty by reason of legal insanity."