Leadsomentum: Could Andrea Leadsom Really Surge Into Number 10?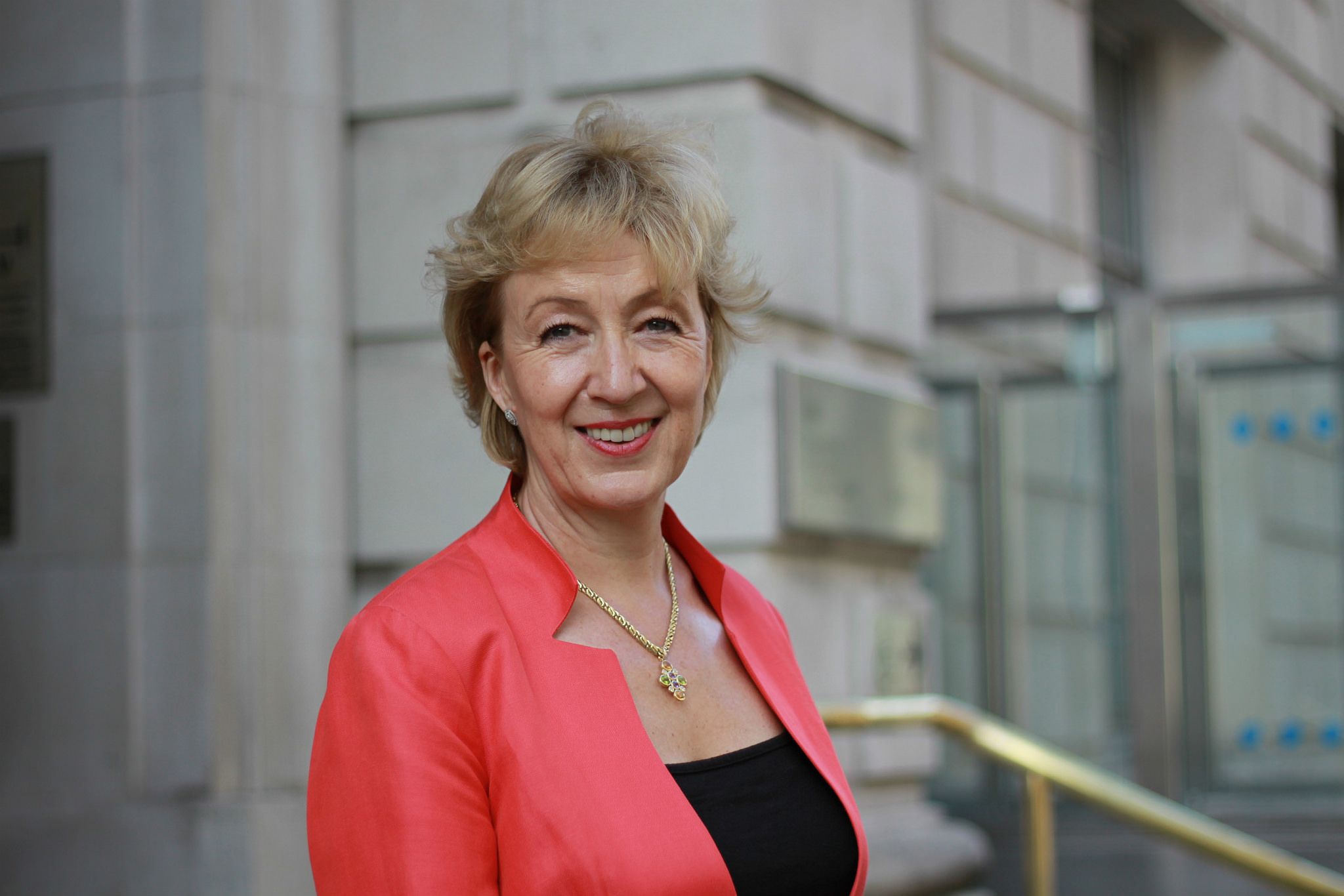 Members of Britain's Conservative party are not natural marchers. Their party is more likely to be the one protested against than doing the protesting. But on Thursday, dozens of jolly, greying MPs and activists, along with some fresh faced younger members, marched to parliament in London. Their (rather plummy and timid) battle cry? "What do we want? Leadsom for leader! When do we want it? Now!"
They were marching in support of Conservative leadership candidate Andrea Leadsom, the energy minister who has come from behind to fight frontrunner and current Home Secretary Theresa May for the party membership's vote on the contest's final ballot. If successful, Leadsom's campaign would represent the latest in a series of upsets in the established order of British politics. But is the Leadsomentum real, or will the steely and experienced May trounce the insurgency?
Journalists and commentators have in their minds the stunning success of Jeremy Corbyn , a previously little-known left-wing backbencher lacking substantial support from MPs, in the Labour leadership election last summer. Confounding the expectations of pundits, he roared from behind to outstrip his establishment rivals in a landslide victory off the back of a grassroots campaign focused on core Labour values. When Leadsom declared at a speech on Thursday that "I truly believe we can be the greatest nation on Earth," there was an echo of the emotional idealism that has worked so well for Corbyn, albeit from the right of the political spectrum, not the left.
While Leadsom is more experienced in government than Corbyn, and her support in parliament is stronger, much of the party establishment is still ranged against her. She notched up the support of 84 MPs in Thursday's final parliamentary ballot, to May's 199. In an editorial backing May, the editor of the influential ConservativeHome website Paul Goodman wrote on Friday that "A win for [Leadsom] in the second stage of the contest would be a Jeremy Corbyn victory—in other words, an empty one. She might command the support of party members; but she would already have been rejected by MPs."
But as a socially conservative Brexiter (she campaigned for a "Leave" vote in the referendum, where May backed "Remain"), Leadsom might be able to position herself as closer to the grassroots than her rival. The big name backers she does have include Boris Johnson, the ex-London mayor and darling of the party faithful. Mainstream polls of the membership have so far put Leadsom well behind May, but an unweighted survey for ConservativeHome published Monday put her just ahead. The available data shows that the direction of travel for her support is upwards, but suggests she's not on top.
If Leadsom is to have a chance at taking the leadership, says Tim Bale, a professor of Politics at Queen Mary University of London who worked on a survey of the party membership last year, she'd do best to focus on a socially conservative policy offering.
"If you look at the views of members they are very traditional," says Bale. "And of course the Conservative party is actually a fairly elderly party given that over half of them are over 60. Certainly there is a kind of underlying social conservatism and, critics of the Conservative party would even say, authoritarianism that she might be able to appeal to."
There are some signs Leadsom recognizes this. Already, she has said that if victorious she would hold a vote to repeal the fox hunting ban brought in by Tony Blair's Labour government, and has expressed discomfort with the legalization of gay marriage passed by David Cameron's coalition government in 2013.
Her personal blog , which has been pored over by social media users and journalists, reflects a strong traditionalist strain in her politics. A 2006 post entitled "A Tory mum's recipe for a perfect British society" calls for ingredients such as "one cup of Anglo Saxon determination" and "a pinch of traditional Asian modesty" in a probably well-intentioned attempt at multiculturalism that demonstrates nonetheless the yawning gulf between Leadsom and the right-on Twitter set.
There is a comparison with Corbyn, too, in Leadsom's support among those ideologically aligned with her party but not members of it.
Where Corbyn saw supporters of small socialist parties and the Green Party flock to back his candidacy, Leadsom has the backing of many in the right-wing Euroskeptic U.K. Independence Party (UKIP). Leader Nigel Farage has endorsed her candidacy, as has Leave.EU, the anti-EU group led by UKIP donor Arron Banks and known for its enthusiastic online campaigning. Andy Wigmore, a spokesman for Leave.EU, tells Newsweek that Leadsom could win over members of UKIP, who in many cases were once Conservatives. "She could absolutely bring UKIP back into the Tory party," he says.
The crucial difference here is that the Tories' voting procedure is not as vulnerable to entryism as Labour's. To vote for Corbyn, supporters didn't even have to join the party; they could pay a £3 ($3.89) fee for the one-off right to vote. By contrast, even those who become full members of the Conservative party today will not be entitled to vote in the contest—the deadline had passed before the leadership election began.
As for those already registered, Bale, of Queen Mary, thinks there isn't the same appetite for an anti-establishment, insurgent campaign as there was in Labour last year. "The difference with Corbyn is that there isn't, I think, in the Conservative Party grassroots this sort of betrayal narrative," he says. Despite Cameron having been a modernizer whose relative social liberalism was out of step with the grassroots there is not, says Bale, any feeling analogous to the loathing with which many Labour activists view Tony Blair, the party's center-left former leader, hatred for whom is a defining principle of Corbyn's politics. And Bale points out that in 2015 most Tory members were not yet committed to Brexit, although many ended up voting for it, so ideological Euroskepticism may not win them over.
Instead, Bale thinks, hard-headed pragmatism could well prevail among the membership. "There is this, you might call it an 'iron triangle' in leadership contests, which is: ability to unite the party, presumed appeal to the electorate and competence/experience," he says. "It's not obvious to me that Andrea Leadsom scores higher on any of those."
So if Leadsom were to triumph it would fly in the face of established models and expert advice. But, apart from a few warnings the odd eagle-eyed pundit spotted, so did Brexit. As Bale puts it, in the wake of the EU referendum and Corbyn's victory, "Has everything changed? Are all bets off in leadership contests?" At this point, there's a lot that stands in the way of Andrea Leadsom entering number 10 Downing Street. But conditions exist that make it far from an impossibility.