Andrew Cuomo Leaves New York Governorship With Record Low Approval Rating
As New York Governor Andrew Cuomo prepares to leave office Tuesday, several polls from the past few weeks show his approval rating hitting an all-time low in his last weeks in the job.
Morning Consult, which has regularly tracked the outgoing governor's approval rating, reported a significant drop in his support following New York Attorney General Letitia James' August 3 report that said he sexually harassed multiple women.
The day the report came out, the poll found that Cuomo had an approval rating of 52 percent, while 43 percent of respondents said they disapproved of him.
Just a few days later, on August 9, that approval rating plummeted to 38 percent, while 56 percent said they disapproved.
A Quinnipiac University poll, released August 6, found that seven out of 10 New York voters said Cuomo should resign, with 55 percent saying he should be charged with a crime. The poll reported that 63 percent of voters did not support him, compared with 28 percent who approved.
Before the attorney general's report, Cuomo often received high approval ratings in the polls. Notably, he received high praise for his handling of the coronavirus pandemic in 2020.
A Siena College poll from April 2020—at the beginning of the pandemic—found that 77 percent of New Yorkers supported the governor. Only 21 percent of respondents said they did not approve.
James said her report painted "a deeply disturbing, yet clear, picture, and the governor's office was described as a "toxic workplace." The report also said Cuomo violated multiple state and federal laws.
Despite Cuomo's decision to resign, he continues to maintain that he never sexually harassed anyone. During his final speech as governor Monday afternoon, he accused James of politicizing the state investigation.
"It was a political and media stampede, but the truth will out in time. Of that, I am confident," he said.
This past Friday, a spokesperson for James' office defended the probe, calling it "exhaustive, thorough and without outside influence, period."
Cuomo told New York magazine on August 13 that he believes he would have won had he been impeached, but noted that he did not want to "drag the state through the mud, through a three-month, four-month impeachment, and then win and have made the State Legislature and the state government look like a ship of fools."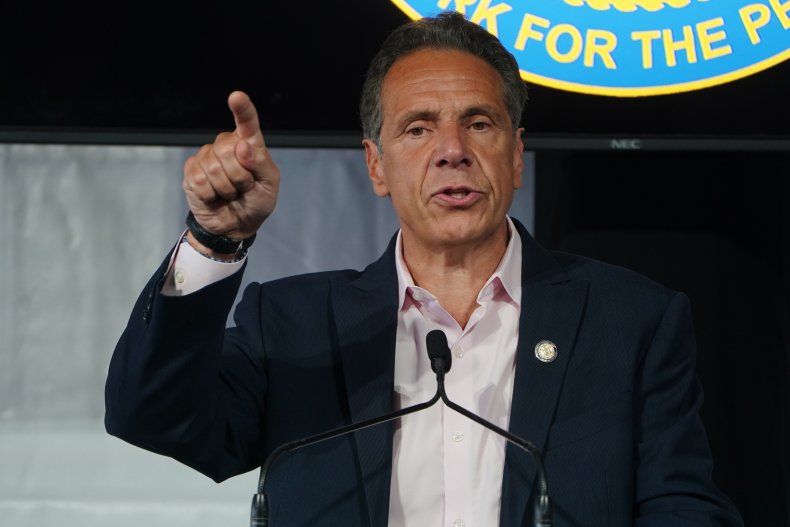 Following the report, several high-profile Democrats including President Joe Biden and House Speaker Nancy Pelosi, called on Cuomo to resign. The embattled governor announced his resignation on August 10, saying he would step down two weeks later.
"This is one of the most challenging times for government in a generation," Cuomo said during his resignation speech. "Government really needs to function today. Government needs to perform. It is a matter of life and death, government operations, and wasting energy on distractions is the last thing that state government should be doing. And I cannot be the cause of that."
Lieutenant Governor Kathy Hochul will succeed Cuomo on Tuesday, becoming the first woman to serve as the Empire State's governor. In the Quinnipiac poll, 31 percent of voters said they approved of Hochul, and 21 percent said they disapproved. Most voters—48 percent—did not offer an opinion on the next governor.