Andrew Cuomo Says Resigning Over Harassment Allegations Would Be 'Anti-Democratic'
New York's embattled Governor Andrew Cuomo argued that it would be "anti-democratic" for him to resign as many Democrats and Republicans have called on him to do in the wake of sexual harassment allegations and mounting criticism of his administration's alleged cover-up of the number of nursing home deaths during the COVID-19 pandemic.
Five women have come forward publicly to accuse the Democratic governor of sexual harassment or inappropriate workplace behavior. The first was Lindsey Boylan, a former Deputy Secretary for Economic Development and Special Advisor in the Cuomo administration, who accused the governor in December of sexually harassing her when she worked for him. Meanwhile, Cuomo is also under fire for allegedly deleting and concealing data related to the thousands of pandemic-related deaths in nursing homes after the governor signed an order requiring the facilities to take COVID-19 patients last spring.
"The premise of resigning because of allegations is actually anti-democratic," Cuomo said Sunday during a conference call with reporters. "And we've always done the exact opposite. You know, the system is based on due process and the credibility of the allegation. Anybody has the ability to make an allegation in democracy, and that's great, but it's in the credibility of the allegation."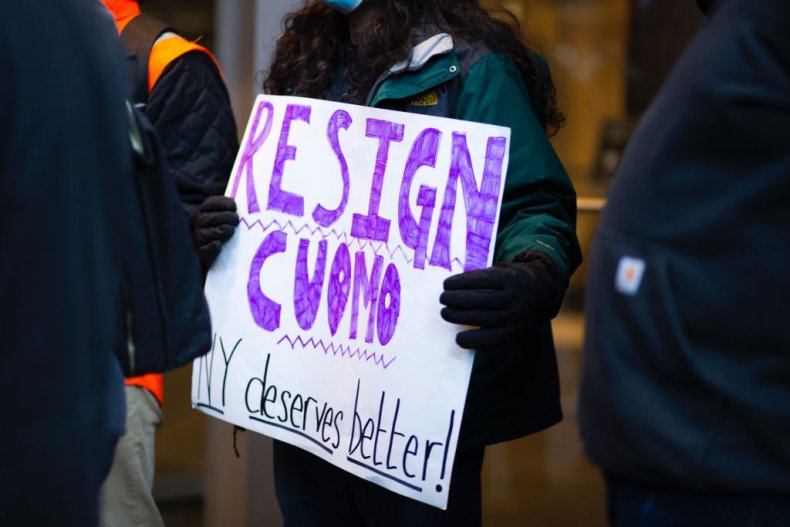 Cuomo cited the ongoing investigations into the allegations, arguing that people should withhold judgment until those are complete.
"There is no way I resign," the governor added. "Let's do the attorney general investigation. Let's do the findings and then we go from there. But I'm not going to be distracted by this either. We have to get a budget done in three weeks. We have a lot of work to do, a lot of work to do for this state. This is not about me and accusations about me. The attorney general can handle that. This is about doing the people's business and this next six months I believe will determine the future trajectory for New York state."
Following Cuomo's Sunday remarks, New York's state Senate Majority Leader Andrea Stewart-Cousins, a Democrat, called on the governor to resign.
"Everyday there is another account that is drawing away from the business of government. We have allegations about sexual harassment, a toxic work environment, the loss of credibility surrounding the Covid-19 nursing home data and questions about the construction of a major infrastructure project," Stewart-Cousins said in a statement.
"New York is still in the midst of this pandemic and is still facing the societal, health and economic impacts of it. We need to govern without daily distraction. For the good of the state Governor Cuomo must resign."
Although Cuomo was re-elected to a third term in 2018 with the support of nearly 60 percent of New York voters, recent polls have shown his popularity—which rose last year during the height of the COVID-19 pandemic—has plummeted in recent weeks.
A poll published Thursday by Quinnipiac University found that only 45 percent of New Yorkers approve of the governor, down nearly 30 points from last year when his approval stood at 72 percent. At the same time, the majority of New Yorkers do not support his resignation—although most do not think he should seek another term. While 55 percent of voters in the state say the governor should remain in office, nearly 60 percent say he should not seek a fourth term as he has previously signaled he plans to do.
Representative Nicole Malliotakis, a New York Republican, suggested in a Sunday tweet that Cuomo was setting a double-standard for himself with him describing resignation as "anti-democratic."
"Cuomo after Vito Lopez accused of sexual harassment: RESIGN! Cuomo after Micah Kellner accused of sexual harassment: RESIGN! Cuomo after Dennis Gabryszak accused of sexual harassment: RESIGN!" the congresswoman tweeted. "Cuomo after Cuomo accused of sexual harassment: Resigning is anti-democratic."
Newsweek reached out to Cuomo's press office for further comment but did not immediately receive a response.