Andrew Cuomo Under Siege as Democrats Revolt Amid Reports of Federal Probe
Amid reports of a federal probe into Democratic New York Governor Andrew Cuomo's handling of COVID-19 nursing home deaths, Democrats from New York's General Assembly and Senate have begun discussing the possibility of stripping Cuomo of broad executive powers granted to him last March to oversee the state's COVID-19 response efforts.
The U.S. Justice Department has been probing Cuomo's COVID-19 task force to determine whether the state had purposefully manipulated data on nursing home deaths, two unnamed people familiar with the matter told the Associated Press. The sources spoke on condition of anonymity as they weren't allowed to publicly discuss the probe.
Recently, Cuomo's administration was discovered underreporting the number of COVID-19 patients placed by hospitals back into nursing homes by 40 percent.
His administration also underreported the number of nursing home deaths by nearly 43 percent, effectively representing thousands of previously unreported instances.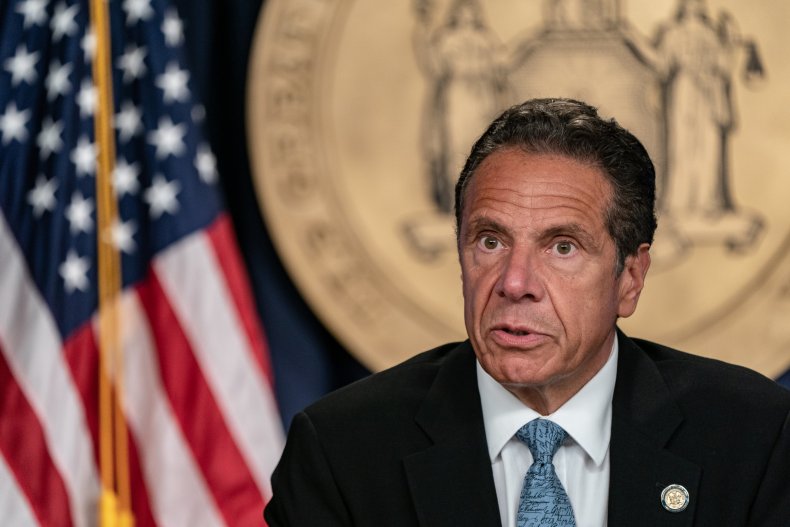 On Tuesday, Democratic New York Assembly member Ron Kim and eight other Democratic New York legislators wrote a letter asking other Assembly members to support a proposal to strip Cuomo of his pandemic-related executive powers, CNN reports.
The letter accused Cuomo of "criminal" obstruction of justice after Cuomo's top aide, Melissa DeRosa, admitted in a private virtual meeting with state legislators last week that the state hadn't released its full COVID-19 death count of state nursing home residents last August over fears that then-President Donald Trump would use the information to launch a Department of Justice investigation against Cuomo.
In a transcript of DeRosa's comments from the private meeting, she said, "[Trump] starts tweeting that we killed everyone in nursing homes. He starts going after [New Jersey Governor Phil] Murphy, starts going after [California Governor Gavin] Newsom, starts going after [Michigan Governor] Gretchen Whitmer. He directs the Department of Justice to do an investigation into us."
"And basically, we froze," DeRosa continued, "because then we were in a position where we weren't sure if what [numbers] we were going to give to the Department of Justice or what we give to you guys ... was going to be used against us. We weren't sure if there was going to be an investigation."
The letter from the Democratic state assembly members followed a February 12 statement issued by 14 Democratic New York state senators which also proposed that Cuomo be stripped of his pandemic-related executive powers.
"It is clear that the expanded emergency powers to the Governor are no longer appropriate," the statement said. "Without exception, the New York State Constitution calls for the Legislature to govern as a co-equal branch of government."
The statement signers noted that although Cuomo's authority to issue directives is set to expire on April 30, they suggested fellow senators repeal Cuomo's powers "as expeditiously as possible."
Last week, the New York Department of Health records revealed that 9,056 patients recovering from COVID-19 had been placed into nursing homes—the department had previously only reported 6,327. Around the same time, Cuomo's administration also revealed that the number of COVID-19 deaths among state long-time care residents was over 15,000, nearly double the 8,500 previously cited by state officials, according to the Associated Press.
After Assembly member Kim publicly criticized Cuomo's handling of the nursing home deaths in The New York Post, Kim claimed that Cuomo had called his home and threatened to destroy his career if he didn't issue a statement supporting his handling of COVID-19 in nursing homes.
Kim, whose uncle died in a nursing home in 2020 due to a presumed COVID-19 case, told the publication, "There's no undoing here. They have blood on their hands. We're talking about his record of performance in the last 10 months."
On Wednesday morning, Cuomo's senior adviser Rich Azzopardi said in a statement, "Kim's assertion that the governor said he would 'destroy him' is false."
Responding to complaints about his administration's handling of COVID-19 nursing home data, Cuomo told reporters, "In retrospect, should we have given more priority to fulfilling information requests? In my opinion, yes. And that's what created the void. just want to make sure people know these are the facts: Everything that could have been done was done."
Newsweek reached out to Cuomo's office for comment.