Andrew Cuomo's Aide Says Office Kept Nursing Home Deaths Under Wraps to Avoid Giving Trump Ammunition
New allegations surfaced this week regarding New York Governor Andrew Cuomo and his administration's handling of coronavirus-related nursing home deaths, after an aide acknowledged withholding data to prevent former President Donald Trump from going after the administration.
On Thursday, the New York Post reported that one of Cuomo's top aides, Melissa DeRosa, privately apologized to Democratic lawmakers this week for underreporting coronavirus death tolls after being asked for information last summer by the Trump administration's Department of Justice (DOJ).
During the conversation, DeRosa said, the governor's office "basically froze" out of fears that reporting the correct numbers could be used against the Cuomo administration by Trump and federal prosecutors.
At the same time as the DOJ request, the New York Legislature was seeking similar information from the governor's office.
"We were in a position where we weren't sure if what we were going to give to the Department of Justice, or what we give to you guys and what we start saying, was going to be used against us, and we weren't sure if there was going to be an investigation," DeRosa said.
"[Trump] starts tweeting that we killed everyone in nursing homes," DeRosa also said during the call. "He starts going after [New Jersey Governor Phil] Murphy, starts going after [California Governor Gavin] Newsom, starts going after [Michigan Governor] Gretchen Whitmer."
In response to the leaked call, a spokesperson from Cuomo's office pointed Newsweek to a Friday statement from DeRosa in which she said she was trying to explain that the administration "needed to temporarily set aside the Legislature's request to deal with the federal request first."
"We were comprehensive and transparent in our responses to the DOJ, and then had to immediately focus our resources on the second wave and vaccine rollout," DeRosa said. "As I said on a call with legislators, we could not fulfill their request as quickly as anyone would have liked. But we are committed to being better partners going forward, as we share the same goal of keeping New Yorkers as healthy as possible during the pandemic."
DeRosa's statement came after a report from New York Attorney General Letitia James last month accused the state of underreporting thousands of coronavirus-related deaths in nursing homes.
For months, Trump and the New York Legislature faced opposition from Cuomo's administration to publish updated information on the state's nursing home death tolls.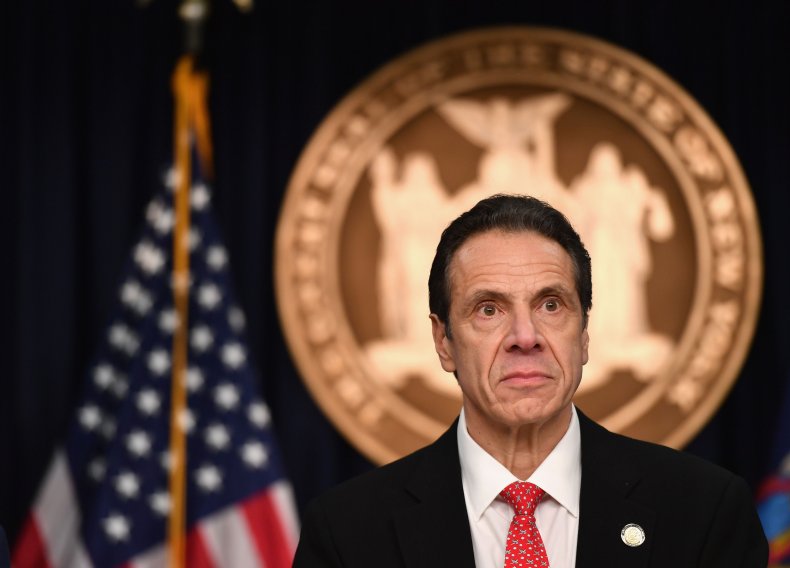 After the investigation by James, the state's health department was forced to make public more than 3,800 previously underreported deaths of nursing home residents who died outside a facility—bringing the toll up to 12,743 on January 19.
In defense of the Cuomo administration, New York State Health Commissioner Howard Zucker said last month that the state had always reported the total number of COVID-19 deaths but failed to accurately say where those deaths took place.
"New York State Department of Health has always publicly reported the number of fatalities within hospitals irrespective of the residence of the patient, and separately reported the number of fatalities within nursing home facilities and has been clear about the nature of that reporting," Zucker wrote.
This week, the COVID-19 death toll of New Yorkers in nursing homes has risen to roughly 15,000 confirmed and presumed deaths.
On Friday, an adviser to the governor blamed the controversial issue on "politically motivated efforts" by Trump.
"We explained that the Trump administration was in the midst of a politically motivated effort to blame Democratic states for COVID deaths and that we were cooperating with federal document productions and that was the priority. And now that it is over we can address the state Legislature," Rich Azzopardi, a senior advisor to the Cuomo administration, said Friday.
"That said, we were working simultaneously to complete the audit of information they were asking for," he added.
Cuomo, who has been hailed for his handling of the coronavirus outbreak in his state, is now facing backlash from fellow Democrats over the controversy.
State Senator Andrew Gounardes called it a "betrayal of the public trust," tweeting, "There needs to be full accountability for what happened, and the legislature needs to reconsider its broad grant of emergency powers to the governor."
By Friday, 14 Democratic state senators had joined a Republican-led effort calling "for a repeal of the Governor's authority to issue unilateral directives."
In a statement, the senators said, "While COVID-19 has tested the limits of our people and state — and, early during the pandemic, required the government to restructure decision making to render rapid, necessary public health judgements — it is clear that the expanded emergency powers granted to the governor are no longer appropriate."